COD (Cash On Delivery) is a payment method that became known when online buying and selling became popular around the world. This payment method is also very popularly supported in Indonesia. For those of you who are used to buying and selling online, you will be familiar with the term COD.
The COD payment system is the choice of many users because it is classified as very safe for buyers because they can pay the bill for the goods they have purchased when the goods arrive home and you can check the order first and then pay for it.
Not only that, this also makes it easier for buyers who don't have an account to make payments using the transfer system, so you as a buyer can pay with cash at the courier service delivery person when the goods arrive at your house.
For those of you who currently have a WordPress online store built with WooCommerce, then you can add this COD payment system to your platform, and WooCommerce already has this COD (Cash On Delivery) payment option by default. However, there are still many shortcomings of the default WooCommerce COD payment system, to extend the functionality of this feature, I will introduce a cool plugin, WooCommerce Smart COD.
What is WooCommerce Smart COD?
The WooCommerce Smart COD plugin will allow you to add not one, but several different additional fee amounts based on the selected shipping method, customer location and other factors. You can easily deactivate the COD payment method for certain zip codes, certain countries, and certain shipping zones.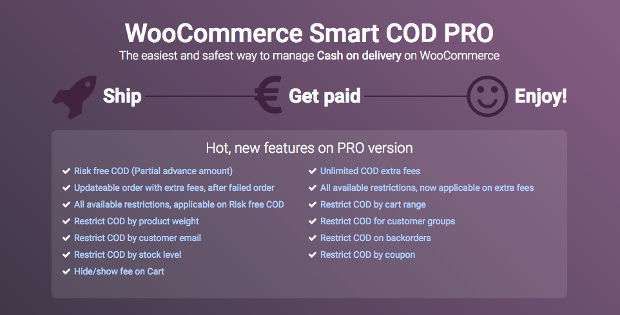 The plugin also supports different prices per shipping method and per shipping zone and shared shipping method as well. It also comes with a limit option to stop charging extra and you can easily charge your customers differently based on their delivery zone, etc.
In a short time, this plugin has gained popularity and won the trust of the WooComerce community and has become the most popular plugin for managing WooCommerce Cash on delivery. You have to try it…!
WooCommerce Smart COD feature
Below are some of the useful features of WooCommerce Smart COD Pro that you will need to complete the default WooCommerce COD payment gateway. Whatever it is, let's look at it below:
Restrictions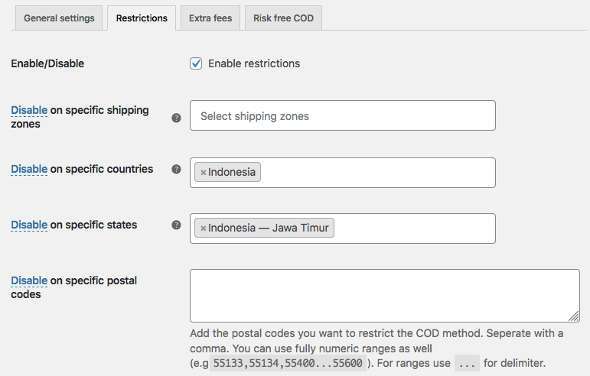 Restrictions is a restriction options feature that allows you to limit cash transfers, cod fees and cod fees risk free! This means that you can apply these limits, on cash on delivery itself, to the additional fees that apply when the user selects cash on delivery at the payment gateway and for Risk Free COD, all independently!
There are two modes to limit COD, COD fee or COD Free Risk (risk free): you can activate or deactivate it. This gives you complete freedom to create your restrctions, in a way that suits you more!
There are so many restrictions you can impose on charging additional fees that you can all adjust in this section such as:
Based on cart range
Based on registered customers
Based on product weight
Based on the customer email list
On previous reservations
About coupons
Based on stock levels
And much more..
Read: WP SmartPay – Paddle Payment Gateway Plugin For WordPress
Extra Fees

This Extra Fees feature allows you to assign as many additional fee rules as you need, to cover various billing scenarios to your customers
This can be achieved by creating a restriction set, which consists of a combination of restrictions, such as: only for a certain basket range, only for certain customers, only for certain countries, only for certain shipping methods / shipping zones, only for certain postal codes, and many other factors combined. You can set some additional free rules with different restriction sets. You can check out the full list of restrictions, which you can use to set up additional fees, here!
Order-pay page with extra fees
Also another highly anticipated feature. From now on if a customer has an order that failed in another payment method, via the payment-orders page and selects COD as the payment method, the additional fee will be applied as expected. This breaks the limits of WooCommerce on the pay-order page, for the first time in the WooCommerce community!
Risk Free COD

This highly anticipated feature gives you the ability to charge a certain amount of money up front, to secure cash payments on delivery, and avoid fake orders and irresponsible customers. You can collect the down payment amount at other payment gateways in your store and deactivate it at the payment gateways you don't want to use, as this plugin can give you the ability to enable / disable it per payment gateway. (for example, allow risk-free cod payments via PayPal only).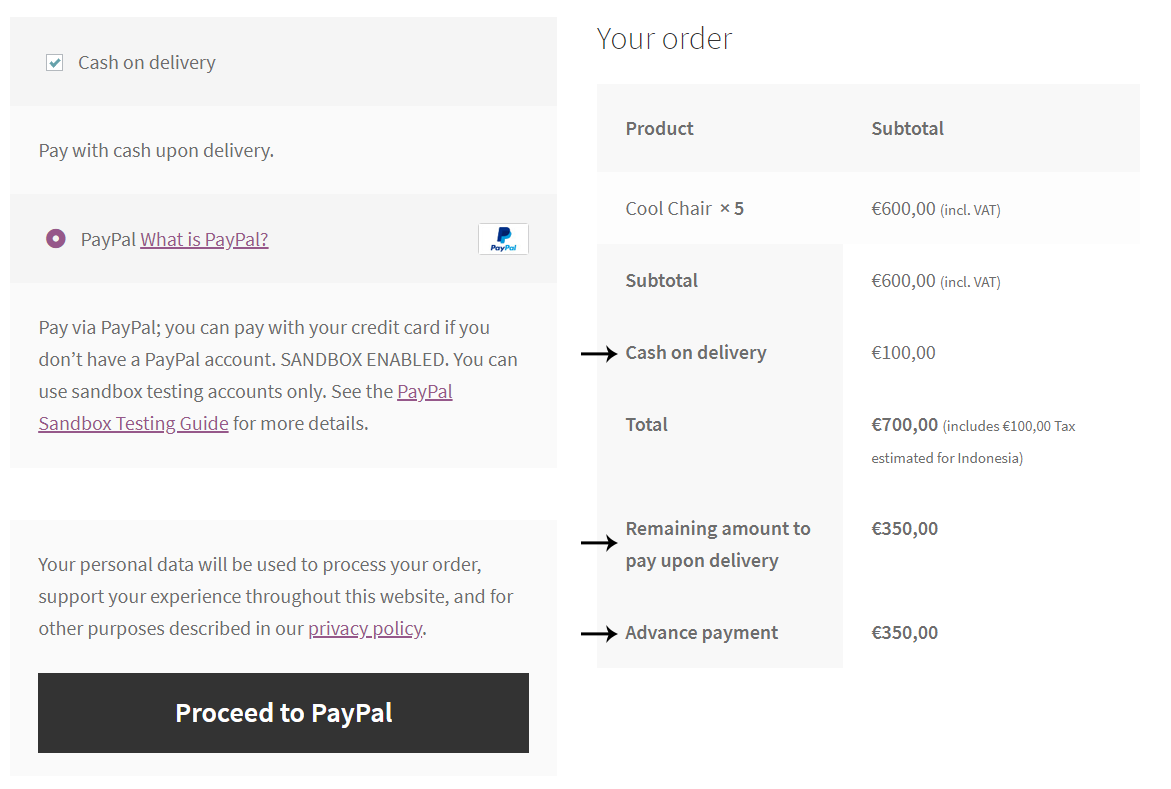 You can also limit the risk-free cod features, by creating a restriction set, which consists of a combination of restrictions, such as: only for a certain basket range, only for certain customers, only for certain countries, only for zone specific shipping / shipping methods, only for post certain, and many other factors combined. You can set multiple risk-free cod rules with different sets of restrictions. You can check the full list here.
The prepayment can be a fixed amount or a percentage of the customer basket.
Read: 3 Best Online Payment System Services Apart from PayPal
COD Unavailability Messages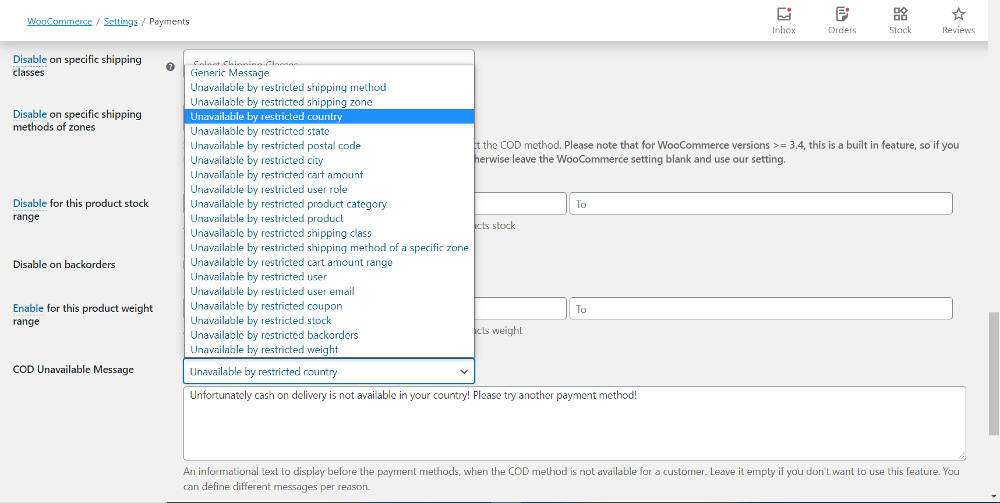 When you create a limit and the user imposes a limit, so cash payment on delivery or COD is disabled, you can specify a message to display to the user, to be notified of the unavailability of this payment method to that customer and why! You can define different messages per limit!
Conclusion
WooCommerce Smart COD is a really useful plugin as needed for those of you who want to use the COD payment system gateway on WooCommerce. Many useful features have been added to complement WooCommerce's built-in COD gateway such as adding extra fees and a wide variety of restrictions that you can apply. And to use this pro version of WSCOD plugin you have to pay around € 79.00 or $ 90. However, you can use the 20% discount coupon " WSCPRO20 " to get a lower price of € 51.20 or $ 60.
However, it needs to be acknowledged that this plugin provides many benefits and expanded features that you won't get on the default WooCommerce COD gateway, and there are so many benefits if implementing this type of payment system, namely COD (Cash On Delivery), will add confidence for buyers to make transactions in your online shop. In addition, for sellers this is also very profitable because it provides many payment options for customers so that it attracts enthusiasts to make purchases.