The website connection structure is crucial. It promotes a website's appeal by making it easy to browse between pages on the same site or elsewhere online. WP Links works with all WordPress layouts and add-ons. It controls the website's outgoing links, internal and external.
Such a plugin manages link rel and target. It helps you link to other website pages (pointing to other websites). It checks each link to make sure none are broken or lead to harmful sites. Even the smallest websites have thousands of outgoing links, making it difficult to check them manually.
But, using the WP Links plugin, you can check that all your outgoing links open in a new window and aren't broken. This plugin won't slow down your WordPress site's loading time and won't load JS or CSS scripts unless Exit Confirmation is enabled.
The WP Links plugin — how to set it up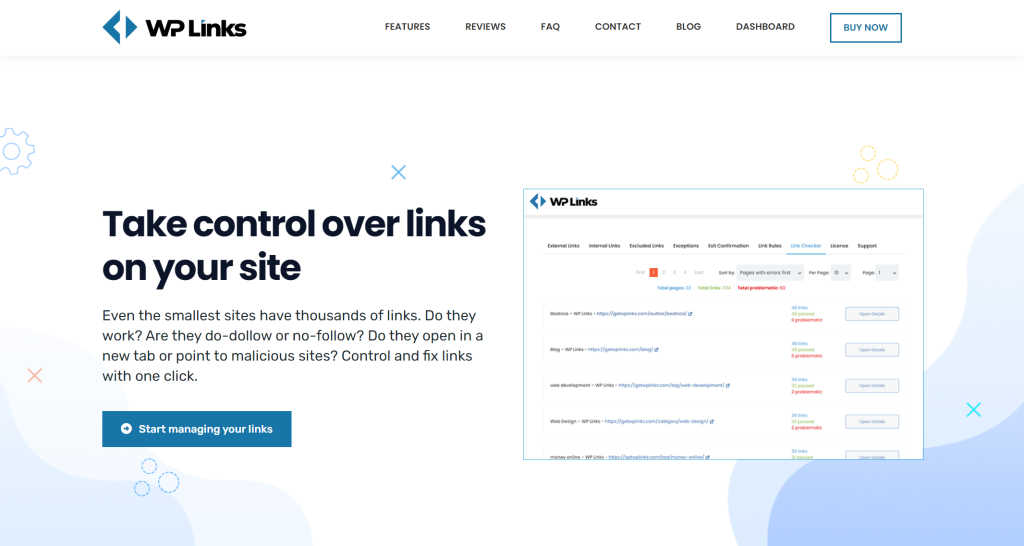 Two emails will be sent to you after a successful purchase. The dashboard login details will be sent to you in a subsequent communication. You can create your license key and install the plugin on the admin page.
Open the email that was delivered to you to create the dashboard. The "Password: set one up" link in the email is all you need to do; while using the "Get new password" option in the newly opened box, you'll be able to log into the dashboard and change your password.
Now, it's time to activate and install the plugin. Log in to your computer's control panel. A popup window comes after the welcome message, with a button labeled "Download." It is necessary to download and extract the compressed archive contents. Go to the WP Admin > WP Links > Publish page and activate the plugin by uploading it and activating it in the Plugins section of your WordPress site. If you want to use the plugin, enter the license key displayed on the screen.
So, interlinking is vital because links open relevant websites. In addition, backlinks or external links boost organic search rankings, while internal links distribute site authority, helping SEO. Both of them improve websites.
Internal links also enhance page visibility. Despite their reduced SEO value, interlinks can boost the authority and trustworthiness of pages with less content flow and fewer links. WP Links manages both internal and external links.
External and internal links are on the first tabs, and clicking on "Link settings" will unlock great possibilities. Plugin settings control links. Thus, WP Links helps WordPress users. You can adjust the link to open in the same window, a different window, or a top-of-screen window. You can also choose an icon type (image, dashicon, font awesome) and add a CSS class (to the left or right of the link).
Conclusion
Even though most SEO enthusiasts focus on content production, you shouldn't disregard technical SEO. WP Links is a WordPress plugin. First, optimize your site so external sites will link to you, and add internal links, which are essential for Google rankings.
You need high-quality, relevant content if you want authoritative sites to connect to yours. Anchor text keywords determine your page's relevancy (the text on which the URL to your content is put). WP Links ensures that your website's links work.
If you're using WordPress regularly, or just starting a site, make sure that you also check WP Maintenance and WP Force SSL. You will be stunned by them!