Orchid Store is an e-Commerce or online shop WordPress theme with a minimalist, clean, flexible, stylish & dynamic design. This WordPress theme is built specifically for professional online shops. If you are currently looking to create an online shop with a nice and professional appearance, you should give this Orchid Store theme a try.
This theme is completely built based on the very popular online shop WordPress plugin WooCommerce. It doesn't matter what type of online store you want to build, whatever you want to sell and how many products you want to sell, Orchid Store can be the best choice for you.
Orchid Store can be used to build various kinds of e-commerce websites such as fashion accessories shop, cosmetics shop, sports shop, jewelery shop, furniture shop, cell phone and gadget shop, grocery store, home decor shop, multipurpose online shop and many more.
Let's take a look at more about this WordPress Orchid Store theme, and find out why it should be the best choice for your online trading business.
What is Orchid Store Theme?
Orchid Store WordPress Theme is a WordPress theme made especially for online stores with the WooCommerce plugin. Where this theme is equipped with many built-in features needed to build a professional eCommerce or online store that will make your customers feel attracted to make a purchase.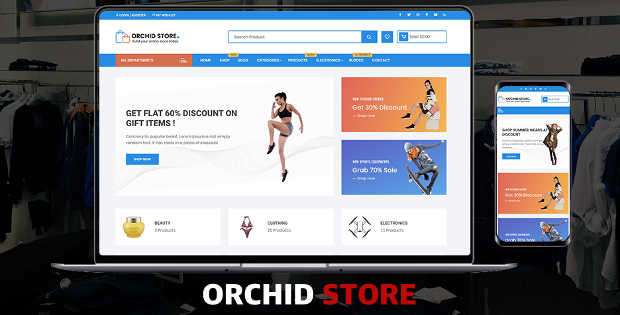 Because Orchid Store provides users with an easy and flexible customization experience, you can create an online shop in just a few minutes. The customization & features in the Orchid Store WordPress theme are so simple that they can be easily configured from the live WordPress Customizer section. Most of the shop elements like sliders, product banners, call-to-action sections, etc. are already provided and you just have to customize.
In addition, Orchid Store also brings many useful widgets to add various important ornaments needed by your online store by simply dragging and dropping them on the widget area that has been provided. This theme is very light and built with SEO principles so it will be easily liked by search engines.
And if you like using Page Builder or page builder builder? then you should be happy because it really supports the most widely used page builders like Elementor .
Orchid Store Theme is also a free WordPress theme which you can download directly here. Don't worry about the free version of this theme because the theme is always updated regularly so that it is guaranteed safety and will also always follow developments from time to time.
Orchid Store Price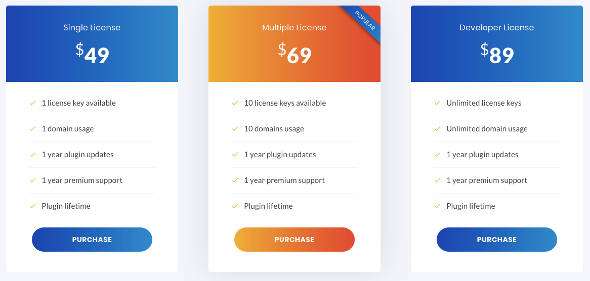 Orchid Store is a free theme that you are free to use for your online shop. The free version is great and enough to make your online shop look professional. However, if you feel you are lacking and want more features and functionality to make your online store even more powerful, then this theme also provides a Pro version of the Orchid Store which has a complete extension and you can buy it for just $ 49.
Single License $ 49
1 license key available
1 domain usage
1 year plugin updates
1 year premium support
Plugin lifetime
Multiple License $ 69
10 license keys available
10 domains usage
1 year plugin updates
1 year premium support
Plugin lifetime
Developer License $ 89
Unlimited license keys
Unlimited domain usage
1 year plugin updates
1 year premium support
Plugin lifetime
Orchid Store Themes Key Features
As I explained above, this Orchide Store theme has a myriad of useful features for your professional online store. So, here are the main features that you can get when using the Orchid Store theme:
WooCommerce compatible
Orchid Store is fully compatible with the WooCommerce plugin, you can create an online store with the best plugins for an online store very easily and of course all the features of WooCommerce will match this theme.
Built-in and Third Party Plugins
Orchide Store Theme brings several recommended plugins for you to install, this plugin allows you to quickly preview products and you can also add a very useful feature which is a wishlist. So far the Orchid Store theme has been tested with several Woocommerce plugins and third party plugins such as Woocommerce membership, Woocommerce subscription, YITH quick view and YITH wishlist. If there is a plugin that is not perfect in this Orchid Store theme, you can ask a question on the forum and the developer will fix it in the next update.
Elementor compatible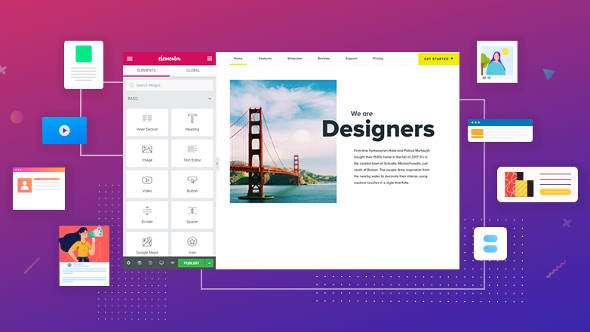 We all know that Elementor is a very good page builder and is loved by many users, so if you are the type of user who likes creating page customizations with page builders, this theme fully supports Elementor.
Color Adjustment Options
Another nice thing about the Orchid Theme feature is that there is an option to customize the theme colors so that you can match your brand colors. You can change primary & secondary colors or change the default blue & red colors. And there are also options to customize the typography to your liking.
Lots of Widget Support
There are so many options of built-in widgets that are useful for your online store, you can add various features by drag and drop such as Banner / Slider Widgets, WooCommerce feature category widgets, 3 variations of WooCommerce product widgets, call to action widgets, ad widgets, service widgets, Blog post widget, About widget – Footer / Sidebar, All WordPress & WooCommerce default widgets and footer column.
Menu Navigation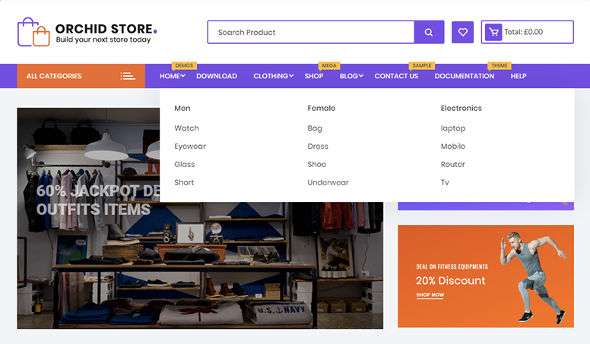 The team behind the Orchid Store, Themebeez, understands exactly what you want, a professional eCommerce online shop must have an attractive design and so the menu must look luxurious, therefore Orchid Store is equipped with a mega menu navigation that will make a special impression and make navigation easier for your online shop visitors. In addition, you can create a special menu in the header section and you can add a unique icon for each menu to add beauty.
One-click import demo
This theme is equipped with the themebeez toolkit which makes it easy for you to import with just one click. This Themebeez Toolkit will help you organize your website or blog faster by importing content according to the demo displayed and leaving you to customize the content of your store.
100% Responsive and SEO Friendly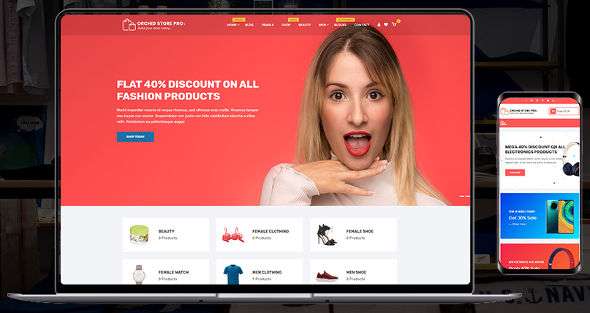 Orchid Store Theme supports responsive design, where your online shop will look perfect on various devices be it desktop computers, smartphones and tablets. It's made by following SEO rules that search engines will love and have incredibly fast load times.
GDPR Ready
Orchid Store does not store user data at all. However your WooCommerce WordPress online shop stores and manages user data. If you want to show users a cookie complaint policy notification, this theme has a GDPR plugin ready for you to use.
Many Layout Options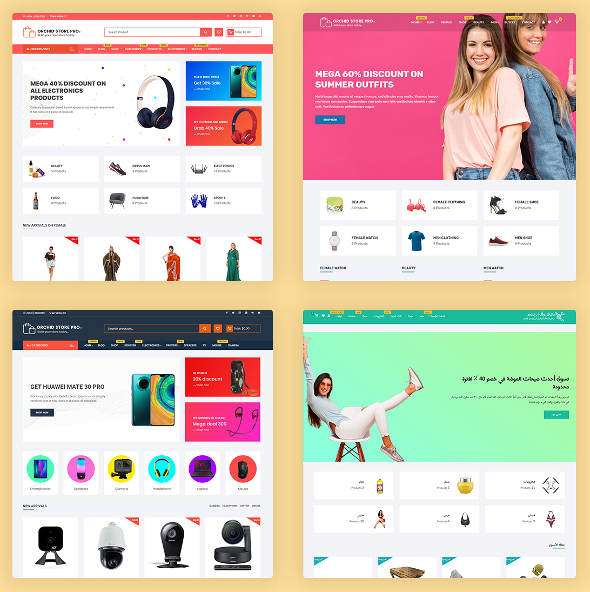 The free version of the Orchid Theme includes 3 choices of beautiful online store layouts that you can import easily and quickly, while the pro version has 4 layout options with a much more beautiful appearance, more complete features and enhanced functionality.
Blog Layout
In order to attract lots of visitors organically from search engines, you also need to create quality content on your online store. Organic visitors are very important because it is the cheapest and no-cost digital marketing strategy. The Orchid Store theme also provides a fun, minimalist blog layout for your readers.
Supports Translations
It will be very lacking if this theme does not support translation, and the Orchid Store Theme is very multilingual support. You can easily make your product content support multiple languages so that the target market you reach is wider.
Updates and Support
The orchid store theme is undoubtedly its quality, features and design. Apart from being free, this theme also gets regular updates and will not be out of date, and will always be safe to use. You also don't need to worry if you face difficulties when using this theme because there is free support that you can get through the forums.
Conclusion
Orchid Themes is a free WordPress theme made especially for online shops with a professional design and rich features essential to enhance your online store website. There is a large selection of theme layouts provided as well as free support. You can make your online store look beautiful no matter what type of online store you want to make and how many products you want to display, the Orchid Store Theme can be a great choice. With the pro version's affordable price of just $ 49, it can be a long-term investment in the success of your online store.