Sell Your Zoom Meetings With WooCommerce and WP Event Manager Zoom – Zoom is an online meeting application that has recently become very popular around the world, this is because of the Covid 19 outbreak that has hit worldwide and resulted in a ban on leaving the house and making many employees have to work from home and even students also have to study from home.
To overcome this, to stay productive and be able to keep up with your work schedule from home, many companies and schools conduct meetings and learn at a distance using the Zoom application. In Indonesia alone, the Zoom application is very popular. Seeing this new habit, you can take advantage of the Zoom app for a new profitable business mode.
You can sell Zoom meeting classes and webinars on your site by taking advantage of this amazing Zoom app. You can easily integrate Zoom with your WordPress site using WP Event Manager Zoom and can even sell your meeting tickets with WP Event Manager Zoom and WooCommerce.
What is WP Event Manager Zoom?
WP Event Manager Zoom is a plugin that can integrate Event Manager with Zoom and start creating webinars and meetings right from your WordPress dashboard, as well as displaying them in a calendar and handling orders (including payments).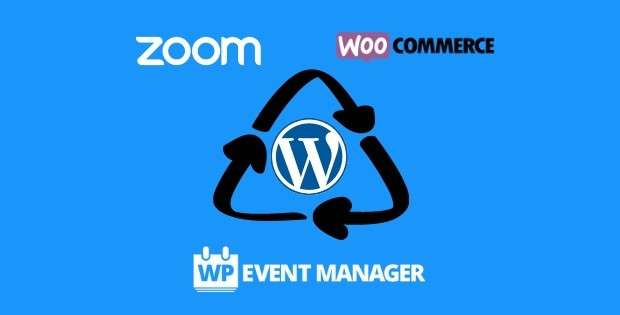 This is really a great plugin for perfect Integration with Event Manager and Zoom. You can Install and setup, create an event, select Zoom Meeting / Webinar as your location type, activate bookings, and you're ready to start a webinar with your users!
As an official addition to the popular WP Event Manager plugin, it offers an easy way to sell tickets to your Zoom Meeting. The plugin integrates with WooCommerce, as well as Sell Tickets and Extension Registration to provide a complete solution for online sales and event management in one dashboard.
Read: Creating an Event Website with an Eventastic WordPress Theme
How WP Event Manager Zoom Works with WooCommerce
WP Event Manager Zoom is a standalone plugin that works with WooCommerce to seamlessly integrate your Zoom account into your website:
With the Zoom Event Manager WP plugin, you can manage Zoom meetings from both the WordPress dashboard and frontend interface. If you want to sell one-on-one meetings, you can do so via the WooCommerce store page.
WP Zoom Event Manager plugin lets you display all the main details about the meeting, such as description, length, price, etc .: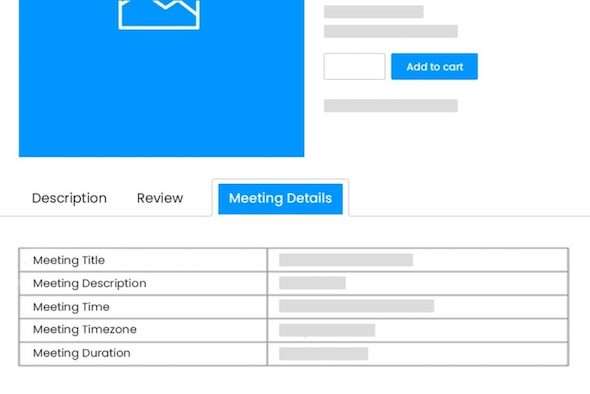 After a customer completes a purchase, they can view the purchase order from the My Account page. The order page contains all the information they need to know about attending your meeting. You can even add a link for customers to join the meeting after they finish their purchase.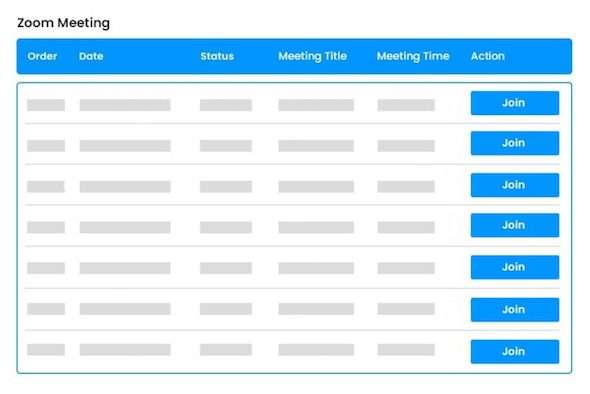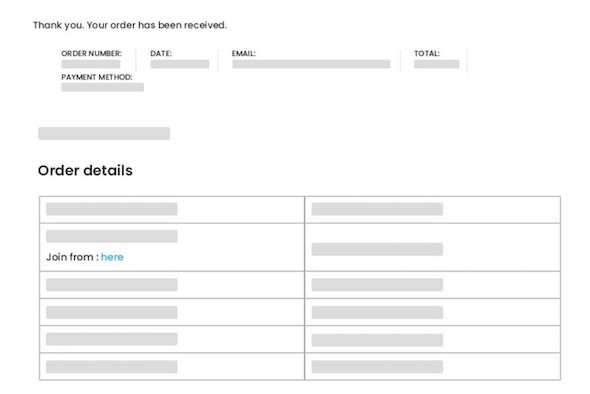 Integrating the Zoom Event Manager WP plugin with WooCommerce allows you to take advantage of all WooCommerce features that you would use to set up a typical online store, just for your virtual meetings and webinars. You can choose from a variety of payment gateways. Additionally, you can set meetings for products that, upon checkout, will add customers to your meeting.
The Zoom Event Manager WP plugin also allows embedding your Zoom Livestream on your site. This means your customers can join Zoom meetings right from your WooCommerce site, helping to maintain and even drive site traffic.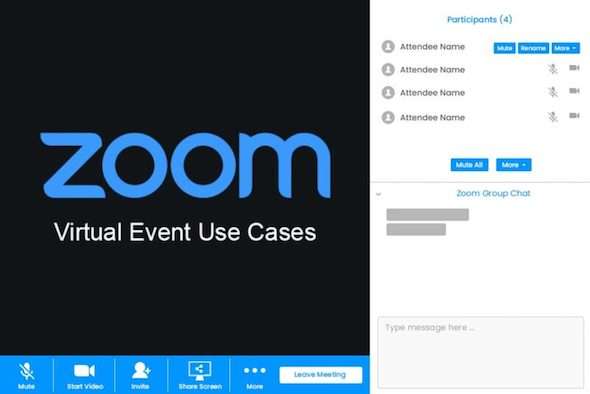 How WP Event Manager Zoom Works with WP Event Manager
WP Event Manager is a powerful and popular WordPress plugin that makes managing all aspects of an event fast and easy:
Although WP Event Manager Zoom functions independently, it also pairs perfectly with native plugins and allows you to distinguish virtual events from non-virtual events.
The Zoom extension enhances the WP Event Manager plugin by automatically generating all the necessary information about sending events to a single event page. You can organize and display Zoom Meeting details in Block view or in the sidebar.
Zoom integration with WP Event Manager Zoom
For the integration of the two platforms, you need to connect a Zoom account with an API Key, you don't have to waste time manually entering information about meetings or risk giving the wrong meeting ID or password to customers. It will be sent to them automatically: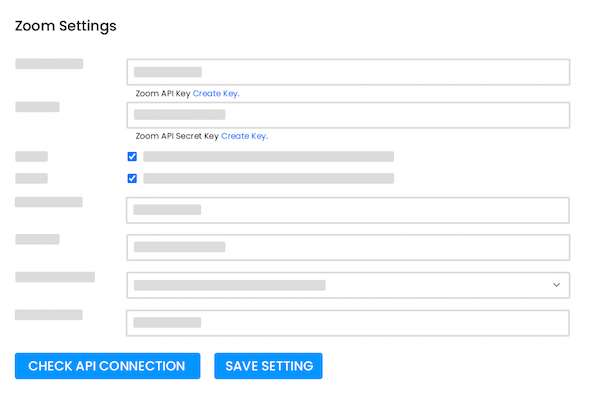 How to Connect & API Settings in the Admin Panel
Integrating Zoom into the admin panel requires an easy JWT or oAuth authentication method. By simply copying and pasting the API, non-developers can also easily take advantage of Zoom meetings.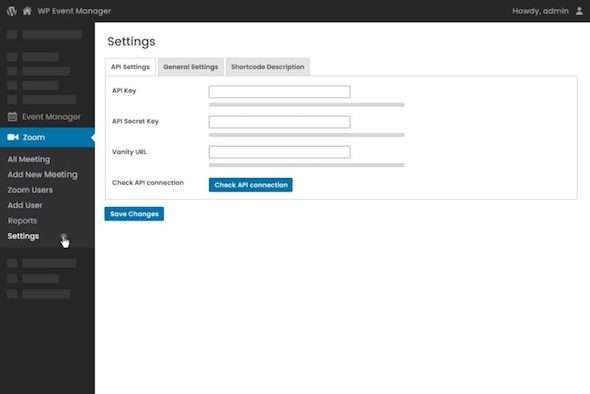 With the Zoom Event Manager WP plugin, you can facilitate and track all aspects of events. This includes registration, ticket booking, and implementation of meeting access restrictions. You can even start and end meetings, all right from your WordPress dashboard.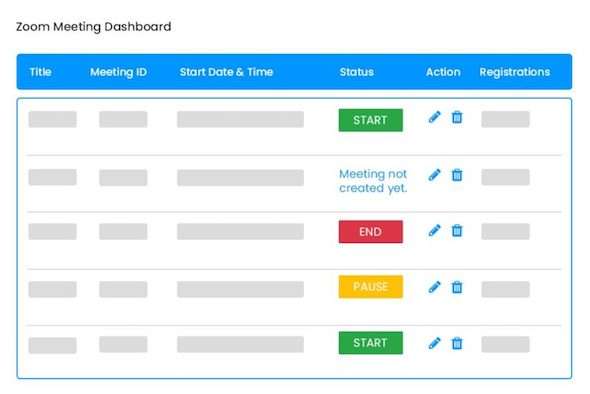 How WP Event Manager Zoom Works with Registration
The Registrations add-on provides a quick and easy way for users to register for an event on your website. When paired with the Zoom Event Manager WP plugin, you can manage events right from the frontend dashboard: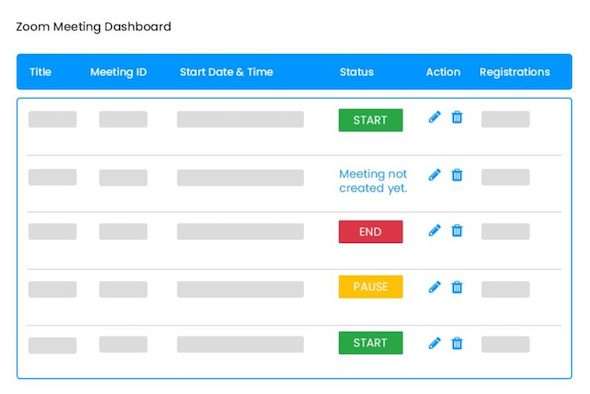 From this dashboard, your Zoom meeting attendees will also be able to view event details. By enabling booking at an event, the plugin automatically enrolls users for that Zoom meeting.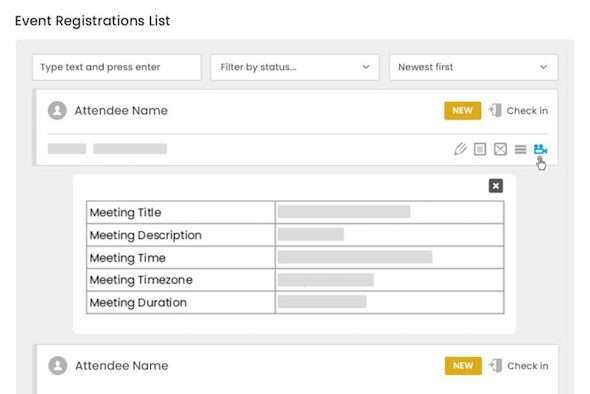 When new users register for the event, you will be notified automatically. Participants will receive an email with meeting information Zoom and a unique URL. This can save you time by eliminating the need to send invitation emails manually.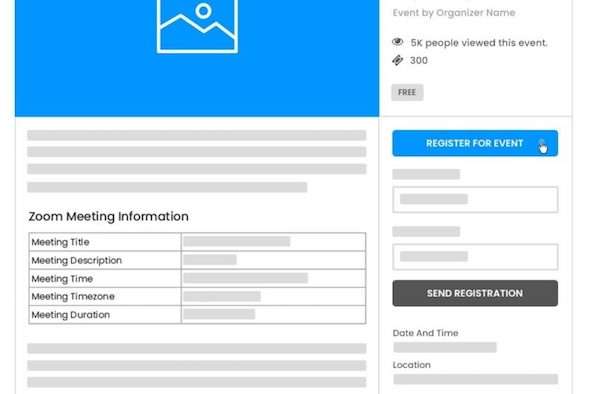 One of the best parts about using this add-on with the Zoom plugin is that all participant information is stored on the 'Zoom Server'. Because of this, you don't have to switch between multiple platforms to collect and organize guest information. You can access all of them in one place.
How WP Event Manager Zoom Works by Selling Tickets
The Sell Tickets add-on works with WooCommerce and WP Event Manager Zoom to make it easy to sell tickets to your Zoom events from your website. It also provides a simple way to automate ticket scheduling and track meeting attendees.
With the Zoom Event Manager WP plugin, you will be able to create tickets for your Zoom events. Then you can link them to the event form in the admin panel: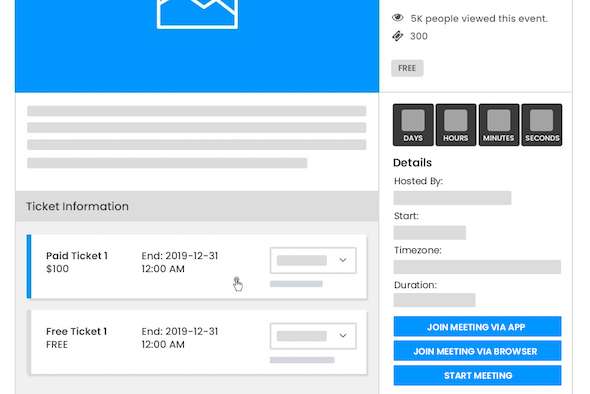 After the user selects a ticket, they will be directed to checkout. After completing the purchase, your guest will receive a purchase confirmation email with meeting details Zoom.
The best part is that you don't have to deal with any code. The Sell Tickets add-on comes with a variety of easy-to-use functions and settings for you to configure and customize Zoom meeting tickets to your liking.
Conclusion
Trying to manually plug in and integrate your WordPress website and event management tools with Zoom can be tricky. Luckily, Zoom Event Manager WP does all the heavy lifting for you. And you can get this Zoom plugin for only $ 39 for personal and $ 99 for developer.
WP Event Manager Zoom is the official add-on of the popular WordPress WP Event Manager plugin. It works standalone not only with WooCommerce, but also the Sell Ticket and Registration extension. Integrating it with your WordPress site can help you streamline online events and sell tickets to your Zoom meetings all from your dashboard.
Read: Online Ordering Site with WordPress Pinpoint Booking System
By utilizing this application and can be easily integrated directly on your WordPress site, you can start a new business such as selling tickets to webinar events or the like to your users. As well as earning money from selling webinar tickets, you can also drive valuable traffic directly to your site.