Shortpixel – How to Increase WordPress Website Speed . When you start out in the world of blogging and choose WordPress as a platform to build your blog, then that is the best choice you have made. WordPress does a very good job at handling content, you can create various types of sites with WordPress and even new users with a little knowledge can use WordPress.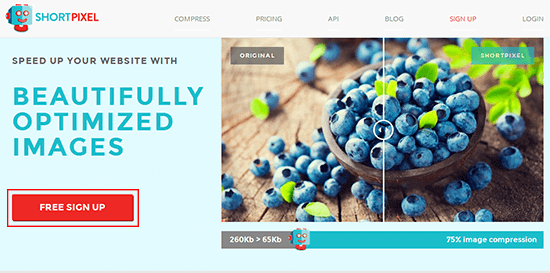 WordPress has a lightweight size that makes sites load faster, and they WordPress developers are always developing WordPress to always be faster and safer than previous versions. The speed of the website or blog is very important because every visitor must like a fast site and so does Google. 'Site Speed', Google says site speed is having an effect on ranking factors. And after several recent changes in Google's ranking algorithm, site loading speed has become more important for website ranking.
A fast site is a good user experience (UX), and satisfactory UX leads to higher conversions.
How fast your website is is important – an element in any online business – but it is often completely overlooked and that includes search marketing and search engine optimization.
Extremely slow sites are a bad user experience – and Google these days is all about good UX these days.
However, as I explained before, even though WordPress has a light size, you still need to pay attention to various things to increase the speed of your WordPress site. There are many ways you can increase the speed of your WordPress site, such as using the best hosting service and choosing a hosting package according to your needs, using a CDN, and using a caching plugin such as W3 Total Cahce.
The above are 3 common ways you can increase the speed of your WordPress site, but there is one other way you can apply it and it works really well to increase site speed by reducing the image size or often called image optimization.
Luckily WordPress comes with the most important feature which is that it can add various kinds of functions using plugins. And of course a plugin to increase the speed of a WordPress site for image optimization is available in the WordPress plugin library. The plugin is Shortpixel Image Optimizer .
Before I discuss how to use the Shortpixel Image Optimizer plugin on WordPress, let's get acquainted with Shortpixel first.
What is Shortpixel?
ShortPixel is a web service that can help make websites load faster by resizing or rescaling and compressing images. Optimized images mean better user experience, better PageSpeed Insights results, better Google PageRank (SEO) value and of course more visitors.
Shortpixel uses lossy and lossless image compression, this image compression is available for all image types (JPG, PNG and GIF), also supports PDF file compression. ShortPixel improves website performance by reducing the size of the image with a smaller compression result, however, the compressed image does not differ in quality from the original.
ShortPixel on their WordPress plugin page, they claim to have optimized over 60M images from 32,000 different websites so far and saved more than 10 petabytes of traffic. So I think this is a very useful service that you need to try, because you see so much bandwidth that can be saved and also saves hosting space.
Why Use ShortPixel?
24h developer support
Compress JPG, PNG, GIF (still and animated) and PDF images
Optimized thumbnail and featured images
Featured Image can be rescaled before optimization. No need for additional plugins like Imsanity
CMYK converted to RGB
Skip optimized images
Easily test the image version for lossy / lossless
Big benefit for photographers: saving or deleting EXIF data from your images
There is no file size limit
Works well for HTTPS sites as well as HTTP sites
It's safe to test and use plugins: all original images can be returned with a single click
Bulk or bulk optimize images with one click
40 days optimization report with all detailed images and overall statistics
Support for WordPress eCommerce sites that use the WooCommerce Plugin
Use the same API Key on multiple sites (including multisites)
Compatible with WP Engine website hosts and all major hosting providers
Compatible with WPML and WPML Media plugins
Receive 100 free image optimization credits every month.
5% less optimized image is a bonus.
ShortPixel site
Please visit the ShortPixel site at: https://shortpixel.com/ on the shortpixel site you will find lots of information and features that you can try for free. When you enter the shortpixel web, you will be immediately faced with the homepage page with the Free Signup button and next to it there is an animated image of their compressed image that is no different from the original image and the compressed image.
Register for Shorpixel Free
To try the shortpixel service for WordPress, you have to get an API Key and have to register first. Registration for a shortpixel account is free and very easy.
Please visit the Shortpixel site and click the " Free SignUp" button.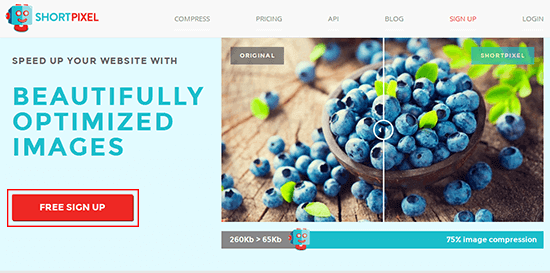 After that you will see a page with 1 column to enter your email address and click Sign Up.
Finally you will see a page with the message "WOOT, SUCCESSFULLY SUBSCRIBED!"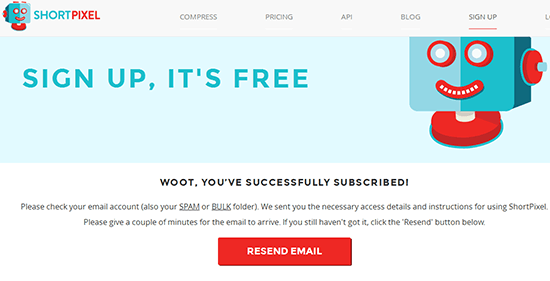 Please check the email you used to register on ShortPixel and if there is no email in the inbox please check the SPAM section, you will get a message containing an API Key and password to log into your account.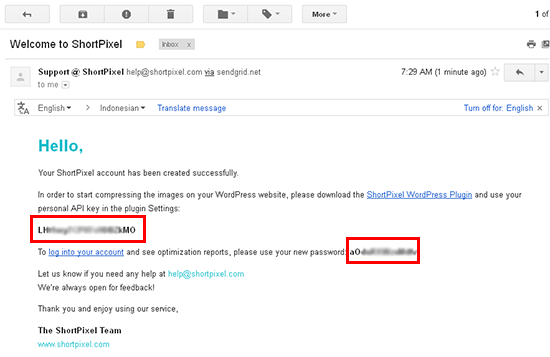 See How It Performs
On the homepage you will also see a long box with the words "Paste Here", this is a feature provided by shortpixel for users who want to try to see the performance of the site or image url, you can copy your website URL or image URL and paste it in the column is available then click the arrow button and see the results. See the picture below: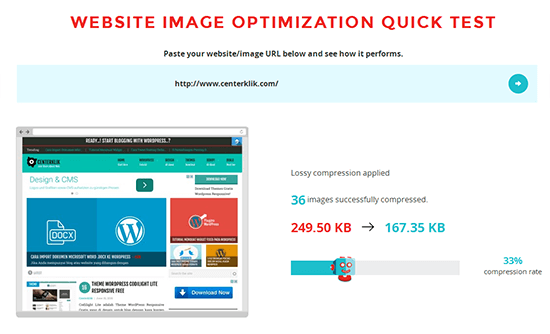 Compress
On the main menu there is the "Compress" menu. Please click the Compress menu and you will be presented with a page with free features from the shortpixel which you can try to compress images in JPEG, PNG and GIF formats. You can upload 20 images at once and a maximum of 100MB. This feature is really useful because you can compress images very easily, you just have to drag and drop images on your computer. And Shortpixel will process it fast. When the process is complete you can download it by clicking the little arrow on the image, you can see the results of each image that I compressed in the shortpixel, reduced its size by more than 60%. See the picture below.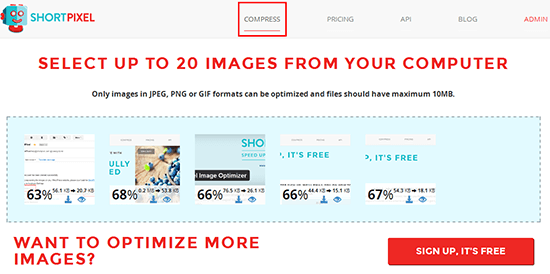 Price
ShortPixel offers a free service and a paid plan, both of which offer the same features and provide the same quality of optimization. The difference lies in the available image quota. And of course, for paid plans, customer assistance takes precedence. Here's the Monthly Plans shortpixel plan: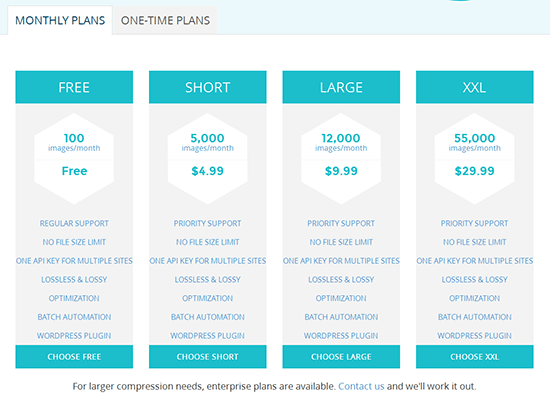 Shortpixel also provides 2 different plan methods namely monthly subscription and one-time plan. The same plan can be used for multiple websites. Make an instant image compression test on your site or compress multiple images to make sure they are the way you want them. Here's a price list for One-Times Plans :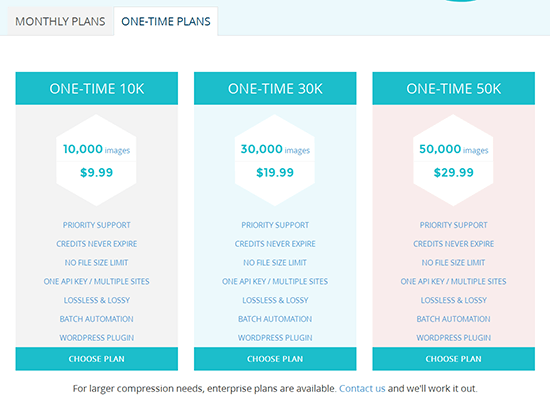 Affiliates
Shortpixel offers an attractive program for bloggers who want to make money, you can register to become a Shortpixel affiliate and after approval of registration and partner affiliation, you will be able to generate campaign links that will track your total earnings, leads and conversions. You will get 50% commission on every new sale generated from your unique link, and this 50% commission you will get on a recurring basis, not a one-time commission. In addition, you can also invite your friends to use the ShortPixel service with the Tell a Friend feature, every time you invite 10 friends and register you will get an additional quota on your account of 1,000 pictures per month forever.
How to use the ShortPixel Image Optimizer plugin
How does it work?
Choose your favorite settings like lossy or lossless, keep or remove EXIF, backups, optimize thumbnails, etc.
All images can be easily scaled and optimized with one click through the bulk optimization page.
New images are automatically resized and compressed in the cloud right after they are uploaded.
Smaller images will start being served from your website once they are optimized.
To use the ShortPixel Image Optimizer plugin, follow the steps below:
Download and install the ShortPixel Image Optimizer plugin and activate it, this plugin has been downloaded and has been actively used by more than 20,000 users, and don't worry about security because this plugin often gets updates from the developer, from the time I wrote this article the new shortpixel plugin was updated one week ago.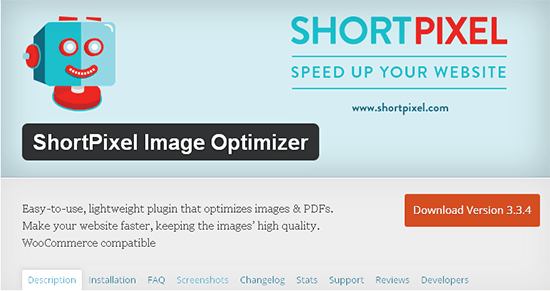 After you activate the plugin, there will be a menu called " ShortPixel " to be the Settings sub menu. Please click on the menu to configure the plugin.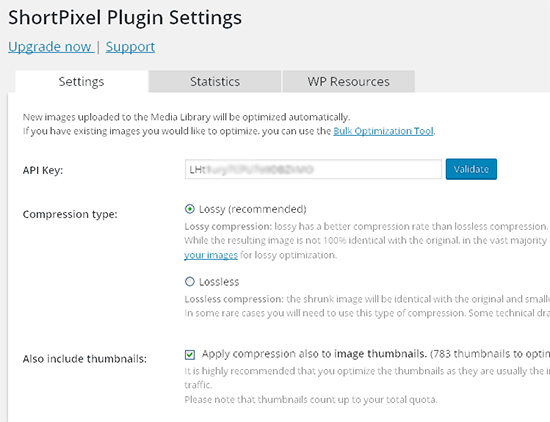 On the plugin settings page as shown in the image above, you must enter the API Key that you got in the email when registering and click the Validate button, if the API Key has been validated, several easy settings will appear, you can choose the compression type. Lossy (recommended) or Lossless. Next to the Settings menu, there is the Statistics menu, on the Statistics menu you can see the complete ShortPixel optimization report on your image. If you have finished making the settings, please click the "Save Settings" button to save the settings.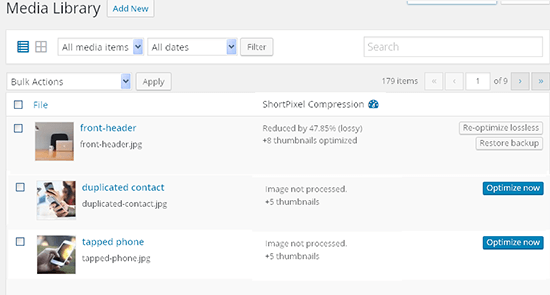 Please enter the Media Library in your WordPress admin area and optimize your images, you can optimize images simultaneously with the Bulk Actions menu or perform image optimization experiments one by one by clicking on the Optimize now button and waiting for it to finish, in the image above you You can see I did an image optimization and it has been compressed by 47.85%. And every new image you upload will be automatically optimized by the ShortPixel plugin. And that's how to integrate the Shortpixel plugin with WordPress, good luck.
Conclusion
Building a fast WordPress site when accessed is easy, you only need to use the best hosting service and also take advantage of several caching plugins such as W3 Total Cache and also the ShortPixel Image Optimization plugin, this ShortPixel plugin is proven to be effective in optimizing images on your WordPress site easily and compress images with a small image size but still look good image quality. The plugin is free but if you are short on data you can upgrade to the monthly plan for as low as $ 4.99 / month for 5,000 images / month to as expensive as $ 29.99 / month for 55,000 images / month. There is also a one-time pay plan of $ 9.99 for 10,000 images up to the most expensive $ 29.99 for 50,000 images.