10 Best and Free Instagram Photo Editing Applications in 2021 – Almost some millennial kids if they want to share cool photos, Instagram seems to be the most preferred place. Although social networking apps like Instagram have got a wide variety of instant photo editing features like impressive filters and basic editing tools.
But sometimes those features are still lacking and not quite what you want, especially when you want your photos to have a pro touch and stand out from the crowd so that they can really impress anyone who sees them. And that's where the best Instagram photo editor apps come in. Packed with lots of interesting editing tools and filters, they make photo editing quite simple.
Best Instagram Photo Editor App for iOS and Android
So, if you also like to share interesting photos on Instagram and are looking for a tool to make your photo images look more attractive, please take a look at the best Instagram photo editing apps below for iPhone or Android and choose the one that suits you best.
1. Instasize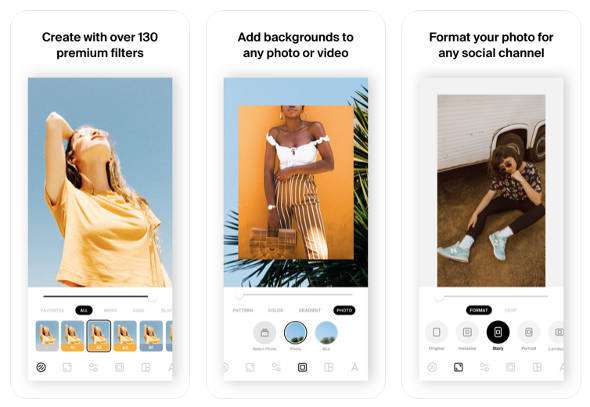 Instasize is a free creative toolkit that contains all the basic editing features you need to remix and modify photos and videos. It is an editor tool in the form of an all-in-one application that you can take with you anywhere even when traveling, Instasize can easily save edits to your photo gallery and export them to several different channels.
The Instasize app is user-friendly, with a clean interface that lets you access every feature with a quick swipe on your smartphone device. For photos, users can choose from a library of color filters, text styles, and borders to enhance image editing. Apart from that, you also have features to crop, resize, and advanced sliders for more editing control. The iOS version also has additional beauty tools (like blemish remover) and basic video editing.
You can download the app and use it for free for iOS and Android devices . You also have the option to upgrade to a premium subscription for additional content, but this is not necessary – all features are available for free from the start.
Price: Free and for premium 4.99 / month
For: iOS and Android
2. Adobe Lightroom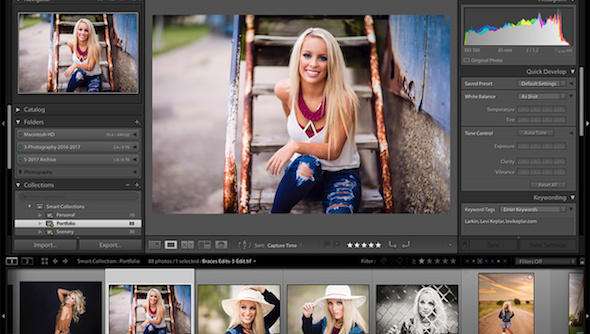 "Adobe Lightroom" stands out in many fields and ranks it at the top of our list of the best Instagram photo editing apps. What sets it apart from many of its competitors is its fairly clean and intuitive interface. Pair it with a variety of editing tools and you have a very useful photo editor for Instagram.
Based on how good you want your photo to look, you can adjust several important things like color, contrast, tone and lighting. There is a color mixer that allows you to smooth out the colors so that the photo looks visually appealing. One of the highlights of Adobe Lightroom is the ability to import and edit RAW images.
Featuring multiple camera modes such as HDR, professional and RAW, you can capture high-quality shots using your smartphone. Apart from that, you can choose to upgrade to the pro version of Lightroom to unlock many powerful tools such as selective adjustments, healing brushes, cloud storage and more. By using albums, folders, and star rating, you can organize all your photos perfectly.
It would be a little unfair if I didn't mention Adobe Photoshop Express (which is the app's sibling – iOS / Android) because it's designed for professionals. This instagram photo editing app is feature rich and offers you the desired control to edit your photos in an elegant manner. So, try photo editor software too if you want to have a more powerful tool at your disposal.
Price: Free
For: iOS and Android
Read: How to Change Fonts in Your Instagram Bio to Be More Attractive
3. VSCO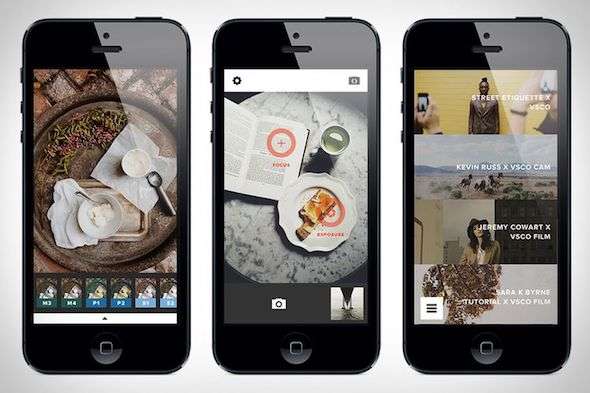 In second place for the best Instagram photo editing application, I chose VSCO. Simply put, it has all the ingredients to allow you to proficiently edit your images. With this app, you get a variety of professionally made presets and tools for experimentation. You must want your Instagram photos in a trendy sporty style, these presets could be a necessity for you right now.
You can adjust many aspects of a photo such as contrast, saturation, and grain so that it looks pleasing to the eye. Make the most of "Film X" to create an evergreen film look. Plus, advanced editing tools like borders, HSL offer you the convenience to completely change your Instagram avatar.
However, what makes this photo editing app so great is the option to connect with a large community of content creators. By doing so, you will be able to explore lots of interesting content and get much-needed inspiration from them. Also, keep an eye out for super cool tips and tricks shared by community members to improve your photography skills.
Price: Free, $ 19.99 for an annual VSCO membership
For: iOS and Android
4. Snapseed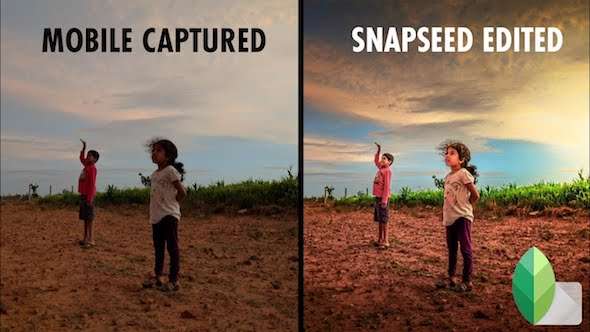 Google "Snapseed" has the luxury of the best editing tools to make your Instagram photos beautiful. This best instagram photo editor has lots of filters, it makes sure you get the desired result without much effort. Based on your mood or theme, you can choose a filter that can define your photos.
It lets you open JPG and RAW files and design them efficiently. Adjust the colors appropriately so that the image appears more realistic and sharp. Take control of brightness, exposure and saturation to give photos the perfect look. Get rid of slashes and arrange building geometry intelligently to make sure your images look not only stunning but also error free.
You can use the healing tool to remove someone from your photo. With lens blur, you will be able to add a bokeh effect to the shot. Option to add plain and stylish text. What's more, you can also take advantage of the glamorous glow to make your photos steal hearts and go for the vintage option for a retro look.
Price: Free
For: iOS and Android
5. Afterlight 2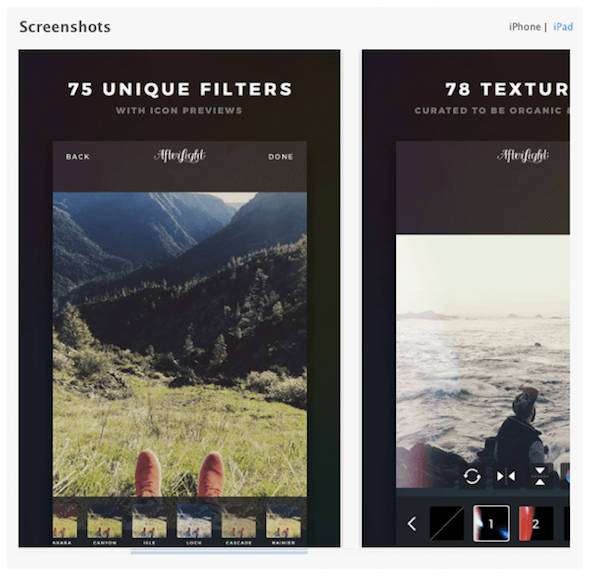 Afterlight 2 has always impressed me for more than one reason. First and foremost, I found the user interface quite easy to use. Plus, all the available tools are quite comfortable to handle. So, even if photo editing is not your forte, you can edit your photo images easily.
As well as a sleek UI, the app comes with a handy depth effect feature that you can use to focus more on your subject and distract from unwanted backgrounds. For a more dramatic result, you can try the prism effects and the stunning film. And there's also a dusty film overlay to enhance things.
With tools like hue, tone, clarify, and curves, it's fairly easy to find a more interesting image. Thanks to the variety of frames, your Instagram photos will look not only more stylish but also different. Not to mention the availability of hefty many fonts and designs that can add charm to your images. After you edit a photo, you can save it in various sizes like small, medium and maximum, which is another plus from a storage management perspective.
One of my favorite features of the best instagram photo editing app Afterlight 2 is the super cool "Double Exposure" which allows blending images together to make great combinations. Give it a try and I am sure you will like it.
Price: $ 2.99 for iOS, Free for Android
For: iOS and Android
Read: How to Add Music on Instagram Stories (Lyrics + Sticker)
6. AirBrush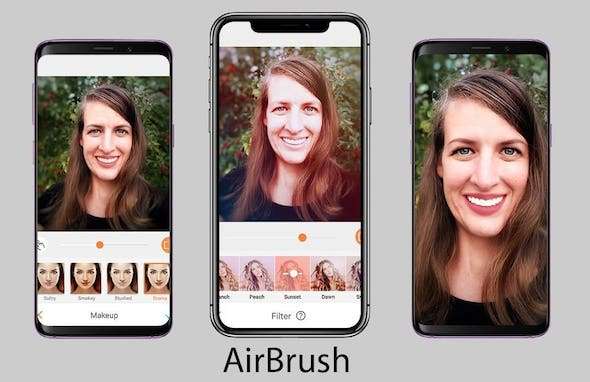 For adding glamor to your photos, AirBrush is the ideal way to go. Whether you want to remove pimples from your photos or apply makeup, it holds up well. Choose from a variety of modern filters to transform your appearance in the blink of an eye. Try lighting that is more suitable and offer the perfect smile to your selfies so they can attract attention. You can use these easy tools to even out skin tone perfectly. And don't forget to smooth out the lines so that you look even cuter than before.
It is this infectious smile that is believed to have earned a lot of praise. And with this best instagram photo editor app, you can quickly whiten your teeth and expand or encourage your smile to make it look even cuter. There is even an option to enlarge the eyes and brighten them to make them look even more charming.
AirBrush also lets you slim or expand any facial features, which you can use to come up with the perfect shape. Apart from that, there are also stretch tools to make you look taller.
Price: Free
For: iOS and Android
7. Polarr Photo Editor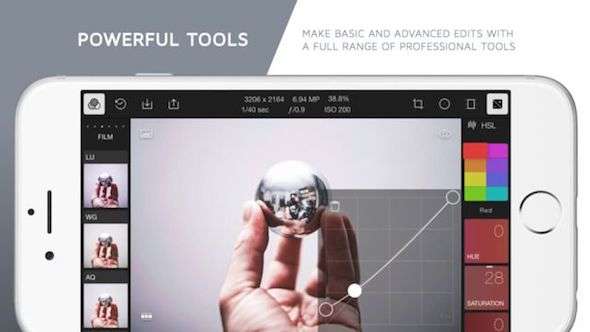 What caught my eye in Polarr Photo Editor is its smart auto-boost tool and has made it one of the best Instagram photo editing apps list. That means the app will get half of the job done, ensuring you don't have to spend a lot of time getting better results. Another feature that made me want this app is the dual lens effect as well as easy depth adjustment.
With lots of great artistic tools and effects, you'll always have something out of the ordinary. Apart from that, Polarr also offers options to create and customize filters. If you like experimenting with tools, chances are you'll really like this feature. Another thing worth noting is the photo-realistic effects like weather effects, clouds, flares, light leaks and many more.
Additionally, spot on color adjustments, custom overlays along with pretty good blending modes make it the complete package for getting the most out of your Instagram selfies. Plus, batch export and photo extensions will simplify the task.
Price: Free
For: iOS and Android
8. Photo Lab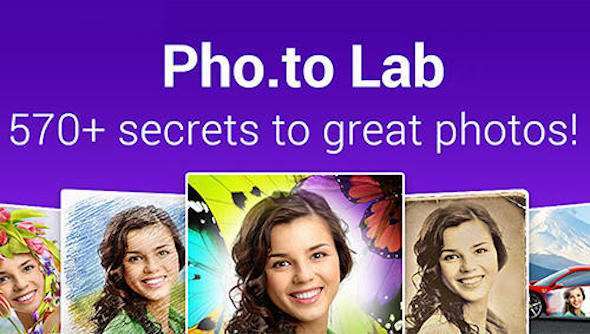 "Photo Lab" is a complete photo editor and it has a few tricks and it is another best instagram photo editing app. Well, this is perfect for those of you who have always craved more photo effects. What makes it a part of the best Instagram photo editing app is that it has a huge library of over 800 effects. That means you'll get a variety of effects to try and choose the ideal for your photos. Apart from that, this app comes with around 50 preset styles. If you like turning your photos into eye-catching works of art, this preset style is worth checking out.
As for photo filters, they are large in number and can play an important role in beautifying your images. Not to mention the face photo montage that can let you turn your photos into monsters, pirates and more. Browse through the ever-growing library of frames and choose the one that matches your Instagram photos. And just in case, you can create unique frames for some memorable pictures, and make a photo collage.
Price: Free trial (starting price of $ 1.99 for iOS) / Free (for Android)
For: iOS and Android
9. Pixlr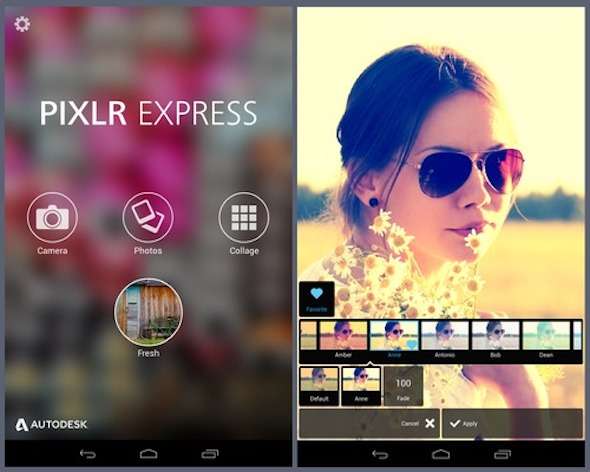 "Pixlr" claims to offer more than 2 million effect combinations. If you want to have a lot of editing tools, you should try this Instagram photo editor. Love creating beautiful collages to post on Instagram? You can choose from several preset collages to put together multiple memories in one frame and give them a better reason to smile together. To make sure your photos look perfect, you can remove blemishes such as red eye and can also smooth skin and whiten teeth to make it look more stylish.
Choose from many overlays for your photo depending on the theme or mood. For a more creative look, design your drawings like a true artist and make them into ink sketches and even pencil drawings. Don't forget to unpack the huge pack of effects that can instantly transform the entire look of your image.
This application provides various fonts so that the text looks equally attractive. After you make a picture beautifully, you can resize it. Finally, take advantage of the favorites button to save the tools you like so that they are easy to find at a later time.
Price: Free
For: iOS and Android
10. Perfect365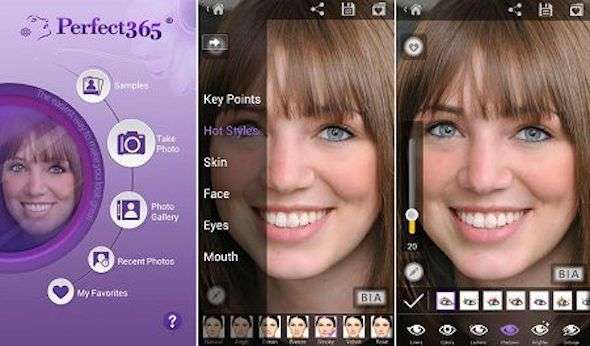 If you want the photo editing process to be super easy, Perfect365 can be a pretty good choice. The reason why I feel worthy of using Perfect365 as the best instagram photo editing app is because it has tons of makeup and beauty tools. So, if you think your Instagram stories should look stunning, this app can suit your needs admirably.
The app offers around 200 preset styles which can be very useful for allowing you to add an x-factor to your images. And with endless color choices, you have a little more freedom to make your photos look great. Thanks to its advanced face detection technology, it offers more suitable makeup options. Because of this, you can easily create an appearance that looks good on you.
Take advantage of a variety of hairstyles and colors. You have the freedom to explore a number of well-known beauty brands and handpick the items that can produce pleasing results. That's not all, Perfect365 also offers smart make-up and fashion tips that you can follow and those that are already icons to many.
Price: Free
For: iOS and Android
11. Layout From Instagram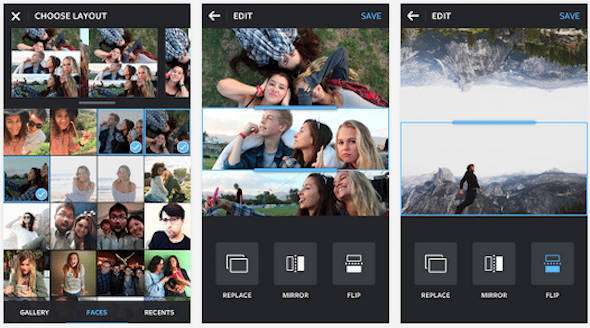 If you are eyeing a high-end layout, I would recommend that you try "Layout from Instagram." As the name itself suggests, this app was developed by the people on Instagram and offers a lot of options.
This best instagram photo editing app allows you to mix up to 9 photos to create stunning layouts. Apart from that, you will be able to use Instagram's filters and all available tools to enhance your creativity. It features an intelligent Faces tab to let you quickly access photos with people in them. Plus, there's a cool photo booth mode that lets you take up to 4 photos at once.
Regarding the interface, I found it quite easy as it doesn't involve much of a learning curve. So getting started is as easy as you want. Apart from that, you can save your favorite layouts to your photo library and share them with your friends.
Price: Free
For: iOS and Android
Now that you have a variety of the best photo editors for Instagram at your disposal, take advantage of them all to amaze your followers with every single photo you upload on Instagram. Since most of these instagram photo editing apps have tons of filters and effects, so experiment with as many looks as possible to come up with your best shot. And once you are satisfied with the result, upload the photo on your favorite social site. Hopefully this article was useful for you and helped you in finding the best Instagram photo editing application to juggle your photos. Good luck 🙂