Zakra – Best WordPress Themes and Supports Gutenberg Editors. Are you currently looking for a quality and feature-packed free WordPress theme for your website? If so, of course you may have difficulty finding a free theme that is suitable for some of your websites because there are so many free themes available and they may have very minimal features.
Here I will try to provide answers to your searches so far, with this free WordPress theme no matter what kind of website you want to build everything will match this theme, this new WordPress theme named Zakra is made from experienced professional WordPress theme developers namely themegrill, this WordPress theme might be the most appropriate choice for your website.
Why Should You Use Zakra Theme?
Zakra is a free WordPress theme that is compatible with multipurpose page builders or page builders like Elementor. This theme comes with lots of layouts aimed at building various types of websites, there are around 33 WordPress theme layouts available today of which 22 are free layouts and 11 of them are included in premium packages that can be used for business websites, construction, education, food, eCommerce and many more. You can easily import a demo with one click with the help of the zakra demo importer feature.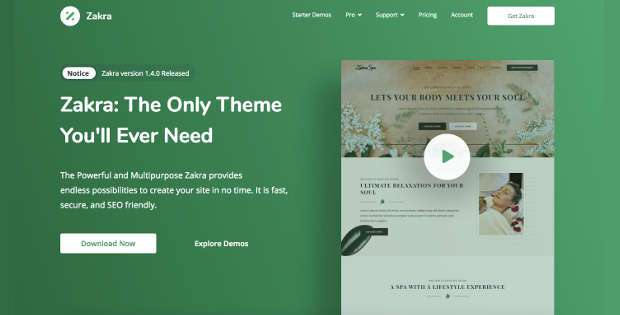 This Zakra theme is also a WordPress theme that supports Gutenberg as it is fully ready with the new WordPress editor Gutenberg, If you need the best theme that fits perfectly with the Gutenberg editor and are looking for a very powerful Gutenberg WordPress theme, Zakra is the best choice for your WordPress site. In addition, the Zakra theme also supports GDPR, where this theme does not store sensitive data on site visitors or users so that site visitor and user data will be completely safe.
The Zakra Theme is also the best WordPress theme currently used by many users around the world. This theme has been downloaded and used by more than 40 thousand users, getting more than 200 five-bit ratings on WordPress.org and there are more than 100 sites. the web is built on the theme of Zakra every day. By looking at this data, of course there is no need to doubt the quality of this Zakra theme and you should try it.
Read: 10+ Free WordPress Themes That Are Suitable for Gutenberg Editors
Zakra Theme Price
The Zakra theme is a free theme that you can download directly from the WordPress theme library at WordPress.org → Zakra Theme . This free theme is very good and enough to make your website look more attractive than others. However, if you want something more than this theme then there's a premium version with more features and lots of great layout options.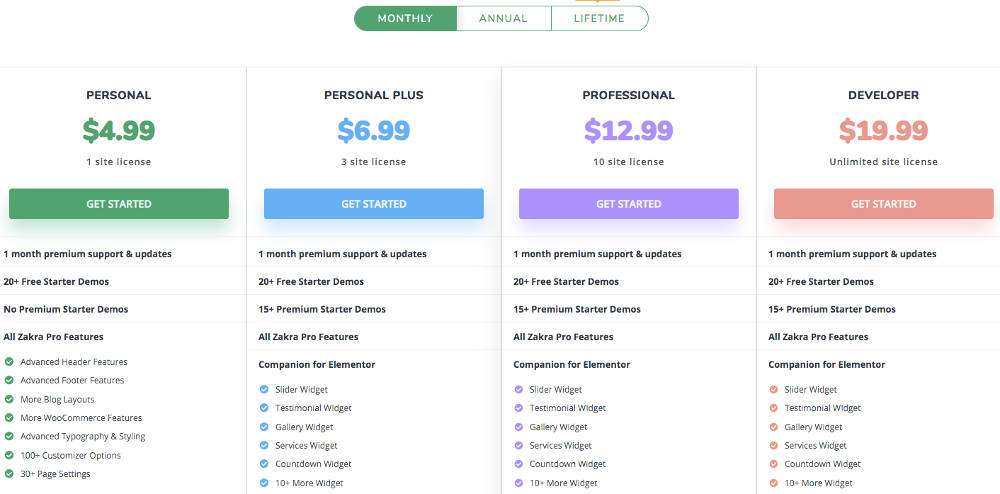 Above is a price list of the Zakra theme that you can buy monthly, yearly and lifetime. Prices start from $ 4.99 to $ 19.99 per month. What differentiates the price of each package is the number of site licenses, the update and support period, the number of demo starters and other features.
Key Features of the Zakra Theme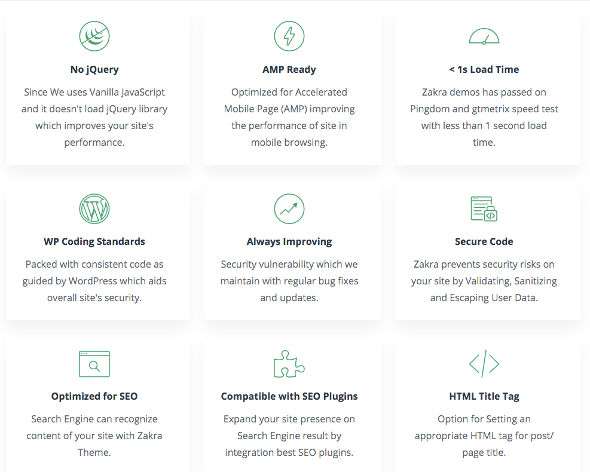 As I said above, this is a very good free theme with a large selection of layouts and features, which you rarely encounter for a free version of the theme with the capabilities provided by Zakra. Following are some of the main features:
Gutenberg compatible
This theme is fully Gutenberg compatible. Zakra theme developers and designers have made code improvements to make sure every block created with the Gutenberg editor looks good. Most of the themes are still not compatible with Gutenberg and they don't work well with the Gutenberg Editor, but the Zakra theme supports all things Gutenberg related.
Elementor Page Builder Support
This theme was built with strong consideration to be compatible with various new things like elementary page builder as well as other main page builders. Because the developers believe that page builders are the future. With this page builder you can easily create the required page designs without coding
Many Layout Options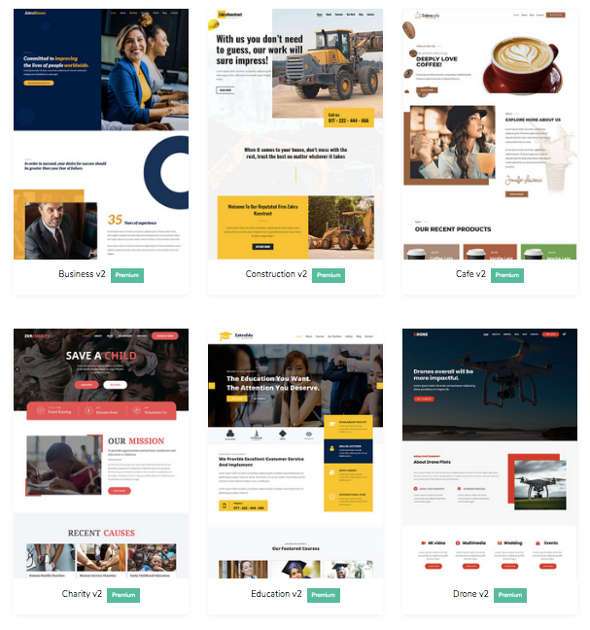 This free theme comes with 33 different demo layouts suitable for various types of websites such as Business, Agency, Restaurant, Online Shop (eCommerce), Cafe, Spa, Charity, Yoga, Wedding, Dentist, Education, Construction, Yoga, Applications, Freelance, Portfolio and many more.
Supports GDPR Complaints
The theme of Zakra has fulfilled the GDPR complaint. Where this theme does not store sensitive data of viewers or site users. So that user data is very safe with your website.
Main Color Options
There are color choices that you can use to match your brand or logo theme. This unique color will be reflected in buttons, menus and links, etc. So that you will easily create a website that matches the main color of your business brand.
Header and Footer Style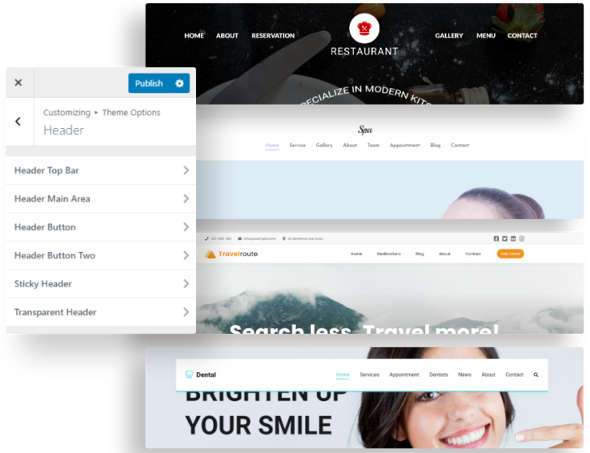 There are many widget areas available on the essential areas of the theme from header to footer. Add the widget of your choice to this widget area. With the large number of widget areas available, giving you a lot of convenience in adding what's important in a prominent section.
Zakra provides a Header Top Bar with a customizable section that allows for Custom Widgets, Menus and HTML. Likewise, both Main Area Headers come with as many designs as you need for your site.
3 Header Top Bar
Transparent Header
2 Header Buttons
Sticky Header
Transparent Header
2 Header Buttons
Our widget-filled Footer Area offers 10+ column combinations that will allow you to create the Footer of your dreams.
1 column
2 Columns
3 Columns
4 columns
7+ Compound Layouts
Scroll Up
Full Width
Search Engine Optimization
Zakra is made by a team of developers experienced in various important elements such as SEO. These themes all follow the best SEO practices. The title tag is used wisely to submit your important content to search engines and your site will be easily indexed by search engines such as Google.
Read: How to Deactivate Gutenberg and Switch to the Old WordPress Editor
Advanced Typography
This theme has typography options like font-family, variant, font size, line height etc. Which you can easily change to fit your site. This kind of feature is very difficult for you to find in other free version themes.
WooCommerce support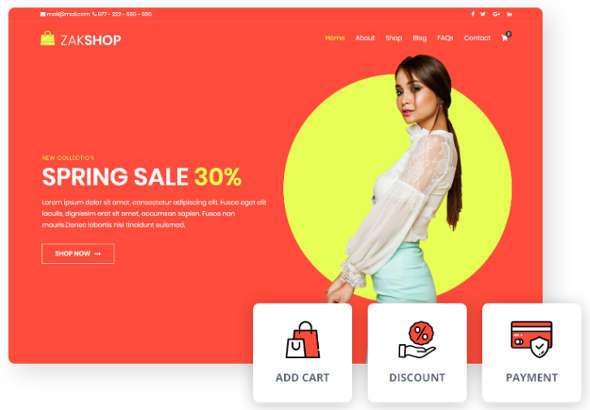 As we know that the best plugin for WordPress online shop is WooCommerce, therefore Zakra theme does not miss this important feature, where you can easily integrate Zakra with WooCommerce, you can easily customize your online store product page in this theme.
General Layout
The theme supports common layouts like full width, right sidebar, left sidebar etc. for pages, posts and archives. You will get the basics essentials from this Zakra theme. Set the layout for your site with various options, you can choose grid layout or width as you like. This will be reflected throughout the site. The grid layout supports background color and background image features.
Compatible with Major Browsers
Zakra theme has been tested with all major browsers. This site looks smooth, good and works fine no matter what browser you are using. All browsers will present your website with this Zakra theme with a perfect look.
Responsive design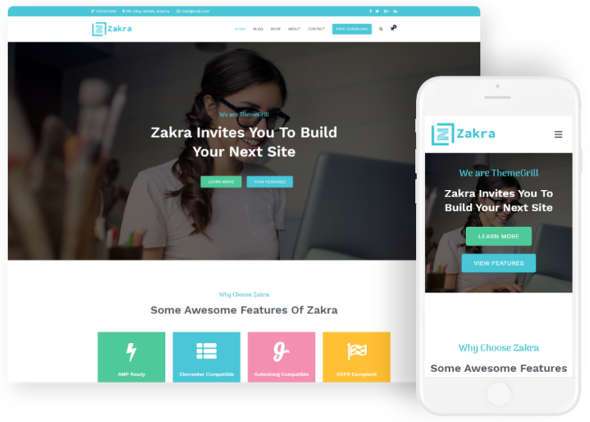 The Zakra theme is a fully responsive theme that will make your website look beautiful and adapt automatically when accessed via a smartphone, tablet or desktop device of any size. Besides that, Zakra also supports AMP (Accelerated Mobile Pages). This ensures that your website will load at breakneck speed on mobile devices.
Optimized for Speed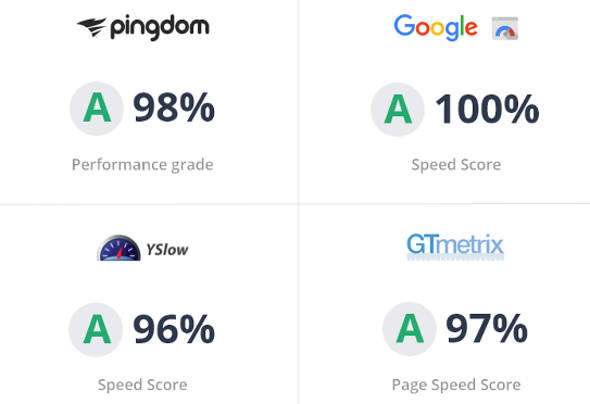 Zakra Themes is constantly updating the theme code with the latest and best theme development practices to keep site loading times to a minimum. This theme is so light that it will make your website visitors love it. And this Zakra theme has been tested in various website speed testing tools such as Pingdom, Google Page Speed Insight, YSlow and GTMetrix. Where all these speed testers show fantastic A + values above 95%.
Custom CSS
You can write a custom css to change the look and design of the theme to your liking. This option makes it easy for you to make changes so you don't have to worry about updating the theme to the latest version.
Demo Content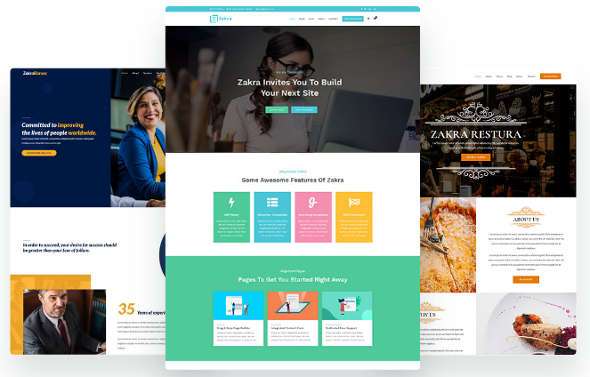 With the ThemeGrill importer plugin you can make your site look like a demo site already available, this feature will help make building your website easier and faster with just one click. Because you don't need to learn further and only need to edit the content to match your content.
Translation Ready
The theme is ready to be fully translated. Means that the hardcoded English text in the Zakra theme can be translated into any language we use easily. And don't worry, because this theme has been translated into Indonesian which you can check here .
Documentation and Support
The Zakra team provides free support to users of this free theme via the support forum at WordPress.org. Send for Zakra Pro theme users you can directly contact personally via live chat and support email or tickets.
Apart from that, you can also see complete and clear documentation. The instructions in this theme documentation will tell you how to use the theme features step by step.
From the features listed above, I am sure that you will easily get familiar with the Zakra theme. Now, let's break down some of the highlighted features of Zakra as well as some helpful tips for using Zakra.
Conclusion
Without a doubt, Zakra is one of the best free WordPress themes for any type of WordPress website. In addition, Zakra has a large selection of layouts for various types of websites and provides many widget areas so that they are the right choice for your website projects. Apart from that, Zakra is a WordPress theme that supports the Gutenberg editor which is built to be SEO friendly, responsive and lightweight. This theme is also always up to date with the development and progress of the core WordPress and other popular plugins so there is no need to worry about compatibility.
Zakra development team has dedicated support team, forum for questions and well text and video documentation. Because of this, Zakra has many spectacularly developed features. Are you ready to use this amazing WordPress theme? Please leave a comment column about your experience using this Zakra Theme. Good luck 🙂
Read: 10+ Plugins For The Best and Free Gutenberg Block Editor