WP SmartPay – Paddle Payment Gateway Plugin For WordPress – Whether you plan to create an online store whether it's a real product or a digital one, WordPress always provides the best solution for you. For example, if you want to sell products like crafts, clothes, bags, cosmetics or whatever, you can always choose to use WooCommerce.
Meanwhile, if you want to sell digital products such as ebooks, design drawings or photography results, you are also provided with a plugin to handle this called EDD (Easy Digital Download).
Then, if you have determined what products you want to sell and the WordPress platform is your choice with the help of one of the plugins above. The next thing you need to think about is a payment solution that is practical and efficient. Here I will introduce you to a payment system that will make it easier for your customers to make payments at your online shop, the payment system is Paddle.
What is Paddle?
Paddle is a comprehensive SaaS online trading all in one platform. It combines billing and subscription management, financial compliance, manual invoicing, payments, sales tax and more all in one tool or one platform.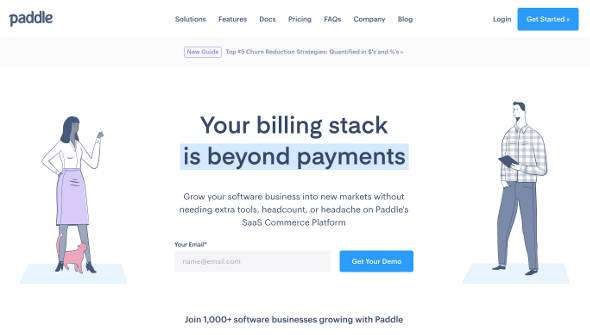 Paddle is a payment system option that can help you control the entire client billing process. It takes care of your billing support, compliance, currency, payment, and tax options. No additional tools required to purchase or use.
Paddle is similar to other payment systems namely 2Checkout, FastSpring, Stripe and other popular payment gateways, has many benefits of Paddle, and has cool features that make Paddle an option that you should consider.
Paddle will pay and file any sales tax due on your behalf. They will then send you a "reverse invoice" so you can record the taxes as paid. This helps ensure that your invoices, payments, receipts, and subscriptions will all comply with state and federal tax laws and regulations.
Although Paddle is a new payment system, it is very secure as it offers four layers of fraud protection by integrating fraud protection with its algorithm. This can help you fight any chargebacks that may occur. Any suspicious transactions are automatically flagged. There are no extra fees to pay, and you work with Paddle in person.
Once you have read about the goodness of paddle above, and you are looking to use Paddle as a payment solution in your online store, you will need an effective WordPress plugin so you can add it to your WordPress store. WP SmartPay is a WordPress Paddle plugin that allows integration with the Paddle payment gateway and it can integrate directly with WooCommerce and EDD.
What is the WP SmartPay Plugin?
WP SmartPay is a plugin that can integrate the payment system in your WordPress online store with the Paddle payment gateway. This is ideal for anyone looking to add a Paddle payment gateway to their WordPress site. This plugin can be used for Easy Digital Download and WooCommerce, with a very easy and simple configuration.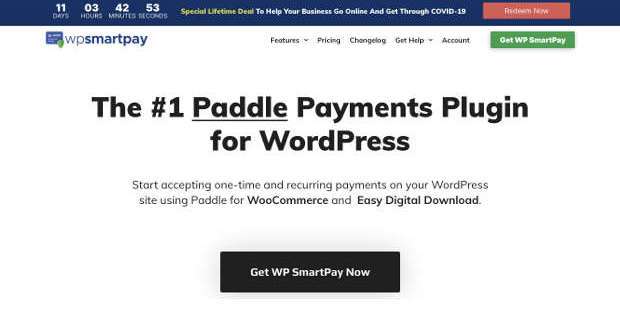 WP SmartPay is the perfect eCommerce resource solution for small, medium-sized entrepreneurs and even large companies. With this payment solution, you don't have to worry about payment gateways, taxes, or checkout processes. By using Paddel, you don't have to bother thinking about how payments will be made and all matters relating to payments will be handled by Paddle, all your needs have been provided so you only need to focus on promotions and strategies to increase your sales.
This plugin allows you to collect payments for donations, products, and services without having to hire a developer to write code. This is the only means of payment you will need. WP SmartPay will also calculate your taxes for you, no matter your industry or niche. Your invoices, payments, receipts, and subscriptions will all be tax compliant.
Plugin integrated with Paddle to pay and file sales tax for you. It will then send you an email with a "reverse invoice" which you can file on your records as proof that the tax has been paid.
Sales conversion rates are usually better when transactions are smooth. Customer satisfaction is very important for increasing sales figures. WP SmartPay is designed to facilitate a hassle-free shopping experience. The whole procedure is simple. Clients don't even have to leave your site to complete their purchase.
WP SmartPay also supports various payment methods such as Visa, MasterCard, Discover, American Express, Apple Pay, PayPal, Bank Transfer (ACH / BACS / SEPA), Diners Club, Maestro, and JCB.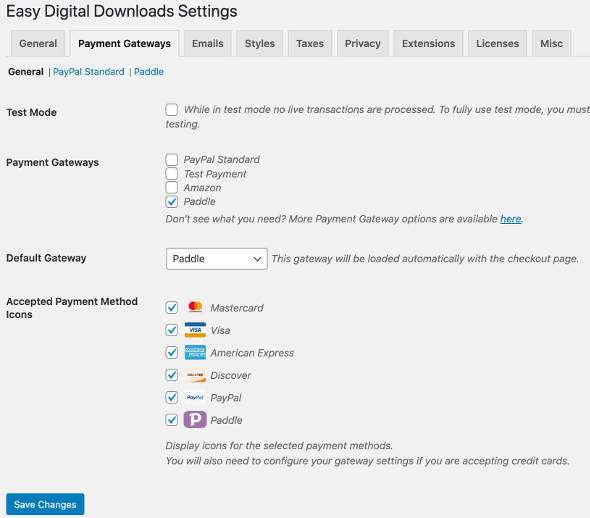 All payments will arrive via your Paddle account regardless of the customer's payment method. WP SmartPay allows your clients to pay in the most convenient and efficient method for them.
Say you wanted to offer a discount to your customer. Coupon codes can be generated for customers to use when they place an order on your site. This coupon code can be used for payments or a one-time subscription.
You can also add a total quantity label to your client's orders with real-time updated information. This feature is included in WP SmartPay. You don't need to buy or install any other plugins to offer this kind of service as all is provided by WP SmartPay.
WP SmartPay Price
WP SmartPay is not a free plugin, to use it you have to pay a fee. But of course that's not a problem considering how important this plugin is to help organize everything about payments in your online shop.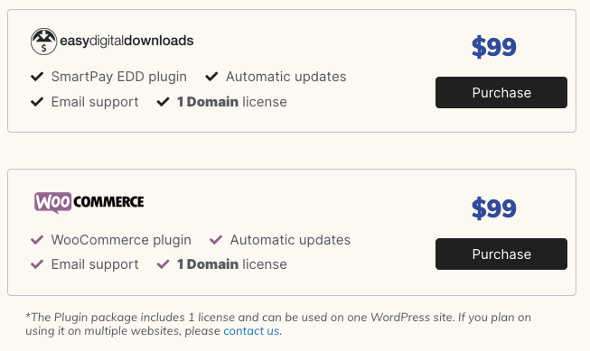 You can buy WP SmartPay for Easy Digital Downloads or WooCommerce for Paddle payment gateway integration in WordPress. The price each is $ 99 / year for use on a single website. Updates are automatic, and support via email.
If you need a license for more than one website, you should contact the WP SmartPay developer to discuss pricing depending on your needs. There is also a 14 day money back guarantee, so if you are not satisfied with the plugin then you can request a 100% refund.
WP SmartPay Key Features
Paddle launched several features that make it easy for any user, even a large company, to sell their products and services to clients anywhere in the world. Paddle is an all-in-one payment gateway that will revolutionize online sales. And here are some of the features that you will get when using WP SmartPay:
Beautiful & smooth checkout
Make payments by credit card or seat-based, usage-based billing cycles via Paddle's flexible checkout. Your customer does not need to leave the site at all to complete a purchase.
Not dealing with invoices
Invoice or invoice Paddle integrated and reconciled payments with your subscription too – no hassle to tackle finances and sales. All made easy to draft and send invoices to your customers.
Supports all payment methods
Accept multiple global payment methods (including PayPal) in one integration with Paddle. Take payments via credit card, wire transfer, and other alternative payment methods.
Support for recurring payments
Paddle has built-in recurring billing so you can sell software or digital products with a one-time subscription or purchase method. Set up a recurring payment package with WP SmartPay and make payments easier.
One time payment
Paddle hosts all of your payment methods on one platform, and reconciles payments on your behalf to each customer account and subscription also ensures one-time payments.
Support for Cart Pop up and checkout
EDD allows you to create more standard stores (or even marketplace mode) where users can add items to your cart and then complete purchases via Paddle Checkout.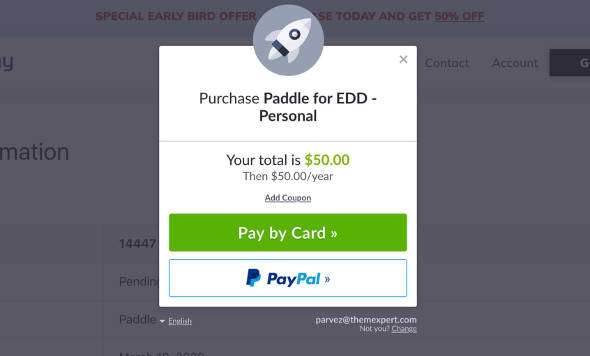 No upfront costs
Don't waste your savings in the bank if you're just starting out. WordPress and EDD are open source software, and WP SmartPay allows you to start selling without any fixed fees or contracts on a free plan.
All your Taxes and VAT are calculated and filed
Paddle automatically takes care of calculating, collecting and shipping sales tax and VAT in each country on your behalf: you don't have to do anything.
Address fraud and chargeback protection
It has features to smartly minimize risk and combat fraudulent fraud to minimize fraudulent payments and chargebacks. Maintaining four layers of fraud protection, Paddle ensures to provide the best deal features in your online shop.
Conclusion
WP SmartPay is the best Paddle WordPress payment gateway plugin. It has a simple converting checkout for subscriptions, sales, and transactions. This allows you to focus on growing your company without having to worry about customer bills and everything about paying.
This plugin consists of two versions, namely for integration with the Easy Digital Download plugin and for WooCommerce. You only need to buy according to your needs at an affordable price that will give you satisfaction when using WP SmartPay because of its convenience, support, automatic updates, and ease of use.
Read: Creating a Download Website in WordPress with Simple Download Monitor