Bookmify – The Easy Way to Book Appointment in WordPress – Nowadays, everyone wants to be online. Not only in terms of information, buying and selling and online payments , various kinds of services also want to be presented online.
One of the things that is still rarely presented online in Indonesia is booking appointments. In other cases online ordering may be up and running and starting to get a place for the user such as ticket booking, but for booking an appointment with a specialist in services we still don't see much of it today.
If you are a specialist in a particular field such as a doctor, financial specialist, health instructor, education or others. So it's a good idea to have your service online. This goal is to make it easier for people to find you and also provide an easy and practical service. This of course can also be a plus for those of you who are competing with other specialists in your area.
By offering a service that can order directly from your website, clients can quickly check when you or your services are available. They can schedule exact dates without calling you first, or without letting your clients queue for too long at your work page.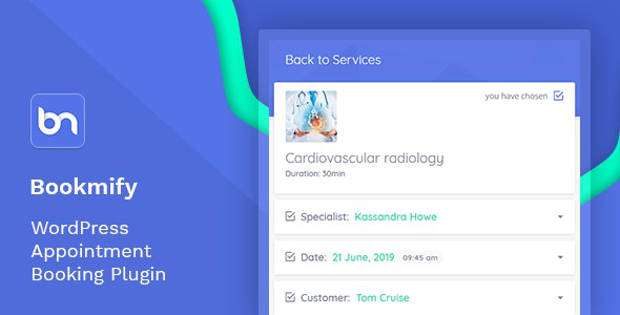 How to Make an Appointment Booking Website?
In addition to presenting your services online through Google My Business ( How to Register Your Business to Google My Business ), you must also present your services online through the website, in this way you are more free to share complete information on your website and also add any features you want.
In addition, creating a website with WordPress, you can easily add features to book appointments with your clients and set schedules easily and automatically. With WordPress and all the plugins and extensions available, you can automate almost any business. Let the tools and software do the hard work for you. There are many plugins that can be used to add the appointment booking feature that you can find, one of which is Bookmify.
With a powerful ordering plugin for your WordPress business site, you'll also have everything in order. It will also modernize your business and remove a lot of clutter. You will also be notified by email so you are always fully prepared. In addition, receiving payments from your services is also easier and more automatic.
Now let's take a closer look at the Bookmify plugin, and see how it can simplify and simplify your business.
What is Bookmify?
As the name suggests, Bookmify is a neat, easy-to-use, and powerful appointment booking plugin for WordPress. It's a tool that will help you keep a lot organized, but most importantly, Bookmify is here for you to take your business to the next level.
In short, Bookmify is an online scheduling software that has everything you need to grow and manage your business in one easy-to-use and powerful user interface. It helps you manage your day, follow your schedule and bills, and send email campaigns – all from one online software.
Bookmify can cater to a variety of appointment projects such as:
Health & Wellness: Wellness, Spa, Massage, Therapist, Acupuncture.
Education: Colleges & Universities, Schools, Tutoring
Medicine: Doctors, Dentists, Chiropractors, Optometrists
Fitness & Recreation: Health Clubs & Gyms, Personal Trainers, Clubs
Salon & Beauty: Various types of beauty services
Professional Services: Lawyers, Tax Consultants, Photography Studios
Entertainment Services: Various kinds of holiday services such as City Tour etc.
Government: Government offices, Volunteer Scheduling
Much More: Business Coaching, Driving School, Yoga Lessons, Dance Instructors, Pet Walker, Day Care Centers, Repair Centers, Legal Consultants, Interview Scheduling and much more.
Even if you have other types of business besides the ones listed above, you can do that too, with simple and easy Bookmify.
Some of the core features and functionality of Bookmify include online appointment scheduling, payments, employee login, custom fields, email notifications, and two-way synchronization with Google Calendar . By the way, before you buy and use this plugin. We recommend that you take a look at both the demo back end and back end demo versions that Bookmify provides for you.
This will give you a better idea of what Bookmify can do to your business website. And Bookmify also provides professional support too, so when you find yourself having trouble then they are ready to help you.
How Does This Plugin Work?
Now let's look at how easy it is to use the Bookmify Appointment Booking WordPress Plugin as a tool that will help you create an appointment booking scheduling website in WordPress.
Bookmify will make it easy for your prospective clients to book an appointment with you via your WordPress website. It's just a process of several easy steps on one page.
Your selection of some of your services will be displayed simply on the front with a picture, name of service, price and time taken. Users only need to choose which service they want to choose to request an appointment schedule.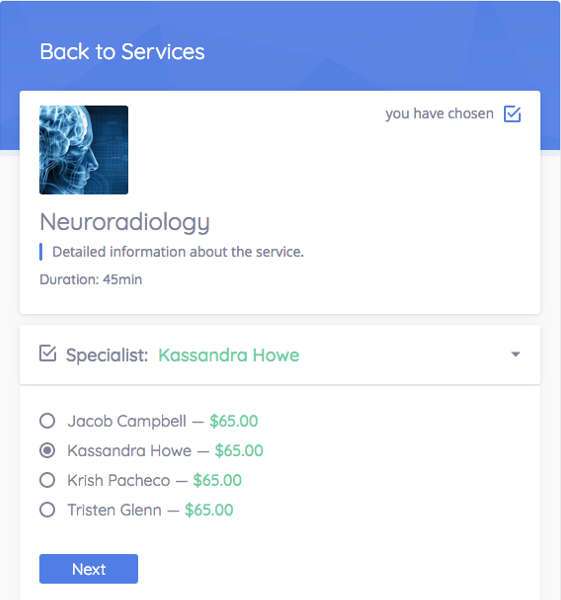 Next, your client will choose the date and time you want the specialist appointment. Where this date and time can be determined by you and will automatically not be selected by the client if the date and time have been ordered by someone else.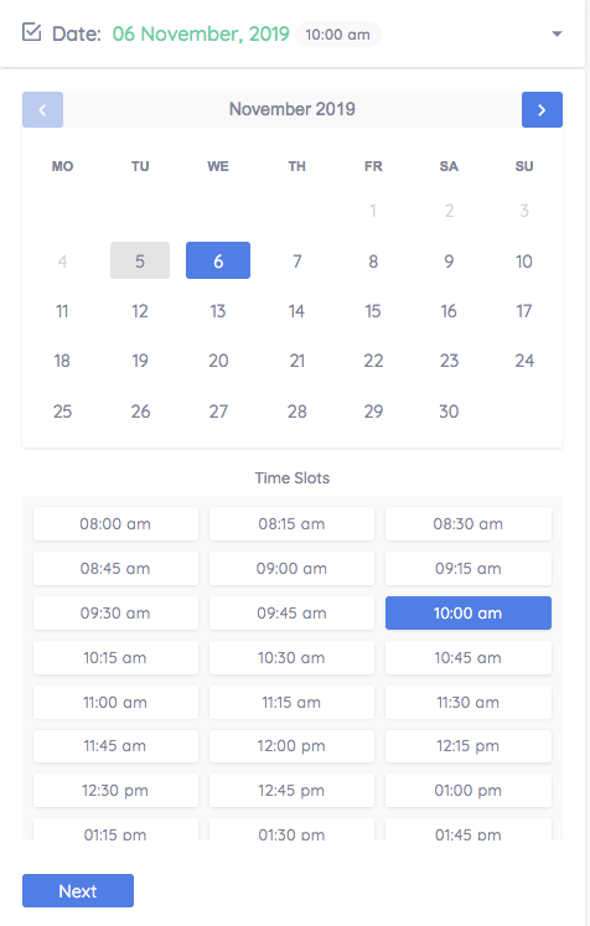 Next, the client or customer needs to enter their full name, email address, mobile number and also a short message for the specialist. And then click "Sign up".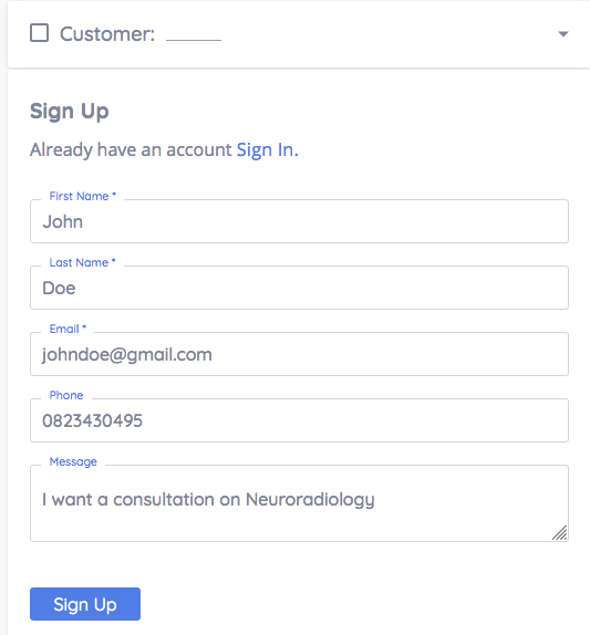 Finally, the Client will see the detailed price details of the ordered appointment service along with information on the payment methods that can be made for bookings. After that, click Approve booking to complete the last step in the order.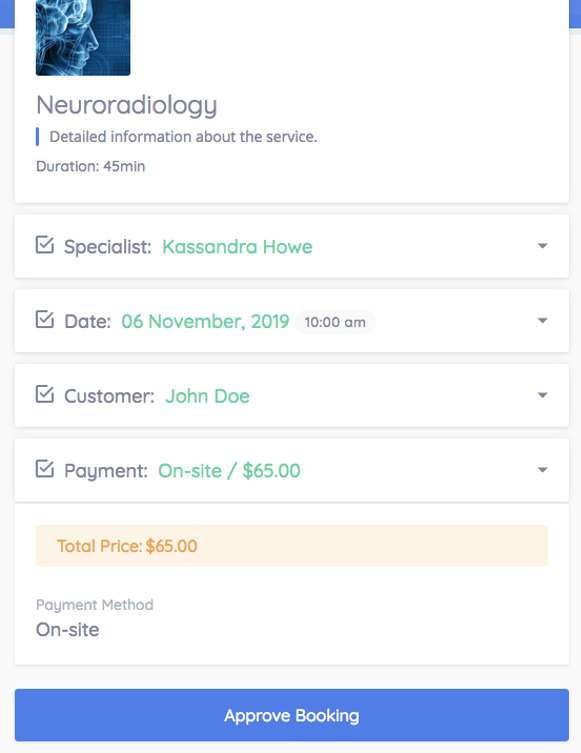 After that, the customer will receive an email confirming their order. After that, you as a specialist will also receive a confirmation of the order which will be sent to your email. And on the admin page there will also be a clear report. Bookify also has a beautiful and simple dashboard page, where all information and settings are displayed in a very user friendly manner. You don't need to be an expert to understand the use of this plugin.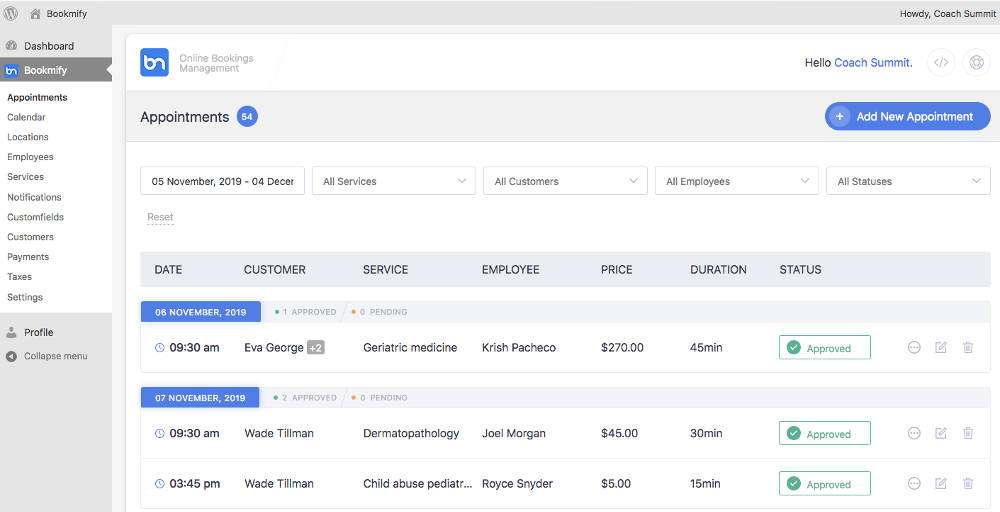 Conclusion
Bookmify Appointment Booking WordPress is a WordPress plugin that lets you create an appointment booking scheduling feature, it is truly an easy-to-use plugin with a simple and fast booking process. I believe this is a plugin that you will love because of its simplicity both for you as the site owner and for your customers. This plugin is priced very cheaply at $ 49 which you can buy through Themeforest here , it's a small investment considering how much it will help your work and even reduce costs for employees. Because everything is automatic, easy and precise.