When you create a website for either business purposes or a website for any purpose and you want to get visits from various countries, all you have to do is make your website support multiple languages.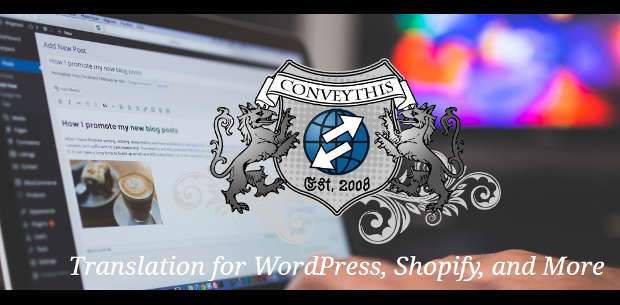 Creating a multilingual website does have many benefits, besides visitors can easily understand the content of your content, this can also provide opportunities to get clients from users outside your country.
To create a multilingual website is actually not difficult, especially if you use WordPress, you will be able to easily find various plugins that can make your WordPress website multilingual support. But not all plugins are able to translate websites into various popular languages and it may be that the resulting translation is not what you want.
In this article, I will review a new WordPress plugin called ConveyThis Translate that can help you make your WordPress website multilingual with good translation results and very easy to use.
What is ConveyThis Translate?
ConveyThis Translate is a tool that can help you translate the entire content of your website quickly and easily, and ConveyThis is able to translate into 90+ languages spoken in various countries around the world.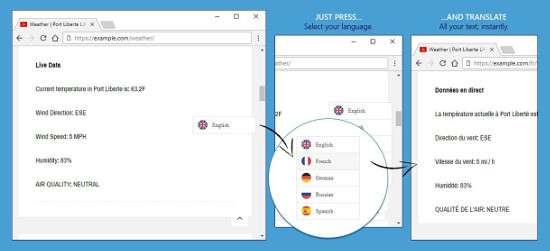 ConveyThis is a tool that can be used to translate content for various platforms such as WordPress, Shopify and several other CMS. With this plugin you can instantly translate your content as easy as a click.
Every line of your website will be translated into the desired language, the content will be translated directly by a professional translator or by a sophisticated machine translation.
ConveyThis is also an SEO-friendly plugin and is compatible with all WordPress themes and works well with various other popular plugins. The pages of your website translated by this plugin are well indexed on popular search engines such as Google, Yandex, Bing, etc.
Read: The Complete Guide to Changing the Language on Your WordPress Site
The advantages of ConveyThis Translate
Here are some of the advantages you will get when using ConveyThis Translate to translate your WordPress site.
SEO Friendly : ConveyThis Translate is a sophisticated plugin built using the latest SEO techniques, your translated content will get its own URL prefix so that every translated page can be crawled and indexed by search engines.
Fast Integration : ConveyThis is very easy to use and it only takes you 2 minutes to make your website support multiple languages. You just need to install the plugins, register, and choose your language settings.
Affordable Prices : ConveyThis offers several premium packages at affordable prices, you can choose a package according to your website needs and this plugin is also available free of charge for small size websites or blogs. Apart from having a free plan, they currently have 50% off all their paid plans. And don't forget that ConveyThis offers a money back guarantee.
Custom Translation : You have three ways to translate your text namely using machine translation where your text content is automatically translated by machine translation for fast results, and to make sure your content is always available to your visitors. Apart from that you can also translate your content Manually, where you can edit the translation from your account panel manually so that the word is exactly what you want. And lastly is Professional, where you can also invite professional translators to translate your text to ensure your content is fully translated accurately!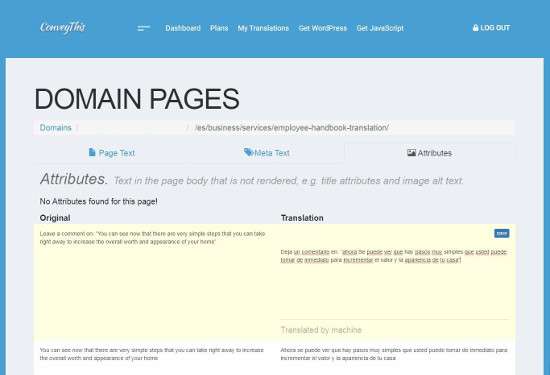 90+ Languages : ConveyThis can translate your website content into more than 90+ languages in this world, it means that your website will be understood by any user in the world.
Supports All Web Platforms : ConveyThis can not only be used by WordPress but all websites can use this service. Because ConveyThis offers a simple javascript snippet that can be pasted into any HTML page, and will also support the Shopify app.
Translate Quickly : Most other translation plugins work by extracting text from a user's WordPress database – they link to the WordPress code and select the post text, themes, and plugins from the WordPress database, then use them for translation. In contrast to ConveyThis which doesn't access the user database at all – when the translated page is first visited, the plugin simply scans the original page itself and fetches all text elements from there. So, ConveyThis won't slow down your site's performance and can deliver your website translations fast.
Read: Making WordPress Multilingual Website Easier with Weglot
ConveyThis Price
ConveyThis is a free plugin that you can use to translate your website, but the free version can only translate your content of 5000 words with 1 extra language. But you don't need to worry because this ConveyThis service also provides a premium version with enhanced functionality and support.
Here are 4 pricing plans offered by ConveyThis Translate that you can choose from: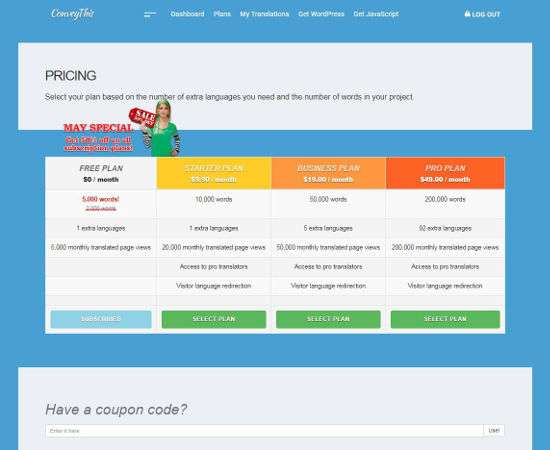 Above are 4 different plans that you can choose from and 3 of them are premium packages which will provide more features and options for the number of words that can be translated.
Now you can save 50% off the price for the first month of any subscription by using coupon code SPRING50DISCOUNT .
To use a coupon, first register on the ConveyThis website and activate your account. By default, you will be subscribed to a free plan.
Then in your account on the dashboard, click on "Change Plan" and you will see a page with a pricing plan. In the appropriate section, paste the coupon code and apply.
How to Use ConveyThis in WordPress
To use ConveyThis on WordPress, the first thing you need to do is install the ConveyThis Translate plugin through your WordPress admin as this plugin is already available in the WordPress plugin library.
Please type the keyword "ConveyThis" in the plugin's search page, and once found, please click the install button and activate it. You can read the guide to installing plugins here ⇒ Complete Guide to Installing a WordPress Plugin .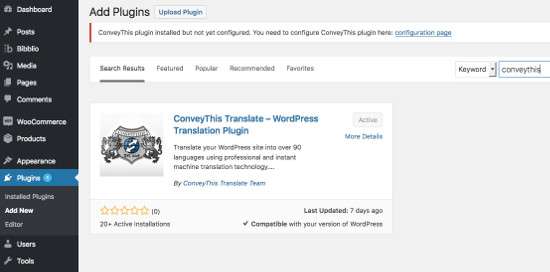 After you activate the plugin, a new menu item called "ConveyThis" will appear in the Settings »ConveyThis menu. Please open the configuration page and get the API key by listing it through the website ⇒ Register ConveyThis .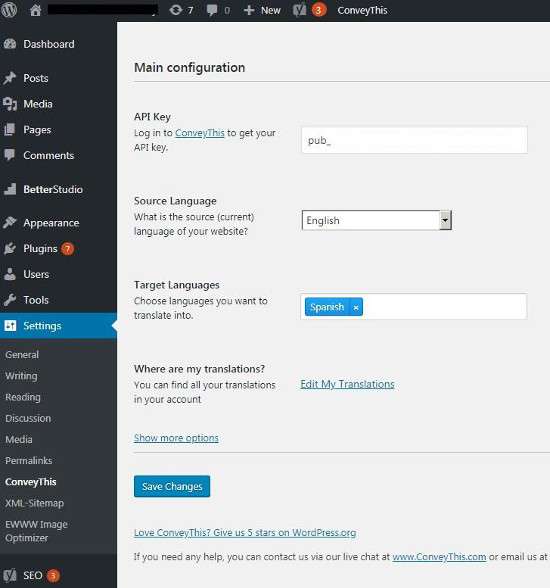 Please create an account on the ConveyThis website to get an API Key.
You will get a new email will be sent to the email id you used for the list which contains the activation link. And please click on the link to activate your account.
After that, you log into your account and can find the API Key there. Copy the API Key and paste the API Key inside your WordPress website.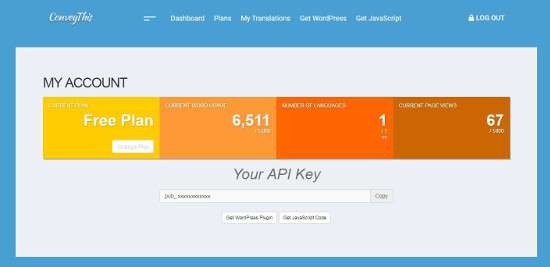 Then select 'Source Language', here I choose the language of my blog which is 'Indonesia' and for 'Target Language' please select the language you want to use to translate your website. You can select multiple languages as well in this section.
Furthermore, you can also set custom translation buttons such as setting flag image, text, position and distance by opening the 'Show more options' link.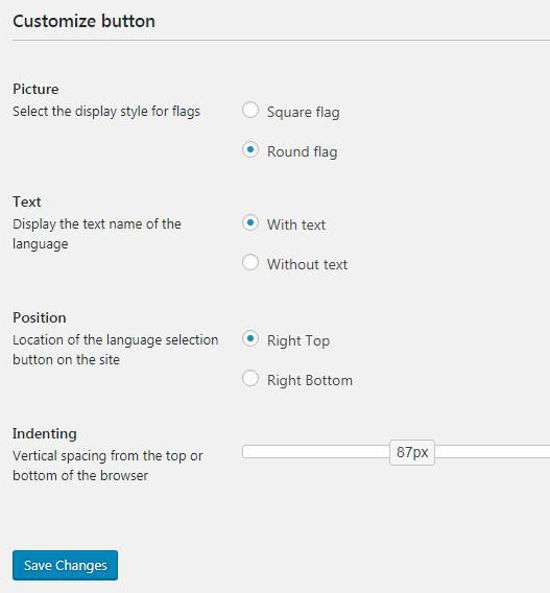 The option to change the website to a different language will now be added to your website in the footer. Users who wish to change language can hover over it and find the desired language to translate websites into.
Once you are done, click on the 'Save Chages' button to save your changes.
Read: Tutorial on Creating a Multilingual WordPress Website with Polylang
Conclusion
ConveyThis Translate is an awesome plugin that can easily translate your website content with one click, this plugin can easily translate websites into more than 90 languages instantly. ConveyThis provides a free version for small websites that have less than 5,000 words of content and provides premium versions starting at $ 4.95 / month to translate more words.
Apart from WordPress, ConveyThis can also be used for various web platforms and it supports Shopify. Feel free to try this plugin and see how easy it is to translate your website. Good luck 🙂
Read: GTranslate – Easy Solution for Creating Multilingual Websites