Making WordPress Multilingual Website Easier with Weglot – As we all know that the Internet can reach the whole world, with the internet you can search all kinds of information from many different countries. And with the help of the internet, business can easily expand to foreign countries.
Unlike in the past, it was very difficult to do business development abroad and this could only be done by companies and with large capital, but with the internet today, everyone can develop their business to various countries easily.
And if you currently want to make your business grow and reach various countries, the easiest way is to make your website support various languages according to your business target market.
To make a website capable of supporting multiple languages is indeed difficult if you don't speak multiple languages, and it will be very expensive if you use the services of several translators, while your website will always develop from time to time.
In addition, creating a multilingual website to support multiple languages at the same time will be very difficult if you do not have in-depth knowledge about website creation. But don't worry about overcoming these two problems because here I will provide both solutions at once, namely an easy way to create a multi-language website and how to make better quality translations just by using a WordPress plugin, Weglot Translate.
Before we dive into discussing how to use the Weglot Translate plugin, you should first read about what Weglot Translate is below.
What is Weglot Translate?
Weglot Translate is a tool created as a solution to make websites capable of supporting multiple languages (multilingual) and producing the best, quality and easiest translations. Weglot Translate can automatically detect and translate all your content in any language with very simple settings and without the need to do any code.
This tool only requires configuration using an API Key to integrate the weglot server and the user's website with minimal setup. Currently, Weglot Translate has also been trusted by various companies in the fields of e-Commerce, SaaS, marketplaces, corporate websites, mobile landing page applications, blogs, news websites and many more.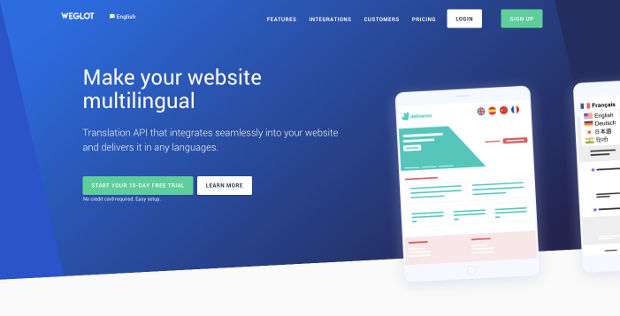 Weglot has a unique and user friendly dashboard for editing translations or buying professional translations to ensure translation quality. Weglot Translate also has a feature that is superior to other competitors, namely that it can translate manually and automatically.
Weglot Translate was built following Google's best practices to serve translated web pages with clean source code so as to create multilingual website content that is completely SEO friendly and will all be indexed by Google search engines.
Weglot Translate is also a translator tool for multilingual websites that can be used on various types of websites, across platforms and also provides third-party plugins specifically for the WordPress and Shopify platforms. Integrating Weglot with your website is very easy, even a beginner can do it. However, in this article I will be more specific to discuss in more detail the use of Weglot Translate on WordPress by taking advantage of third-party integrations, namely using the Weglot Translate plugin.
Read: ConveyThis Translate – A Plugin for Translating Your WordPress Website
Prices and Pros of Weglot
Here are some of the advantages and benefits that you can get from the Wenglot Translate WordPress plugin:
Weglot Translate is fully compatible with every WordPress theme and plugin.
Weglot Translate will translate every string in the page.
Weglot Translate supports up to 60+ languages in the world
Weglot Tranlslate has a unique dashboard to manage all languages and translations
Weglot Translate can automatically detect and translate and also users can translate manually
You don't need to look for translated (Po) files or anything else in the source files in WordPress
Translation continues to be displayed in real-time
Can automatically detect the visitor coming from and switch the language according to the language of the visitor.
Weglot users can have access to professional translators to get higher quality translation results.
Plugin optimized for SEO in a new language with a dedicated URL: translated pages will have
A custom URL that follows Google best practices for multilingualism
Weglot has a switch button navigation to make it easier for users to adjust the selected language.
Weglot translate can translate any page very fast
Weglot users have a personal dictionary stored on the Weglot server which can always be used.
Weglot price?
Weglot Translate is a free multilingual website maker and translation tool that has limited language translation and is limited to translating under 2,000 words and this free version of Weglot is only suitable for small websites. But, weglot translate also has a premium version to be able to translate your website on a larger scale.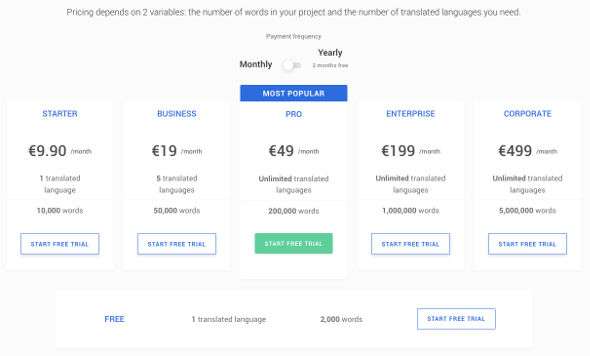 The premium version of Weglot Translate is offered with several different packages to make it easier for you to choose the package according to your needs. They have a payment system for monthly and yearly. And here are the price details:
Free 0 € / month : 1 website, 2,000 words, For small websites, ~ 4 pages of landing pages, 1 extra language, Basic support.
Starter 9.90 € / month : 1 website, 10,000 words, For small / medium websites, ~ 20 pages, 1 extra language, Access to pro translators, Visitor language redirection, Premium support.
Business 19 € / month : 1 website, 500,000 words, For most websites, Unlimited extra languages, Access to pro translators, Visitor language redirection, Premium support.
Pro 49 € / month : 3 websites, 2,000,000 words, For larger companies & agencies, Unlimited extra language, Access to pro translators, Visitor language redirection, Premium support.
Above is the price offered by Weglot Translate. For a trial before buying the Weglot service, try and test the free version of Weglot first, and if you already feel that this is the tool you are looking for, then feel free to upgrade the service to the premium version of Weglot. And don't worry about the translation results, because the weglot premium package also offers professional support with a team that can help translate your site so that it can produce a perfect translation. You can easily contact the weglot support department via email at support@weglot.com or contact directly via live chat available on the official website.
How to use the Weglot Translate WordPress plugin
To use the Weglot WordPress Plugin the first thing you need to do is install the plugin and activate it. You can install it directly through the WordPress admin dashboard in the Plugins »Add New menu by typing" Weglot "in the search field. Or you can read the complete guide on how to install a plugin here.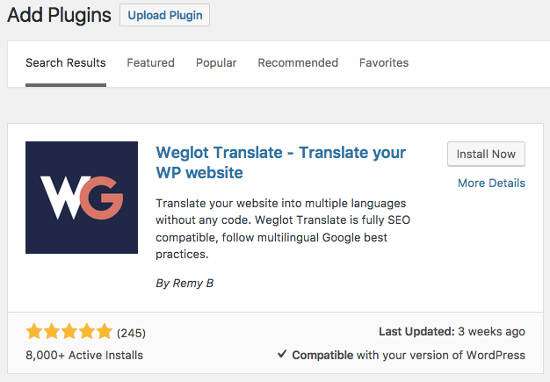 After you install and activate the plugin, there will be a new menu called "Weglot" and please click on the menu to configure it, and you will see that there is only one configuration page on the Weglot plugin because the Weglot settings are very simple and easy for beginners though. .
Next, to integrate the plugin with the Weglot server, you need an API Key which you can get by clicking the link (Login to Weglot to get your API key) on the main configuration and you will be taken to the registration page on the official Weglot website.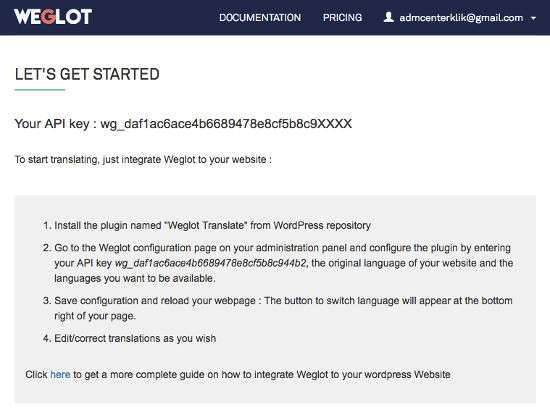 Please enter your username and password and click the "Start Free Trial" button. After that you will get an email to activate your account and get an API Key and a guide for integration.
Please copy the API Key and then paste it in the API key column in the Weglot plugin settings on your WordPress in Main Configurations. And the bottom part is "Original Language". You are required to select the original language used on the website and for the "Destination Languages" section, please enter the language code separated by commas if you want to use more than one language. For example, here I choose the original language with "English" and will be translated into Indonesian by entering the language code "id".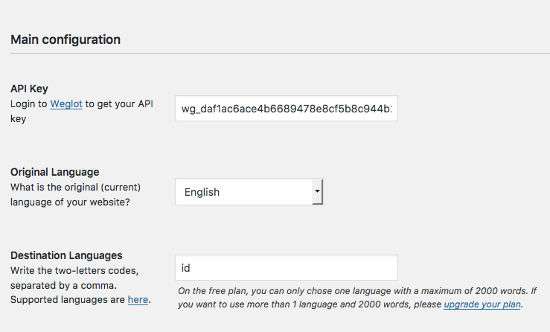 In the "Language Button Appearance" you can set the navigation buttons for visitors. This navigation can be displayed in several different ways such as flags with dropdown menus, displaying flags, text or both, type flags, translate button positions and also custom making with your own CSS code. If you don't want to bother with this setting then you can leave the setting at the default as this is optional.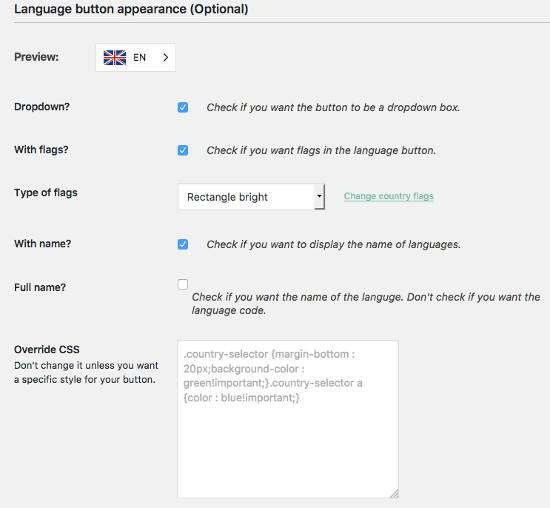 When the settings are complete, you can save your settings by clicking the Save button. And feel free to turn to the front page of your site to see how Weglot can translate your site so well.
Read: GTranslate – Easy Solution for Creating Multilingual Websites
Editing Translations in Weglot
Weglot has the advantage of being able to change the translation results to the user's wishes via the Weglot dashboard. You can edit with the Visual Editor and List of Translation.

To use this Visual Editor you can edit changes directly through your website pages and make changes live. You only need to click the part you want to change the translation to and click edit, a pop up will appear containing a column to edit the translation result. When it's finished you can immediately click the "OK" button at the bottom and the changes are instantly finished.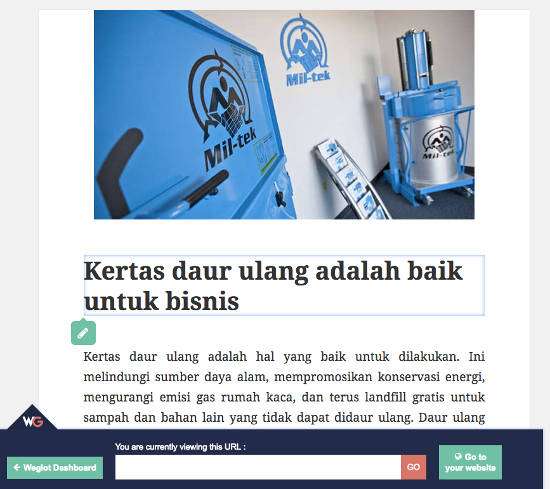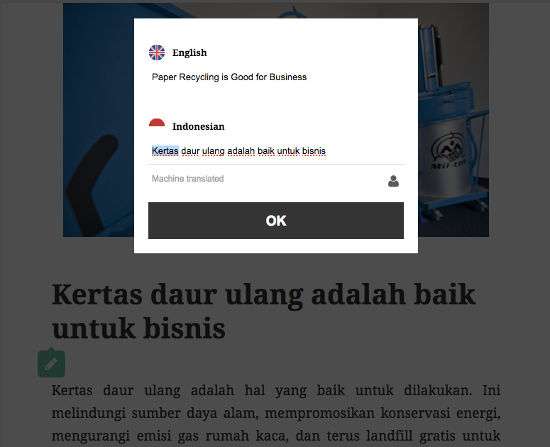 In this section you can not only translate the content but also directly make translation changes to the menu, category names, tags and everything else.
In addition, there is also the "Exceptions Rules" feature where you can create rules in this section to want words or expressions to never be translated or translated in a special way. The rule will be applied to all new translations but will not change existing translations. And "Search and Replace" where in this section you can search for words in all translations and replace them. This is useful if the name has been translated incorrectly and you want to change it directly and simultaneously across all sections.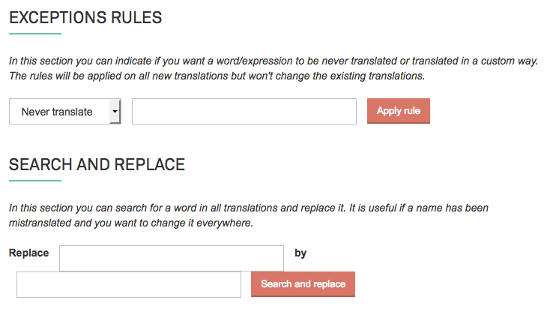 And here is a short video about using the Weglot WordPress plugin that you can use as a guide as I explained above:
And that's my full review of Weglot Translate, a tool that you can use to create sophisticated multilingual websites that only require simple configuration without any code knowledge. Hopefully this article was useful for you and good luck. 🙂