Bitcoin is a digital currency that is very popular today and is used as a means of buying, paying and transferring funds around the world easily and quickly without the need to go through financial authority services such as banking ( list of the largest banks in Indonesia ) and others.
Digital currency or often referred to as cryptocurrency is increasingly popular and is widely used throughout the world for various online transactions. Bitcoin is attractive and in demand by many people around the world due to the very high exchange rate of bitcoin, where for 1 bitcoin is currently worth $ 8,867 or more than 122 million rupiah, whereas in early 2013 the price of 1 bitcoin was only worth $ 22. In addition, in the near future cryptocurrency will become a common payment method such as the current popular payment system, PayPal , or a Visa or MasterCard credit card.
With more and more internet users in the world using bitcoin for transactions, maybe you are currently thinking about how to be able to accept payments at your WooCommerce online store using bitcoin. In this article, I will review a plugin that can help you to accept payments with bitcoin on your WooCommerce online store, the plugin is Apirone Bitcoin.
What is Apirone Bitcoin?
Apirone is the simplest and easiest service for processing, receiving and sending payments in bitcoin for online shops, crowdfunding platforms, ICOs, currency exchange projects and sales outlets.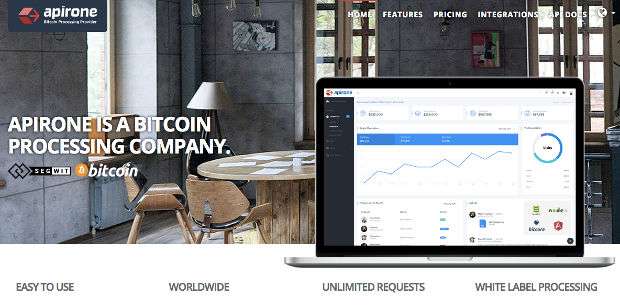 Apirone uses blockchain technology to make payments and transfers around the world. There is no limit to the number, no limit on countries or continents. Apirone also has its own payment processing platform as a basis for the security and reliability of your financial transactions.
Apirone has created a tool for bitcoin forwarding and an API application for accepting payments. They have been committed to continuing to create new tools for online businesses, integrating them into retail and banking services and developing digital wallets for personal mobile phones with instant payments. Apirone will always improve the quality, safety and comfort of users.
Apirone knows that WordPress users are very large and many users around the world use WordPress to sell various products and services using WooCommerce, therefore Apirone created a special plugin for WordPress users to be able to accept BitCoin payments. The Apirone BitCoin plugin is free for you to use and they only take a small amount from the transaction service of 0.0002 BTC per transaction.
How does Apirone work?
You can build and deploy Apirone APIs to any CMS e-commerce store, WooCommerce, messenger bots (telegram, skype…), POS software or mobile applications.
The buyer prepares an order for the product he wants to buy and clicks to pay in bitcoin.
Your online shop will send your bitcoin address and callback URL to Apirone API Server.
Your online shop accepts a new bitcoin address, QR code, and converts the amount to BTC for payment. Save the new addresses associated with Buyer's orders in its own database for the future. Because the buyer may change their mind, they may not pay for the order or pay later, when a new address is created, Apirone Servers add it to the watchlist. Also, the server continuously monitors the blockchain network and looks for Buyer transactions on the Online Shop.
The Online Shop can get the current exchange rates and convert the currencies USD, EUR, CAD, etc. to BTC.
The buyer scans the QR code and pays for the order. Transactions will enter the blockchain.
Apirone servers get it right away and send a callback to your online shop URL provided.
Now this is the first callback about an unconfirmed transaction. It is too early to give orders from the online shop to the shoppers. Apirone only informs that the payment started.
Waiting for confirmation of payment on the network. Usually, it will take about ten minutes.
After 1 confirmation, Apirone Server will confirm the confirmed bitcoins to the destination address of your online shop and make a second callback. And now buyers can get the order they want.
Save completed and ready orders for the next customer.
This generated address is stored because it is associated with the URL provided in the Apirone database. Apirone will continue to monitor it regardless of payment because Stores can sell the same items over and over again. Or you can use this address to add to a user's account balance in a project, for example, game balance or advertising balance. Or the buyer who made a mistake will resend the payment, then save to return it again.
Apirone BitCoin plugin main features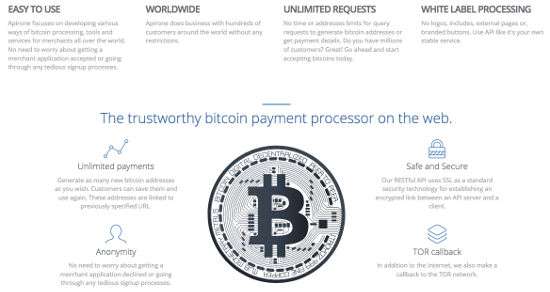 Here are some of the main features of the Apirone Bitcoin plugin that you will get:
The Apirone plugin is very easy to use and integrates well with WooCommerce
The Apirone plugin setup is very simple, nothing confusing you will encounter
Supporting the Segwit protocol, transactions have priority over the network and lower commissions.
Apirone does not hold or block your money. Apirone only takes care of the transfer of funds, and nothing more than the customer's wallet to you
Apirone only takes a small amount of money from transaction services with a fixed commission, and this is regardless of the order amount. Exactly 0.0002 BTC per Transaction
Orders less than 100 000 Satoshi are completely free. No commission.
No registration required, no need to fill in KYC / AML because apirone doesn't convert bitcoins to fiat money. So no third party accounts here and use your own digital wallet.
TOR network support (The Union Router)
Processing works directly from your site which means that your online shop accepts payments without redirects, iframes, payment advertisements, etc.
Unlimited number of your requests (generate thousands of bitcoin addresses for thousands of your customers).
How to use the Apirone Bitcoin plugin on WordPress
The first thing you need to do is install WooCommerce and setup your online store. In this discussion I will not explain in detail how to build an online store with WooCommerce because on this blog I have made a complete guide on WooCommerce which you can read here: The Complete Guide to Creating an Online Store on WordPress with WooCommerce .
Then you can install the Apirone Bitcoin plugin as you would any of your other plugins. You can read here: Complete Guide to Installing a WordPress Plugin .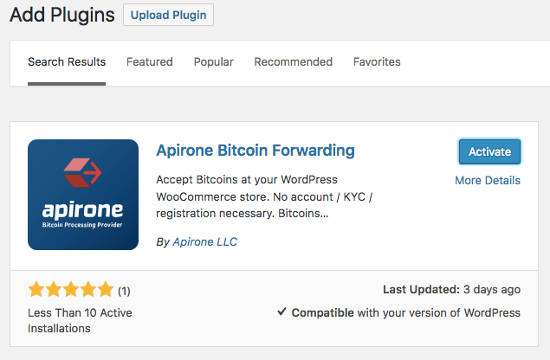 After your Apirone Bitcoin plugin is installed and activated, you can go to WooCommerce »Settings . And select the tab menu 'Checkout'.
Next, please select the 'Apirone' menu right under the 'Checkout' tab menu. In this section you can activate the Apirone Bitcoin payment system to accept Bitcoin payments on your WooCommerce online shop by checking the On / Off section.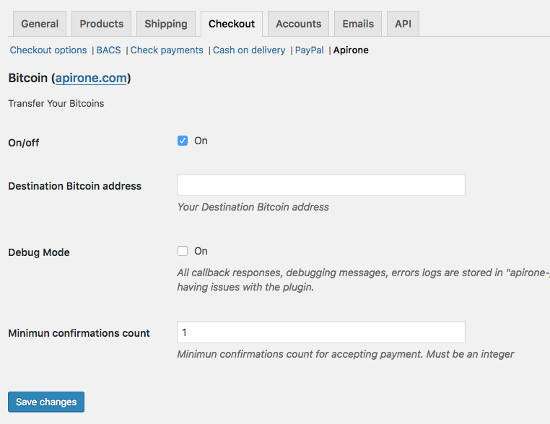 After that, fill in the 'Destination Bitcoin Address' column with your bitcoin address. And please click 'Save Changes'.
Furthermore, you can also go to the 'General' tab menu and scroll down to the 'Payment Gateways' section and you will see Apirone Bitcoin added, feel free to set the payment system gateway order by simply sliding up or down.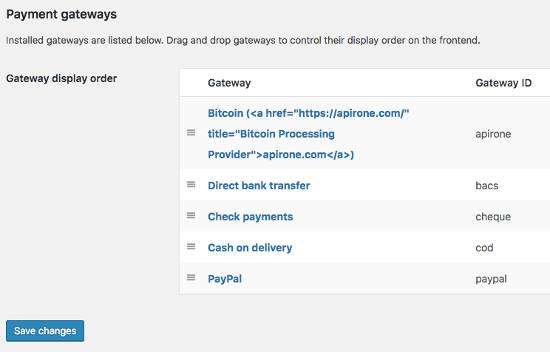 And that's all for a very easy setup for the Apirone Bitcoin plugin that you can do, you can now take a look at the checkout section and you will now find a bitcoin payment system added.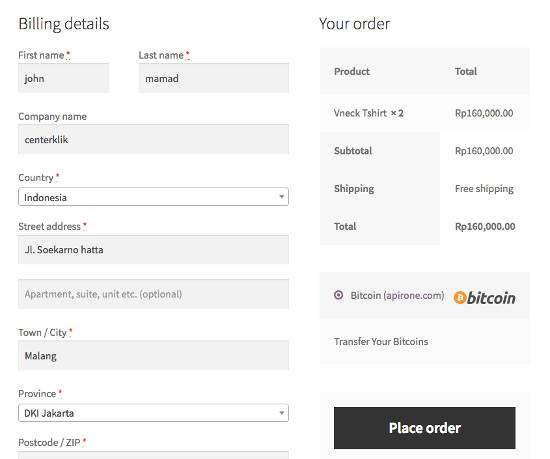 Conclusion
Bitcoin digital currency is a new online transaction tool which is very popular, with a large exchange rate making bitcoin the target of many people around the world, now is the right time for you to also take part in owning bitcoin. Adding a Bitcoin payment method to your WooCommerce online store can be a great way to earn bitcoins easily. You can use the Apirone plugin to accept bitcoin payments with WooCommerce and this plugin is proven to be good and easy to use even for beginners.
Above is my complete review of Apirone BitCoin, I hope this article is useful for you and becomes an easy solution for accepting bitcoin payments on your WooCommerce online shop. Good luck 🙂