How to Make WordPress Login Look Cooler With LoginPress – WordPress by default does have a very simple appearance but you can make WordPress look much more beautiful and professional by changing the theme according to the purpose of your site.
Lots of WordPress theme developers make various kinds of themes for various purposes, both for creating blog websites , online news, online magazines, companies, online stores and so on so that WordPress users have a site that looks different from the others even though the platform used is same.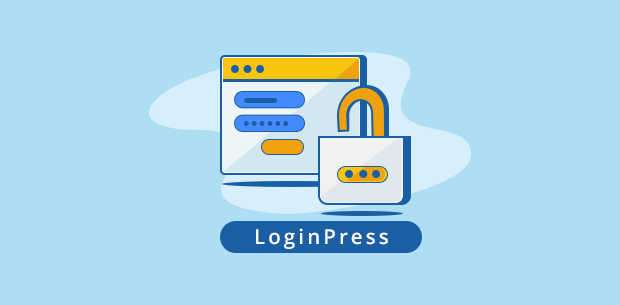 WordPress users are given the freedom to change the appearance of the site according to the user's wishes and WordPress does facilitate these needs, but have you also thought about changing the part of the WordPress login page? If so, by default WordPress doesn't provide a feature to change that part of the login page, but you can still change it by using plugins from third parties. There are many plugins that you can use to change the login page section and one of them is the LoginPress Custom Login Page Customizer.
Do you need to change the login page appearance?
WordPress does not bring a feature to change anything on the WordPress login page, this is done because maybe the login page is a page that should not be published to site visitors and only you as the site owner or an administrator can access this section.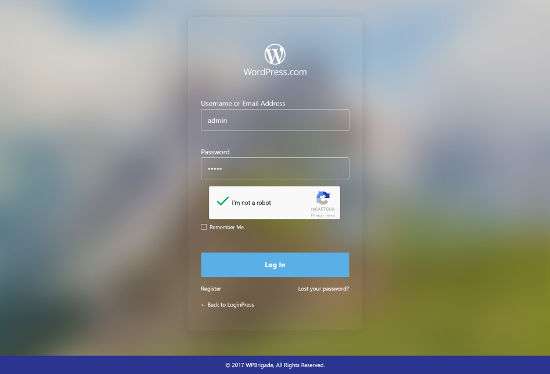 When you use WordPress for blog use and you are managing it yourself, maybe changing the login page section is not necessary unless you are someone who wants to be different with your own characteristics in each section. But what if your WordPress site is used as a membership site, forums and multi-author sites? Of course changing the appearance of the login page section is necessary so that your site looks different from most other WordPress sites. In addition, changing the login page section with your logo and adjusting the color and background according to the characteristics of your website will show that your website is a professional and unique website.
You can imagine if your WordPress site is used for membership or membership purposes, when your paid members access the login page and see the login page by default it will give a very ordinary and unprofessional impression. It's different when you create a login page with an attractive design, your members will also have a better impression and assessment of your efforts.
And those are some reasons why you need to change the appearance of your WordPress login page to be more beautiful. Now let's continue to discuss the LoginPress Custom Login Page Customizer plugin and how to use this plugin to change the appearance of the WordPress login page to your liking.
Read: Analytify – Best Google Analytics Plugin For WordPress
What is the LoginPress Custom Login Page Customizer?
Custom Login Page LoginPress Customizer is a plugin that you can use to help change the various kinds of ornaments found on the WordPress login page section. This plugin made by WPBrigade holds many customization fields to change the login page layout, register, reset password, change the logo, modify the look and feel of the login page, login error messages, forget password messages, registration error messages, and much more.
Apart from changing the various kinds of login page views, this LoginPress plugin also brings important features to increase security on your WordPress login page such as adding Google reCAPTCHA , login sessions, and login orders.
The LoginPress plugin is a free plugin that you can download and install directly through the WordPress.org plugin directory, but LoginPress also has a premium version of the plugin with a variety of features at a fairly cheap price, starting at $ 29.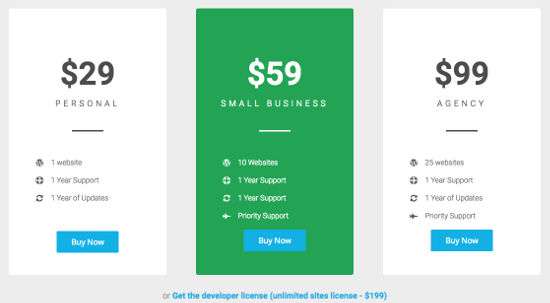 Personal : $ 29 ⇒ 1 Website, 1 Years Update, 1 Years Support.
Small Business : $ 59 ⇒ 10 Website, 1 Years Update, 1 Years Support (Support is preferred).
Agency : $ 99 ⇒ 25 Website, 1 Years Update, 1 Years Support (Support is preferred).
Developer : $ 199 ⇒ Unlimited Site.
Read: Beautify your WordPress login page with the custom login page customizer
LoginPress Key Features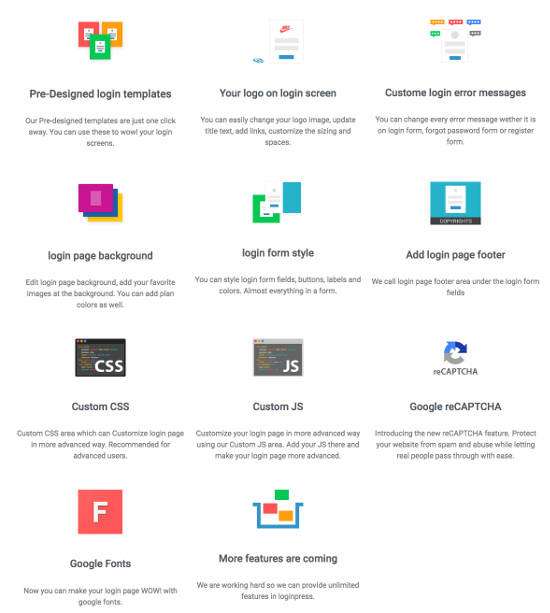 Below is a list of features that LoginPress brings and they say they will always try to add new features to this plugin:
Pre-Designed login templates : LoginPress provides tons of pre-designed Templates to customize your WordPress login page. You only need to select and in one click everything will change without the need to be complicated.
Your logo on login screen : You can easily change your logo image, update title text, add links, adjust size and space.
Custom login error messages : You can change any error messages while on the login form, forgot password form or register form.
Login page background : Edit login page background, add your favorite image in the background. You can also add a plan color.
Login form style : You can fill in form fields, buttons, labels and form colors. All you can change according to your wishes.
Add login page footer : We call the login page footer area under the login form field
Custom CSS : You can add CSS code to beautify your login page. This section is only recommended for advanced users who are familiar with CSS.
Custom JS : Customize your login page in a more attractive way by using the Custom JS area provided by LoginPress.
Google reCAPTCHA : LoginPress also brings a feature to activate Google reCAPTCHA, which can protect your site from Spam and brute force attacks that may occur.
Google Fonts : LoginPress supports Google Fonts, you can take advantage of this to adjust various kinds of text to make it more beautiful according to the font you choose.
How to Use the LoginPress Plugin
Before I discuss how to use this LoginPress Custom Login Page Customizer plugin , I will give you an overview of the default WordPress login page or in general it looks like the image below.
You can see the default login page looks like the picture above. And there is hardly any section that shows that it is your own site. Here are some other important elements missing:
There is no special logo.
No custom backgrounds.
No welcome
There is no ability to change the color of the 'Login' button.
WordPress, by default, doesn't offer the option to customize all of the important elements above. To change all of the above to your liking, the first thing you need to do is install the LoginPress plugin through your WordPress admin. Read: Complete Guide to Installing a WordPress Plugin .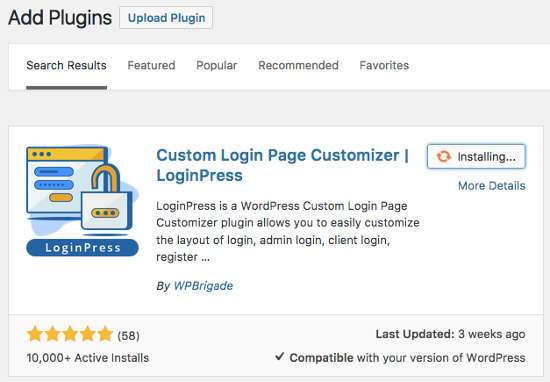 After that feel free to activate the plugin and you will see a new menu item added with the name "LoginPress" in your WordPress admin sidebar. And please go to the LoginPress »Settings section to configure the plugin. Actually, this section only makes settings to increase the security of the WordPress login section, such as activating Google reCAPTCHA , activating login sessions, and login orders.
If you want to activate Google reCAPTCHA, you have to get the secret key from Google reCAPTCHA and enter it in the fields provided and this is a special feature for the Pro version of LoginPress. Furthermore, in the login session section you must enter a value such as 5 or 10 etc. and the value of this session in minutes. At the bottom there is an option to activate the use of the user's username whether you want to only use email or username or both.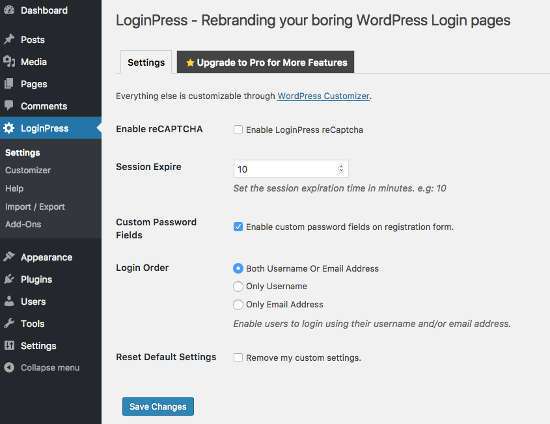 If the settings in the "Settings" section have been completed, now enter the customization section of the login page. Please enter the Customizer menu, and you will be taken to the default WordPress Customizer page and please select the "LoginPress" menu so that it appears as shown below.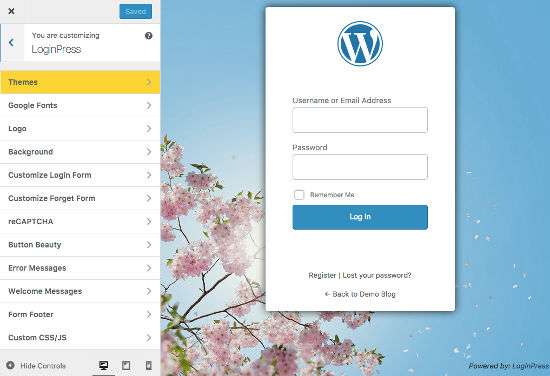 You see the picture above that on the left there is a menu section and that is the area to change things for the login page. While the right is the live preview area which will show the login page. Any changes you make will be visible live in that section.
Back again on the left you will see many menus that have been grouped to make it easier for you to make changes such as Themes, Google Fonts, Logo, Background, Customize Login Form, Customize Forget Form, reCaptcha, Button Beauty, Error Messages, Form Footer and Custom CSS / JS.
You can make changes to all of these sections if you are using the Pro version of the plugin. What you can't do if you use the free version of this plugin is change the Themes, Google Fonts, login page footer, and reCAPTCHA error messages. And the rest you can change.
Read: Tutorial on Changing the WordPress Logo Login Admin Area
And that's my complete review of the LoginPress plugin to make the WordPRess login page look cooler as you wish. Hopefully this article was useful for you and good luck. 🙂