WOOT – WooCommerce Active Product Tables – WooCommerce enables the creation of high-quality, functionality-rich commercial websites. Because it is very easy to operate and manage, WooCommerce is the best platform for online store creation. It provides the most powerful functionality on the market, which will help you sell physical or virtual products online.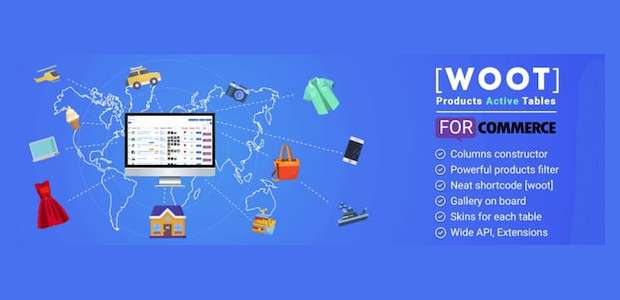 Silent dialogue with customers
The shop owner's initial task is to decide on a product presentation format for the user, and this task is accomplished using a variety of WordPress themes. The placement of the product and its features in the store is like a quiet dialogue with the customer, showing its strengths and weaknesses. The better the perception that visitors receive on the website about the information presented, the more likely the product purchase and store profits will be obtained.
Displaying products in the form of a product table is an undeniable advantage for the customer, enabling the most accessible and structured method of product presentation. The product table helps customers cover all product characteristics quickly, reducing perception time to a minimum. An online shop site visitor does not have to search through multiple pages on a website, which can cause him to forget why he came to that website, losing the main focus of a previously set goal or the store's intended purpose.
Read: Managing Multiple Online Stores Made Easier With WooMultistore
Solution
WOOT – WooCommerce Product Tables easily keep customers' attention without taking too many unnecessary actions. All products and filters are on the same page, and with AJAX technology, the customer can instantly find what he's looking for. Customers can compare the products found on this page using the "Compare Products" feature and decide to purchase the desired product immediately.
Fully manageable functional
WOOT is an expandable and functionality-rich plugin for WooCommerce, which displays products on the website in the form of a table with custom columns and has a smart built-in filtering mechanism for product searches, such as price, category, attribute, metadata, etc. Because it has a modern architecture and uses only pure JavaScript code, it has excellent extensibility, which is evidenced by extensions such as " Compare Products ", " Favorites ", and " Attachments ". Currently, there is not a single plugin for displaying products in tabular form that has so much functionality.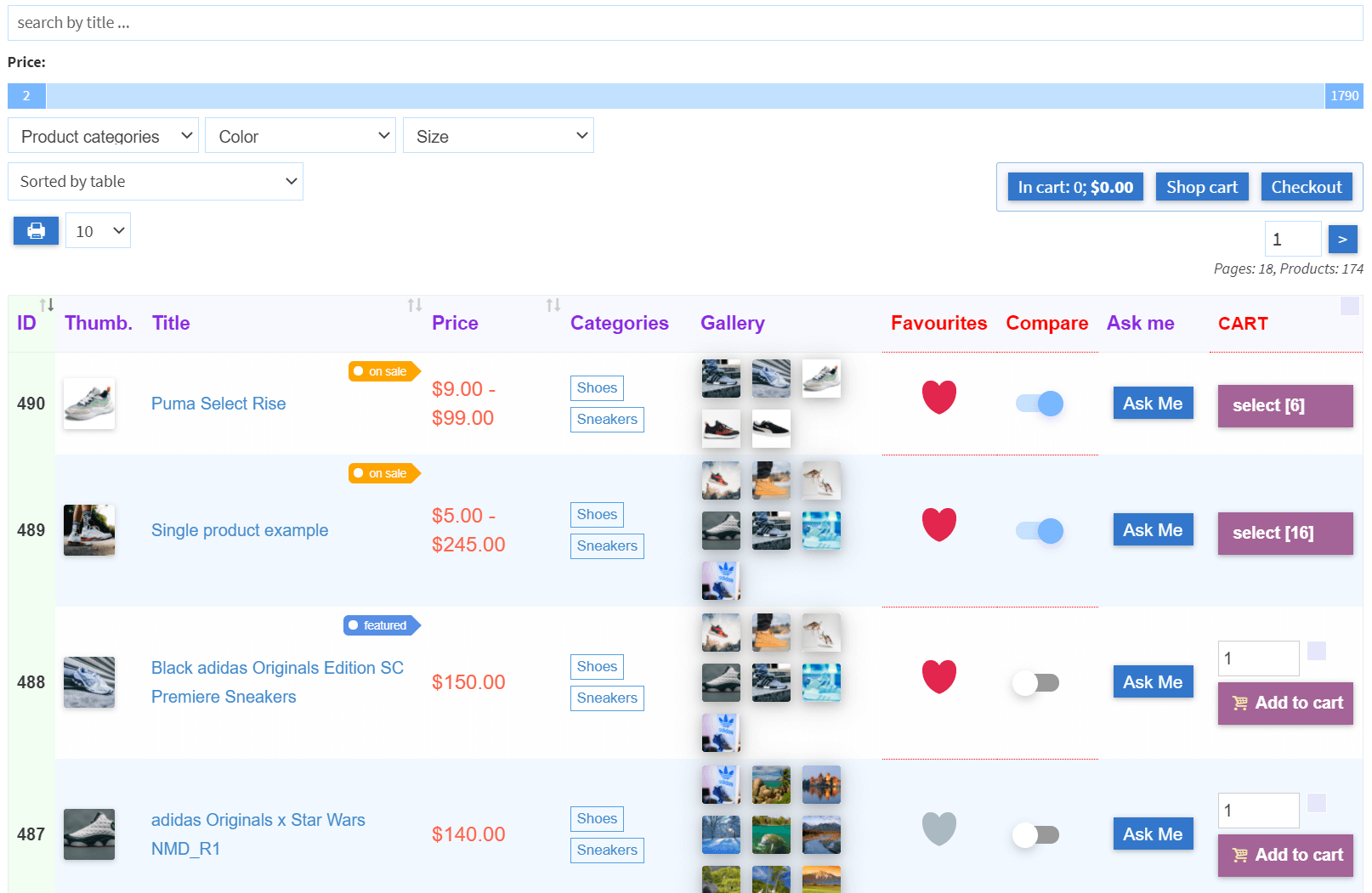 There is no need to rush, but a product table installation can be performed immediately after plugin installation with just the [woot] shortcode, which will expand the products table with pre-configured settings and a basic set of columns. It is easy to configure, you can configure table columns as you wish, using the "column" attribute of the shortcode: [woot columns="id,title,price,pa_color,pa_size,products_cat,compare,add_to_cart"] , the key located in the tab " Settings "as shown in the image below: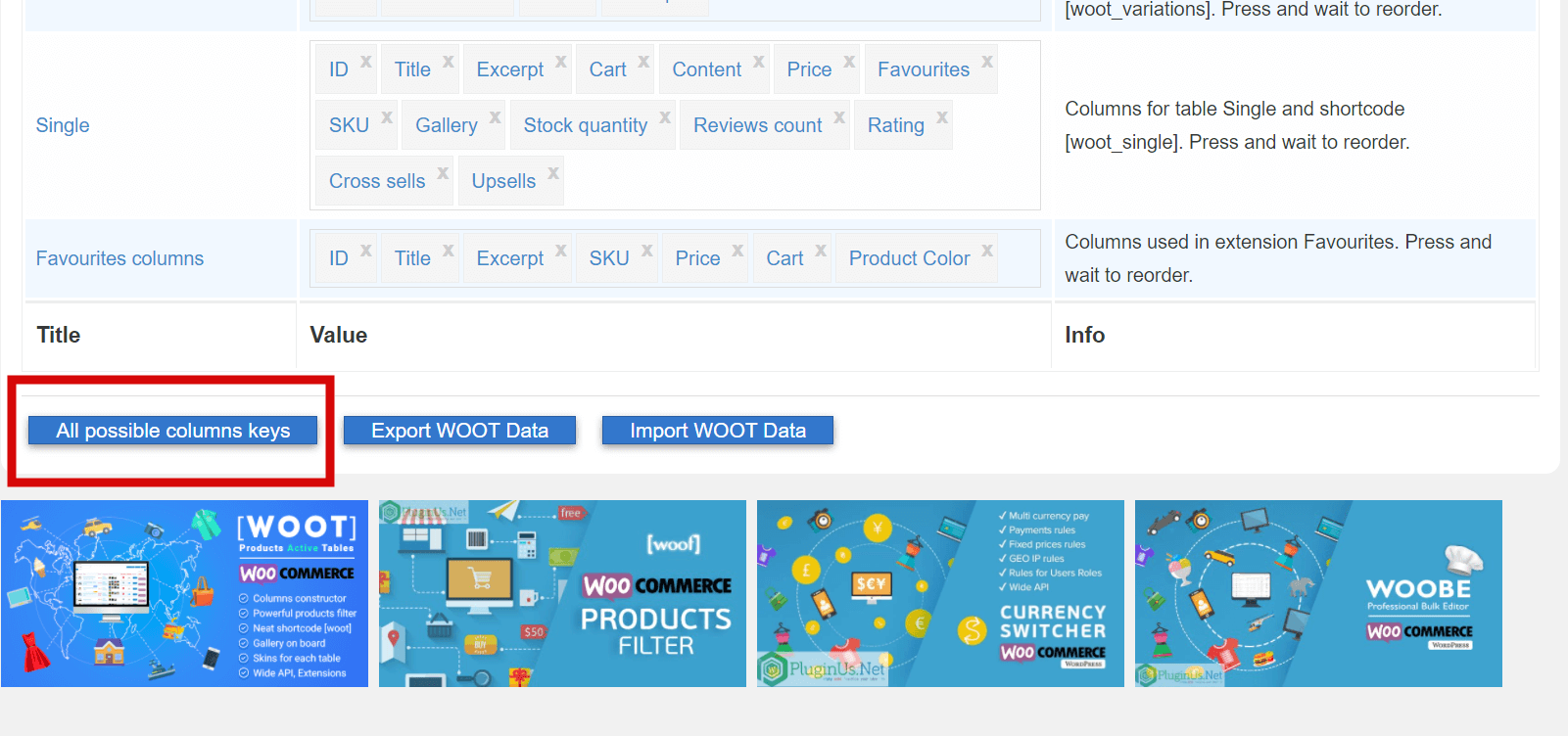 It would be better to create a table using a plugin in the control panel: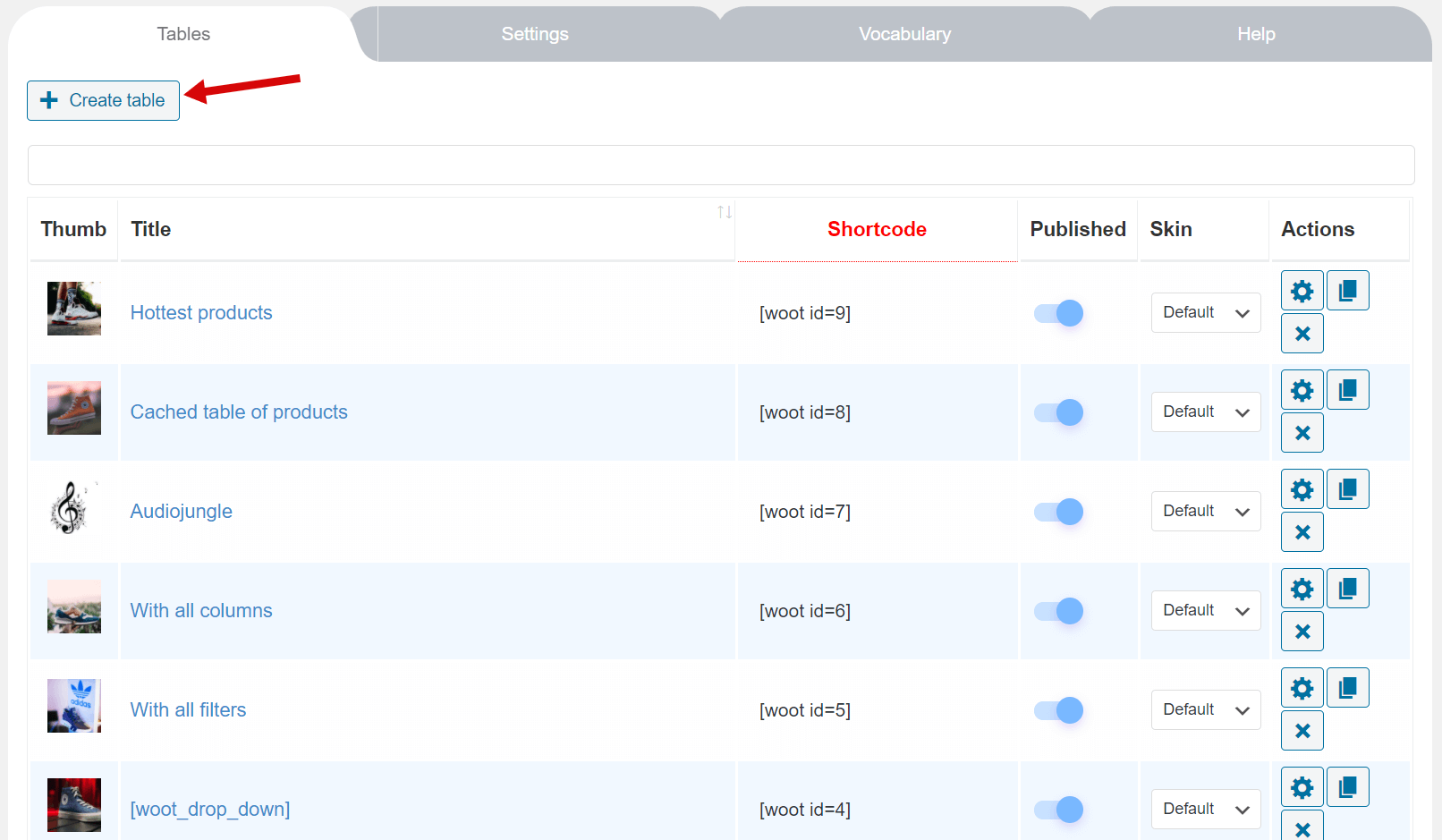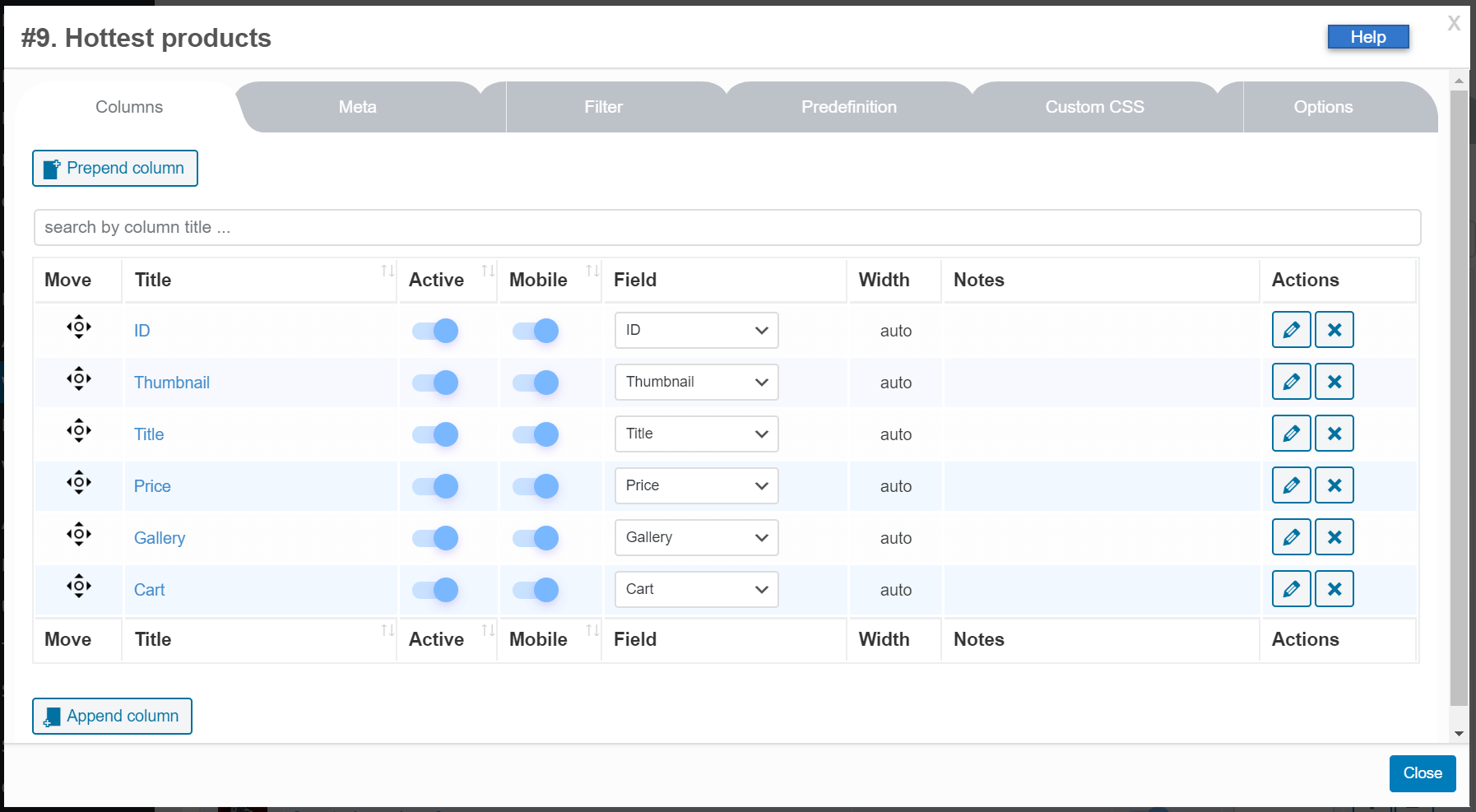 Tables created in the administrator's control panel are easier to manage and can be pasted using the shortcode [woot id=1] , where 1 is the table ID. In the first tab of table settings, you can add columns, give them titles, or change their order, set options. Each column has fine settings, depending on the column type: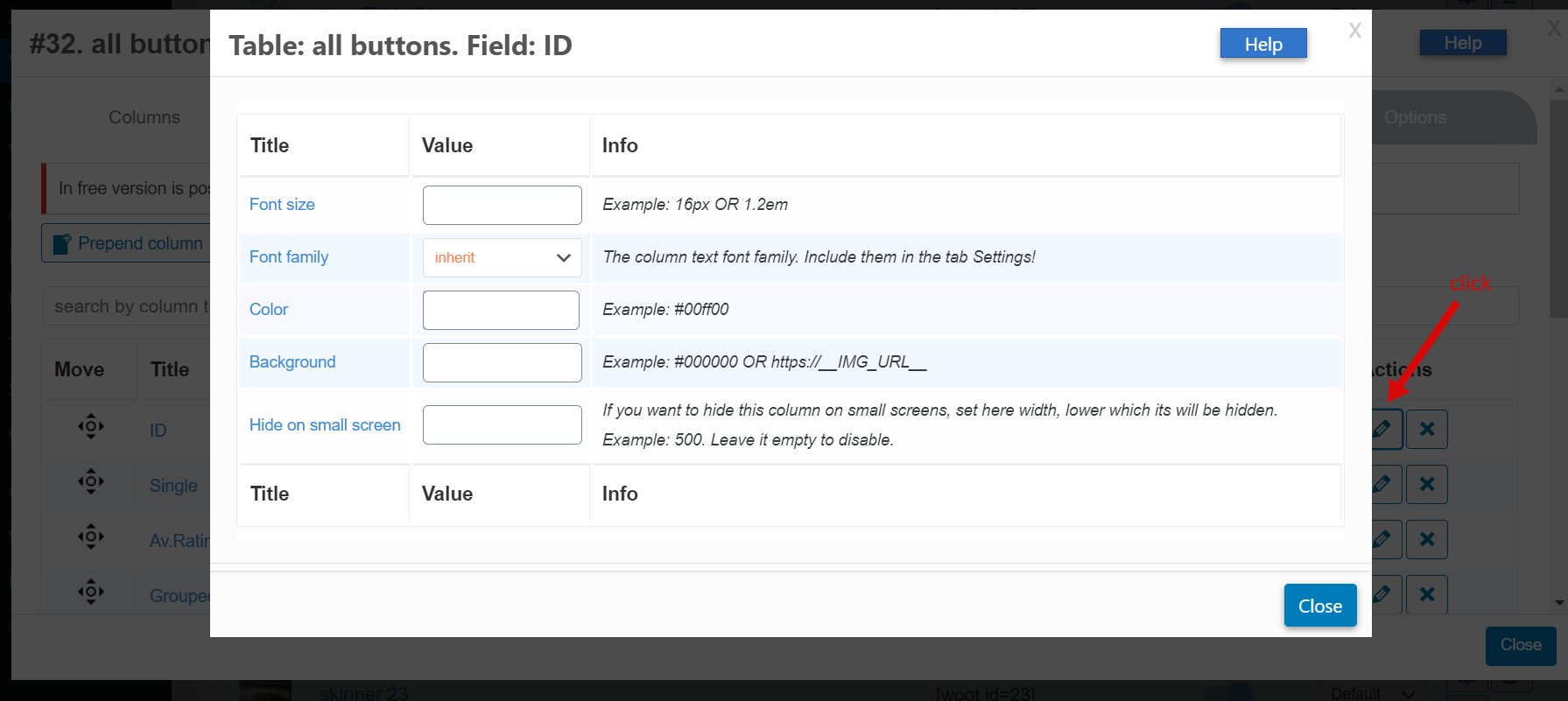 In the second tab of the shortcode settings, you can link your product metadata to the view: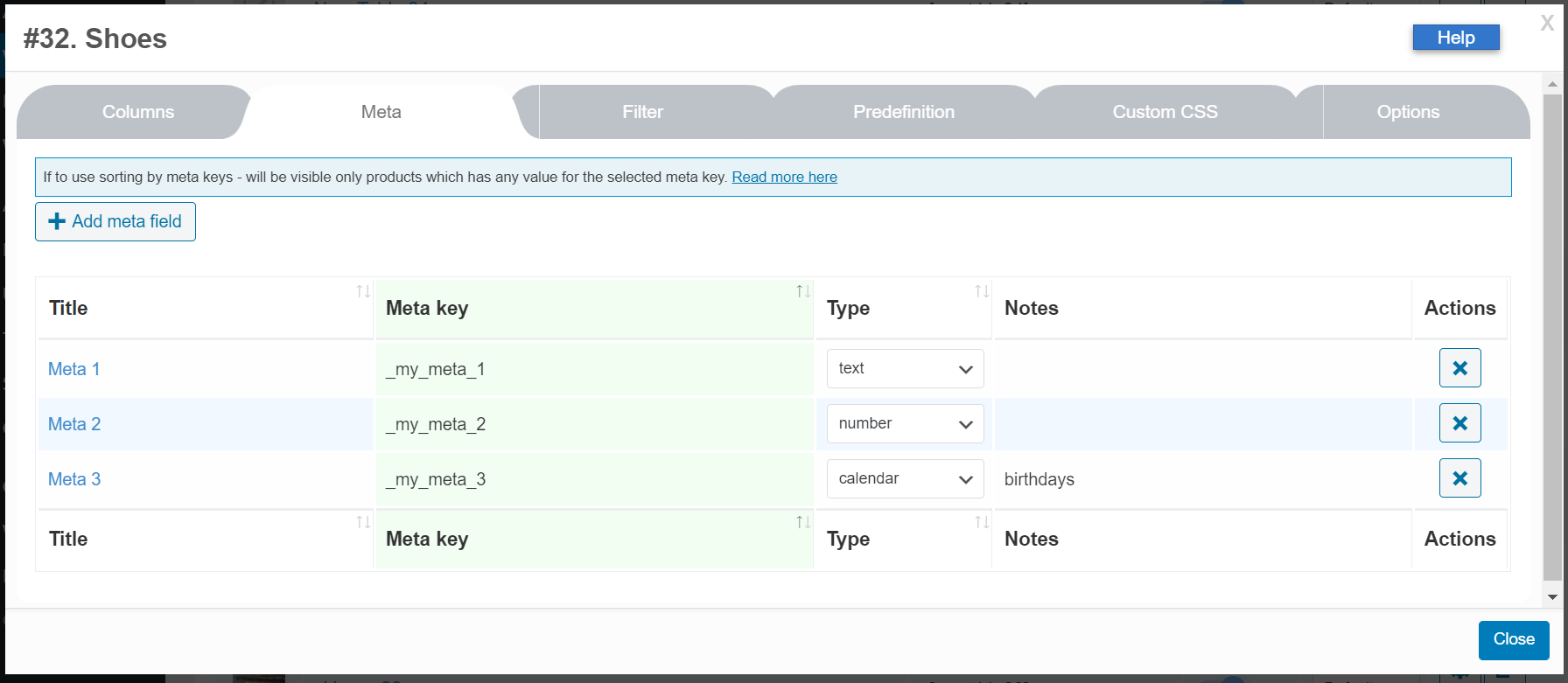 The third tab offers a filter design. With a mouse, you can create powerful AJAX filters, giving your customers the opportunity to find what they are looking for without unnecessary movement and at the same time remain on the same page. All filter elements have their settings depending on their type: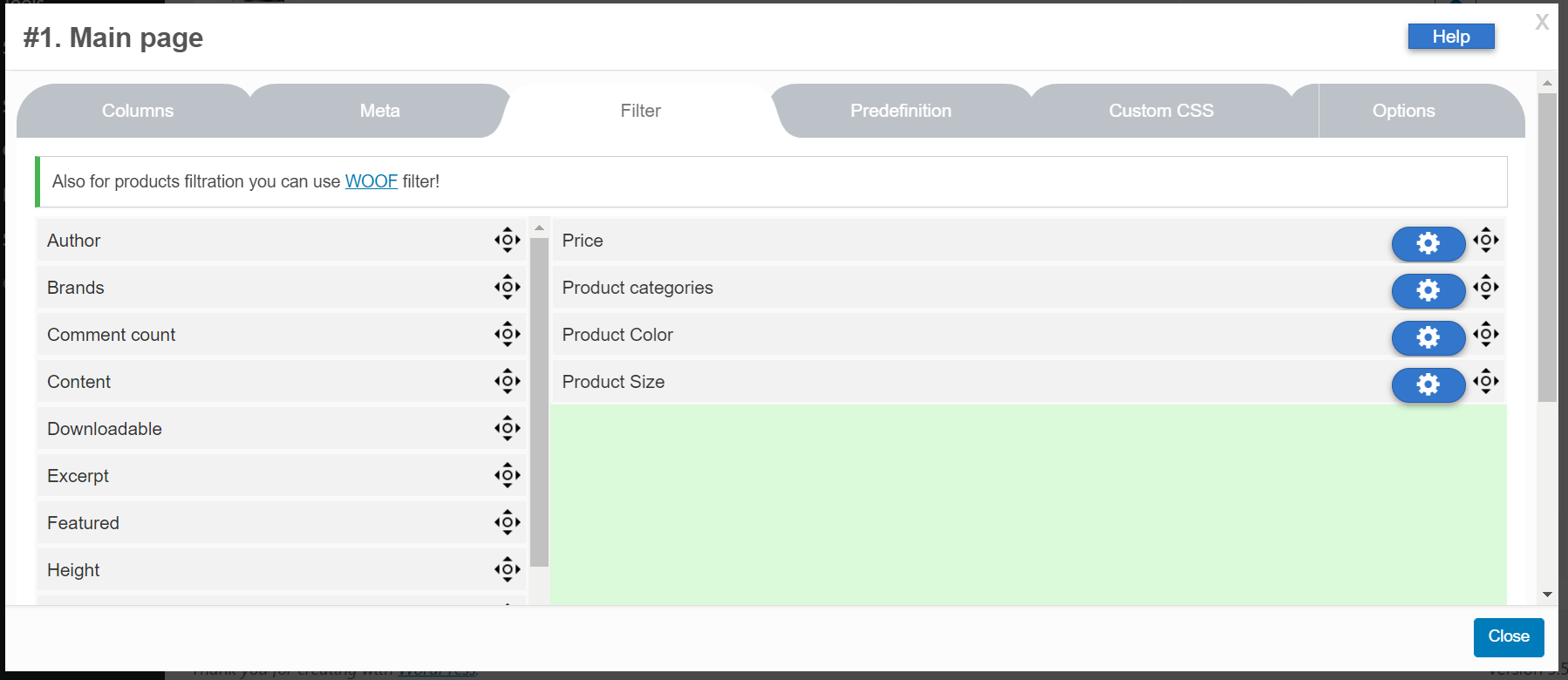 The fourth tab offers a powerful mechanism, " Predefinition ". This mechanism determines which products the table will reflect, for example – only bestsellers, or the most recent, or by certain categories or attributes simultaneously, or only from one author on the website, if your shop is a platform. "Predefinition" works well with filtering mechanisms, understand each other easily.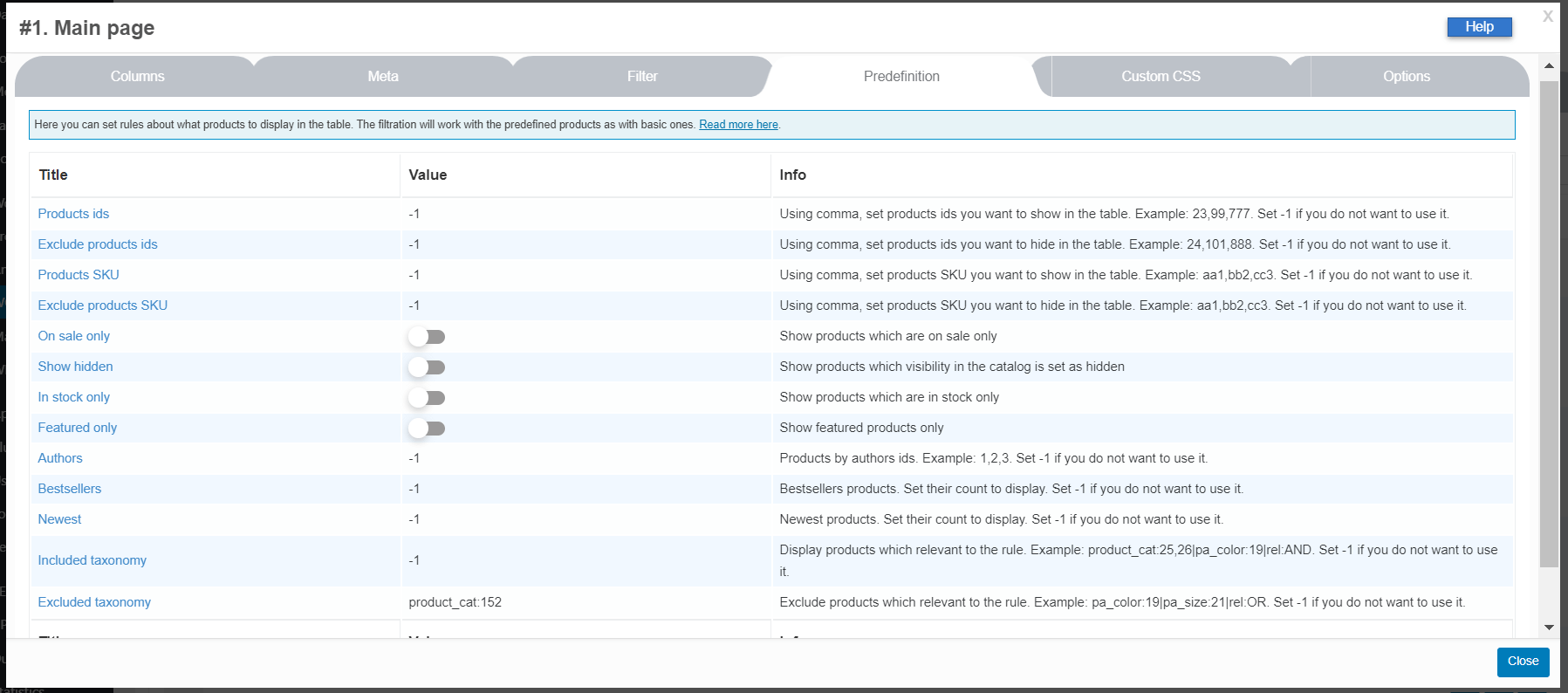 The fifth tab allows you to customize the appearance of your table using CSS. But keep in mind that WOOT contains built-in skins, and you can create your own unique skin.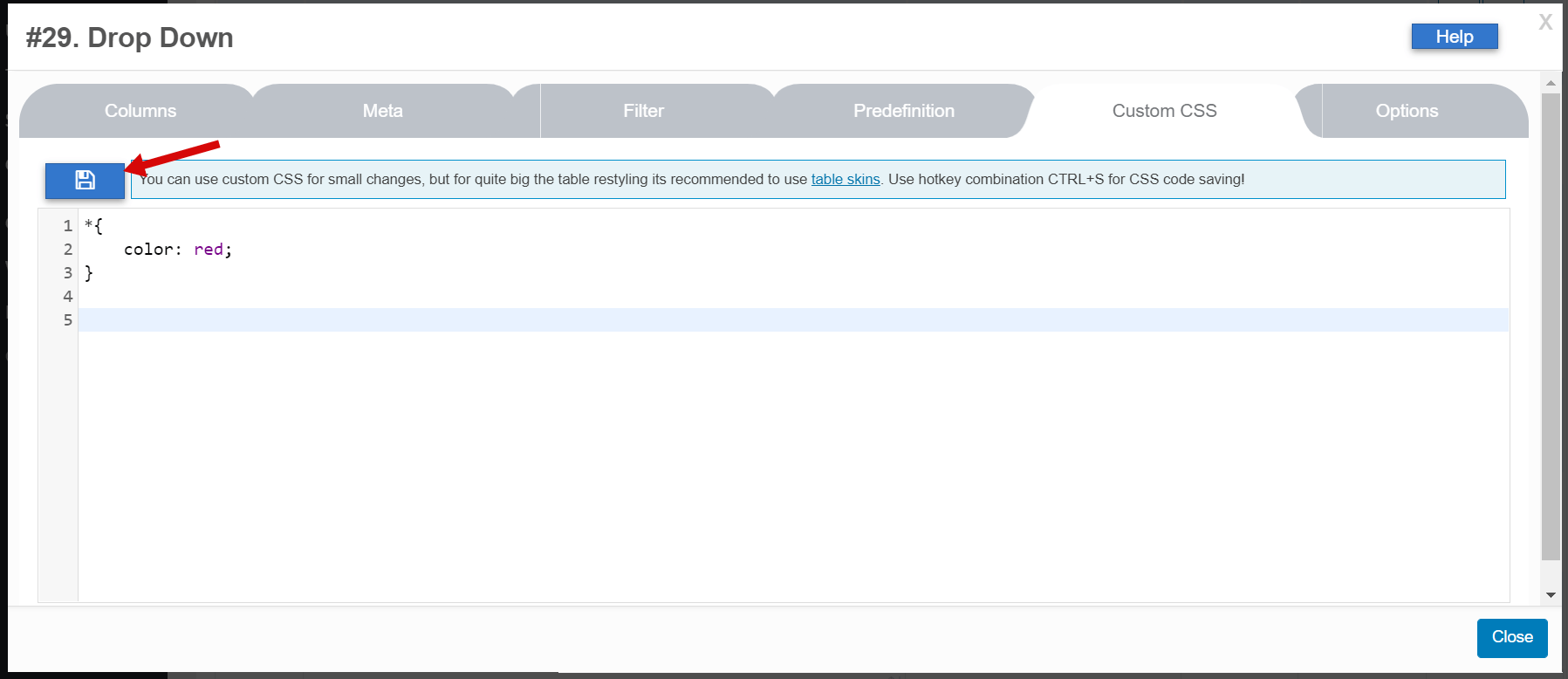 The sixth tab contains many nice settings for the products table such as number of products displayed per page, default sort, print button, "Load more" button – which allows avoiding the classic page numbering, setting up a compact size for mobile devices, sorting, shopping cart, and many other settings.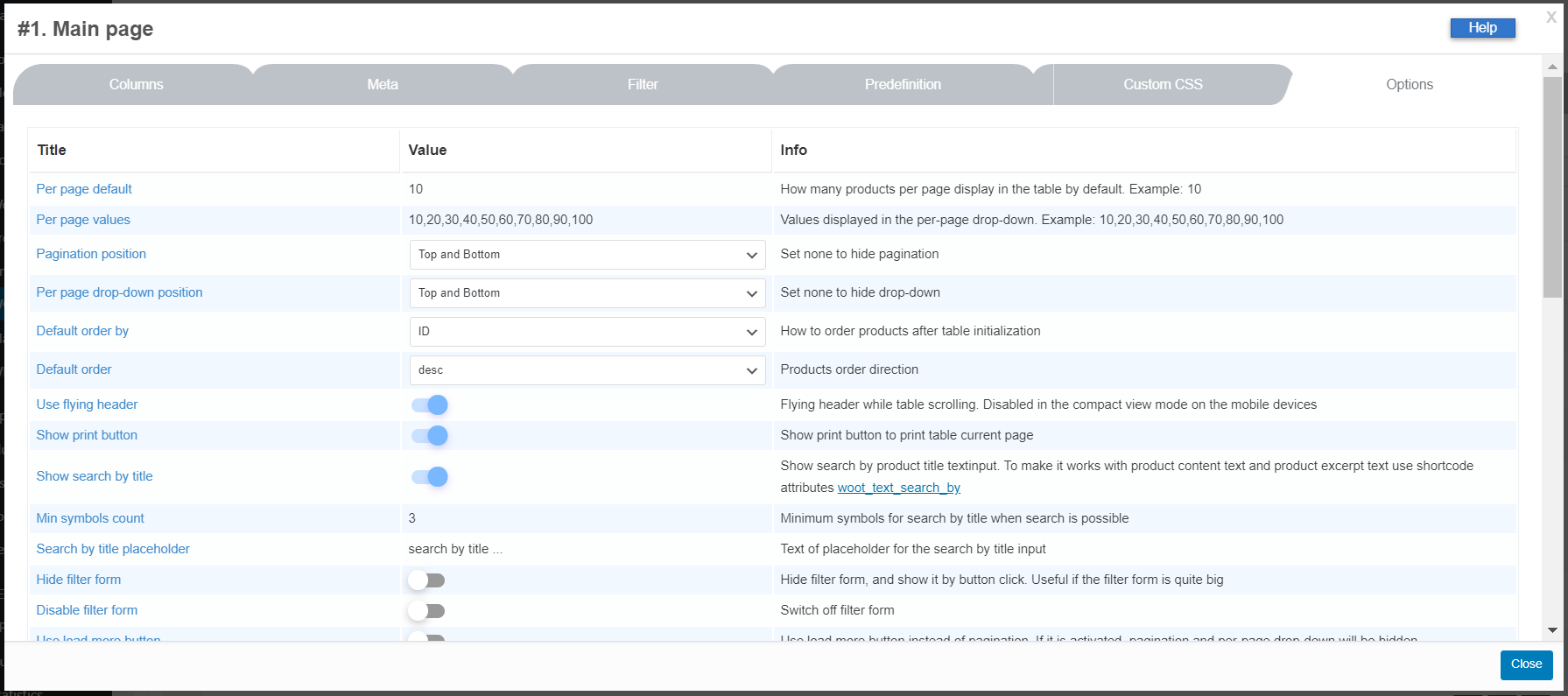 WOOT – WooCommerce Active Product Tables – there's a reason for the word "Active" in the title because except for the main shortcode [woot], it also provides lots of shortcodes that make your shop livelier, more active, and "social" for your visitors. For example, the [woot_single] shortcode will unlock all product characteristics. If you need to enter such a shortcode in the article on the website, you can do it with the shortcode button [woot_single_btn] , helping your customers learn the product in detail. If one needs to compare products, there is a shortcode [woot_compare] . This will help customers decide on product options and make purchases without delay.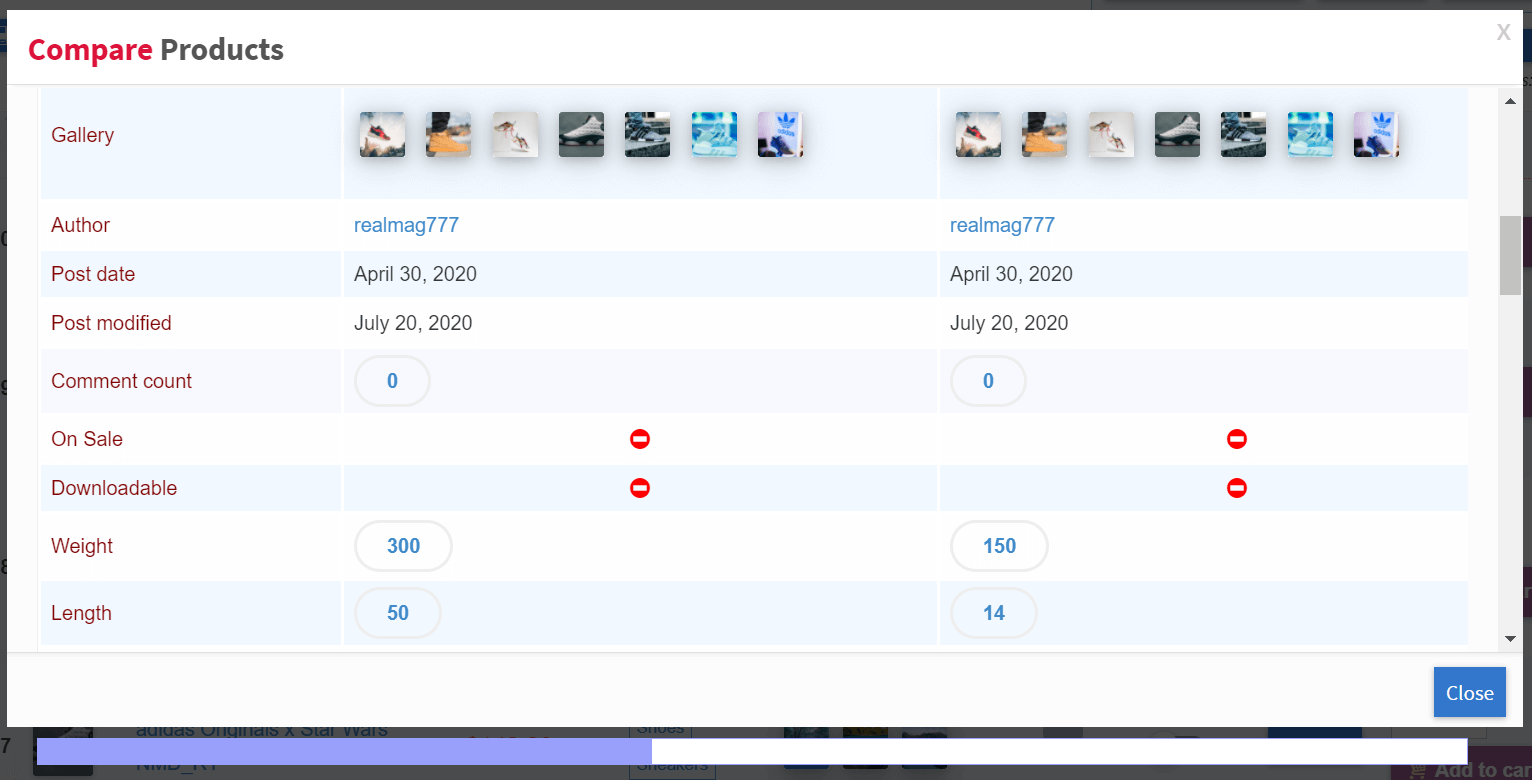 If you need to create custom fields with unique functional content, a powerful API plugin can also help you.
Do you want to package the product table into one button? See how it's done with ease, and doesn't even require any magic.
Maybe you want to build your favorite item directly on your website menu? This won't be a problem with WOOT! You will show your customers your best products easily, and they will have access to these items in the most accessible way, which you will be happy to give them.
If you sell music and want to present it to your subscribers on a playlist, nothing could be easier! With the "Attachment" extension, your subscribers can listen to individual samples of your music automatically.
The template mechanism allows the placement of tables of different products with skins on the same page. If you are a developer, you can create your own skin in 15 minutes, using examples.
Spread your product across other web sites
WOOT has the unique ability to deploy your product on partner websites, whose website platforms may not even be WordPress or even HTML sites in general. Please look over here! Your shop's products can be viewed anywhere and even support a referral program.
100% compatibility with WPML
Nowadays, the world has become relatively compact and small, and that is why your website must be easy to understand for users from other countries and it must be multilingual support. The easier it is for all users from around the world to understand you, the more sales you will get. That is why WOOT is fully WPML compatible and has a "Vocabulary" support mechanism, making it possible to translate all product tables into any possible language without any restrictions. Create unlimited multi-language tables the way you want!
Conclusion
The opportunities for WOOT – WooCommerce Active Product Tables are nearly limitless, and that's why this plugin is so unique in the market. With this plugin, you can enrich the content of your website, making it more attractive. This will make your visitors more loyal, which will lead to purchases on your website. The first purchase in your online shop using this plugin, completely covers the investment of professional trading tools such as "WOOT – WooCommerce Active Product Tables" which shows the immediate redress. In other words, there is absolutely no risk, especially with the free version of the plugin, which will help you discover new marketing opportunities in your business and significantly increase your bottom line.
The name of this article is: