Managing Multiple Online Stores Made Easier With WooMultistore – Have you ever thought of creating multiple online store websites with WordPress and selling the same product on multiple of your online store websites? If so, then you can really make it happen with the WooCommerce online shop plugin which is very popular and is the best plugin to create an eCommerce site on WordPress.
Creating several online store websites selling the same product you might implement and end up with success if your marketing and SEO strategies are right. Because you can fully control the competition in search engines.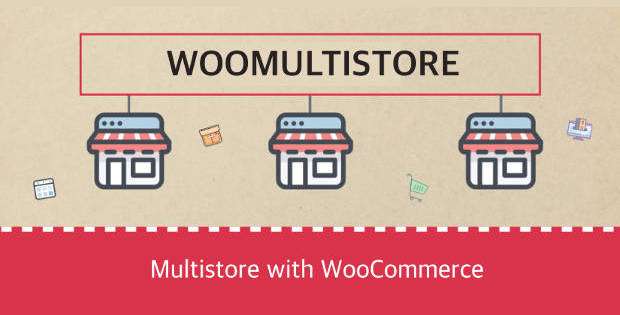 However, maybe the problem when you want to create several online store websites and sell the same product in one online store with another is product management. If you only set up one or two online stores and with very few products it's okay to do it manually. But, what if your products are in the tens or even hundreds, and you sell for example on 5 online store websites at once?
That would be really hard and tiring, as you will have to manually adjust a lot of things in your multiple online stores. For example, your one product has 5 stocks, and is sold in 1 online store, then you have to adjust the amount of stock in other online stores, and vice versa. Not to mention if you want to update your other product information such as descriptions and other things.
Luckily there are third party plugins for WooCommerce that can solve that and make everything fully automated to manage things in your multiple online multistore stores at once, you just have to update on your one online store and your other online stores will follow suit. A very useful and powerful plugin for WooCommerce is WooMultistore.
What is WooMultiStore?
WooMultiStore is a third-party plugin that allows you to enhance WooCommerce features to support Multistore or multiple online stores at once. This WooMultistore plugin can be used to manage features on multiple WooCommerce stores without limits from a single WordPress admin. This plugin supports both standalone WP installations and WordPress Multisite installations.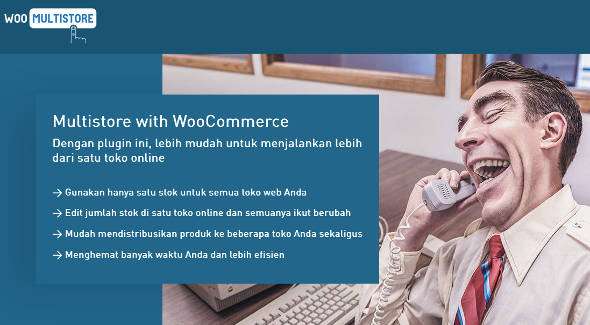 With this plugin, it's easier to run and manage more than one online shop website. Many WooCommerce store owners want to run a multistore system where multiple online stores are selling the same product, or many of the same products. But they have difficulty maintaining the accuracy of inventory or stock in individual stores. Using WooMultistore you don't have to worry about that because the plugin will automatically adjust the stock amount in all stores when the stock quantity of a product changes due to a purchase in one store to another.
And this plugin can also prevent a product from being ordered in one store when the stock section leaves only the last stock of products sold in another store before you adjust the stock quantity manually.
In addition, when you want to create new products or update products in one WooCommerce store, other online stores will also get the same product updates, and this will certainly greatly facilitate your work no matter how many products and the number of your online store sites.
If a product is edited, eg. price, description or other data change. Then your synced online shop site will also get the same updates on other stores that you have created. You can also choose to sync only some data, or not all of it. This feature is useful when you want to make a difference in price, description, and so on, in different stores.
Maintain only one stock for all of your online store sites.
When a product is sold in one store, the stock count in all your stores is updated automatically, you no longer need to manually edit the stock number.
You can push a product from one store to all other stores so you don't have to create it manually or import it manually.
Can export orders from all or selected stores to excel file.
The purpose of using WooMultistore is to save time. Since you don't need to edit stock counts, you can be more effective and use your time to do other productive things to further increase your sales.
Read: Complete Reporting Plugin For WooCommerce Online Stores
Key Features of WooMultistore
Unique product stock management: Unique product stock management for easy inventory evaluation. The stock sync option allows you to sync the stock value amount of the same product automatically across all online shop websites in your network.
Each store can use different options: Each store can use a different language, currency, payment options, in addition to all the other options included in the standard WooCommerce online store.
One main WooCommerce order dashboard: It only takes one main WooCommerce order panel to manage and monitor all domains and orders using the WooMultistore plugin.
Product Management: Products can be managed on the main site, although it is possible to update or customize them on other sites.
Export meta data to other stores : All product meta data can be exported to other stores, including media content, galleries, and featured images.
Any product type: Choose any product type as Simple, Grouped, External, or Variations.
Different product titles, descriptions and more for each store : Categories can be renamed in each shop and you can sync across stores. And you also have the ability to opt-out of syncing, product titles, product descriptions, short descriptions, prices, tags, product images and image galleries, product thumbnails, variations, attributes, reviews, categories, category images, category descriptions, upsell, sell- cross, purchase record, URL (product slug).
Make a copy of any product : Each product can be copied or duplicated to any online shop on your entire web site, so that one product publication is enough to make that product also available in other stores as desired. On the product page, you can specify which shops should also add the same products. You can also assign multiple products in bulk, no need to push one by one if you have multiple products to publish.
Order Export : This plugin includes a complete order export function so you can export orders or orders to a CSV or XLS file. You have the option to export all orders or orders from only one store. You can also choose which order fields to export.
Publish and Manage Products: This plugin can be used to sync products across hundreds of WooCommerce stores. Manage and publish products in multiple web stores in multiple domains, sub-domains or subdirectories.
Manage Stock : Stock management is handled automatically. You have the option to sync the same stock quantity of products across all your stores. If you need the shop to have different quantities of stock, that's also possible.
Manage Orders : Order management is kept simple as the WooCommerce Multistore plugin uses one main order panel – displaying orders from all stores. From there you can navigate to each order.
Prevent orders when they sell out : When using WooMultistore you will also prevent ordering products if the last stock of that product is sold at another store.
Read: Creating a Marketplace Website Like Ebay and Amazon with Dokan
WooMultistore Price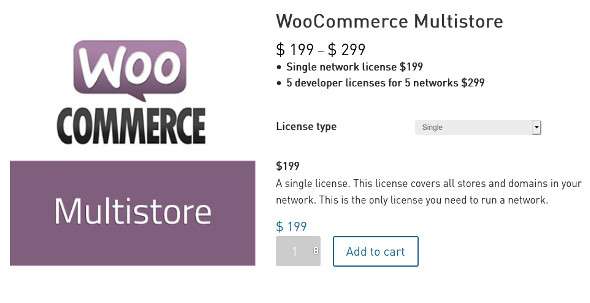 WooMultistore is a premium type of plugin, there is no free version available for this plugin. In order to add this amazing feature to your WooCommerce online shop, then you have to purchase a license from this plugin. There are two plans offered by WooMultistore namely:
Single network license $ 199
5 developer licenses for 5 networks $ 299
Conclusion
WooMultistore is a plugin that works really well and makes your job easier when you want to create multiple WooCommerce online stores on WordPress with Multistore or sell several of the same products at each of your online stores.
This plugin is expensive with a single network license for $ 199. But if you do have multiple products and multiple online stores, then this plugin will really come in handy and you need it. You can manage all your online stores and products through just one site and one dashboard.
For how to install and configure the WooMultistore plugin is also quite easy, you can read the documentation provided by WooMultistore on its official website. The documentation is very clear, accompanied by pictures and steps that are easy to understand even by beginners. Please visit the documentation here → WooMultistore Documentations .