An important thing to consider once you finish setting up your WordPress website is attracting more visitors. Marketing is the primary method of achieving this result, but there can be specific problems that will hinder the growth of our website. One such issue is when our visitors see a "404 page" instead of the webpage they wanted to see.
One of the best solutions on the market for this problem is the WP 301 Redirects plugin. This straightforward plugin is unreplaceable as a tool for minimizing the chance of the unwanted 404 error page popping up.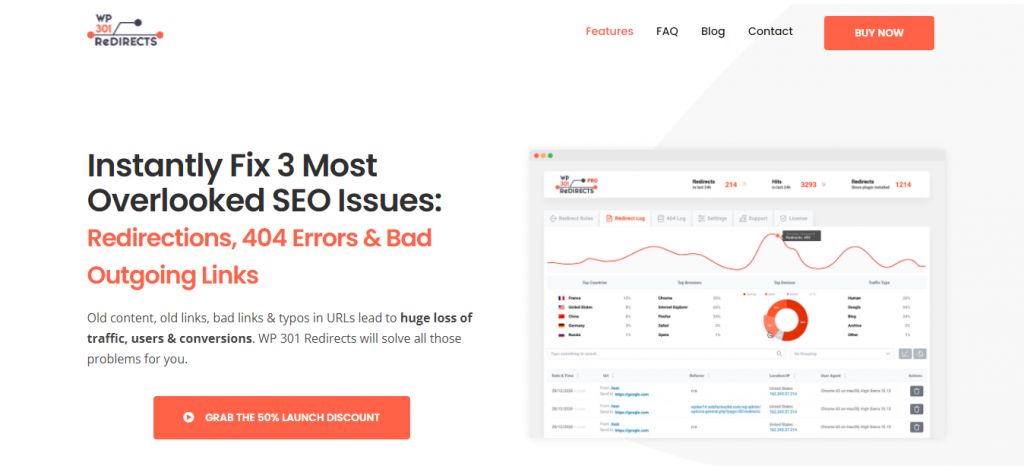 If the plugin detects that a user would face a nonexistent page, it will use sophisticated algorithms to redirect them while displaying the content that caused such behavior. As with most great plugins, you will have nothing to worry about when interacting with other parts of WordPress. The plugin is fully compatible with all WordPress themes and plugins and is fully secured.
This powerful plugin has a variety of valuable features, which we have to mention here:
-Boost meaningful traffic – show your users the content they came for, not the bland and disengaging "404 page" no one wants to see.
-Take control over redirects – accidental or intentional link structure changes will automatically create redirect rules that will compensate by showing appropriate content.
-Ignore bad traffic – this option will block bad bots automatically while allowing search engine crawlers.
-Charts – display detailed statistics in a neat way on your site
-Great support – you can expect to have a fantastic support team helping you if you encounter any hardships while using this plugin
This plugin comes in two slightly different versions, a free and a paid one. The free one is available from the WordPress repository, while the paid one needs to be downloaded manually and added to your website. We will now guide you through this simple process.
Firstly, visit this link, create an account, or log in if you have already registered. Download the plugin onto your machine and finally install it using the WordPress admin panel. Afterward, return to the specified URL, log in, and go to the "Licences" section. Here you will create a new license, copy it, and then paste it inside the plugin. Having done all of this, your plugins have been activated.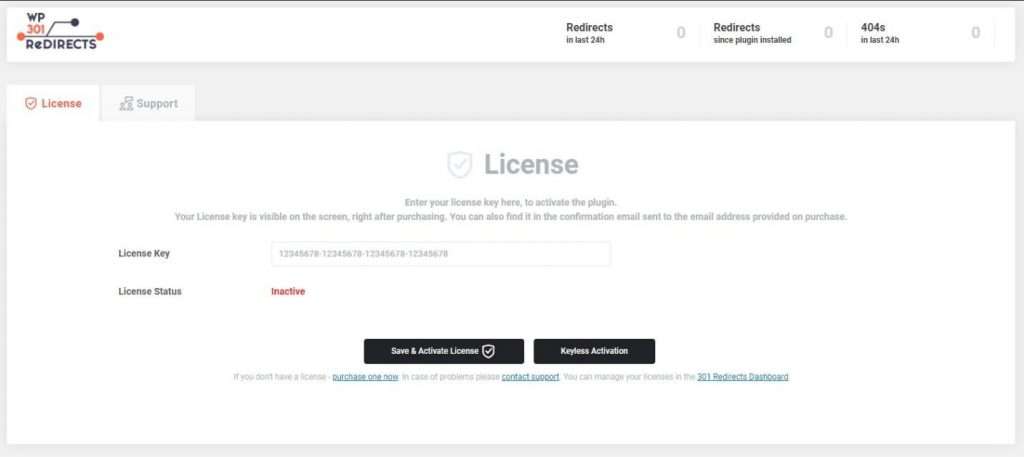 After finalizing the setup process, we should test to see if everything will work as intended. Therefore, we are going to create our first redirect rule. We use the rules to redirect users to other content, whether on our domain or somewhere else. Using them, we avoid the "404 error" page, and we retain more of our users.
The tab "redirect rules" is for managing the said rules. Here we can create new ones or modify existing ones, depending on our needs. To our first redirect rule, we first need to log in to our WordPress page, go to the plugin page, and finally click Settings to add the new rule.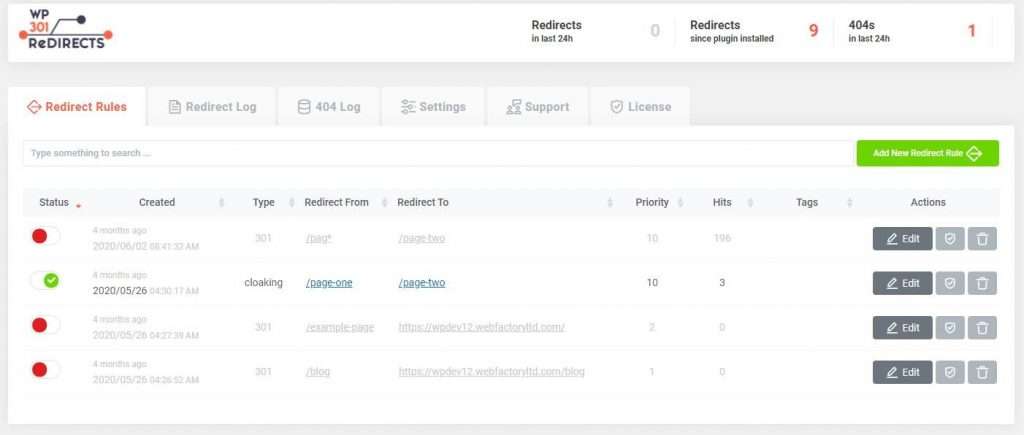 When we have been using this plugin for some time, creating, deleting, and managing the rules, we might make it harder to follow what is happening on our site. That is where the excellent search option comes in to help us filter through the accumulated number of rules to find the specific one we need. All we need to do is input the URL we want to see and the plugin will do the rest for us.
If some redirect rules have become redundant, you can quickly remove them permanently or temporarily. There is a trashcan icon on the right side of each redirect rule for permanent deletion, while the option to temporarily disable the rule can be found on the left side.
When we want to get a detailed overview of our redirects and what is happening, we can opt-in to receive a full report by email. This option can be found in the plugin page section named General Settings. The number of email reports is limited to one per day, but you can also select to receive them once a week.
After setting up this service, the email reports will be sent to the default admin email address, which can also be changed if you desire to receive reports on a different email account. Besides these regular, options there are also many advanced options for tailoring the plugin to match your needs exactly. Here, we will mention some of the best-advanced options that the plugin offers.
If there is such an occasion or the need to stop all redirects arises, you can do so. The option for disabling all redirects can be found in the Settings, Advanced options and activated by clicking on the "Disable all redirect rules."
In the same Advanced options section, you can find an option to disable redirect rules only for users logged in to the website. Finally, we have one of the most powerful features of this plugin, the Link Scanner. You can find it if you go to the Settings section, 301 Redirect and see the Link Scanner tab.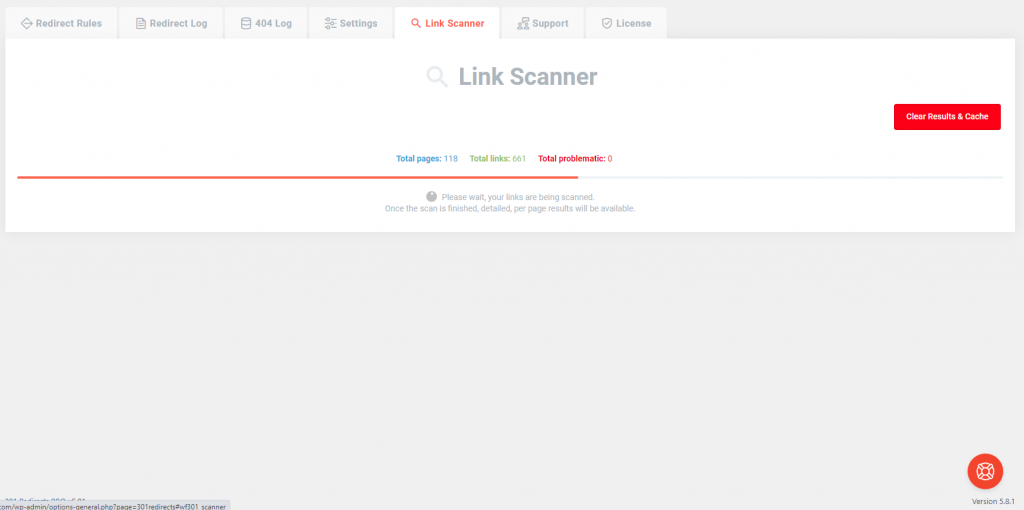 Link Scanner is a relatively new option that this plugin brings. Its primary purpose is to scan and analyze the website for any links thoroughly. The process is automatic and can be accomplished after clicking a single button.
Since it is one of the newer options, be sure that you are running the latest updated plugin version on your site. The usage of this option is also dependent on the number of credits you have. While talking about credits, we have to mention that there are two types of them.
The first ones are recurring ones that reset on the 1st of the month. The second one is one-time credits which, as their name implies, can only be used once and are not reset monthly.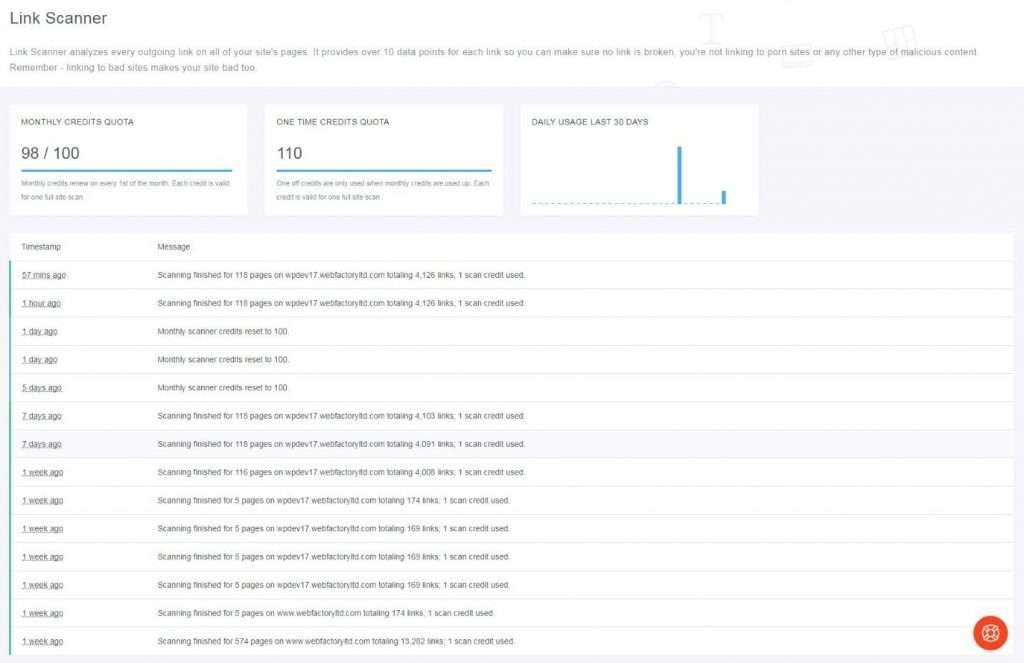 Depending on which license you choose when getting the plugin, you should have several credits to allow you to use this advanced option. The scanning process length depends on the number of posts, pages, and links you have on your site, but, in general, it should not take longer than a few minutes.
Even if the scanning time gets lengthy, we must mention that this doesn't overload the website. You can continue to do everything you were doing before running the scan as it runs in the background. Easly return to the scan using the Link Scanner tab to see the results.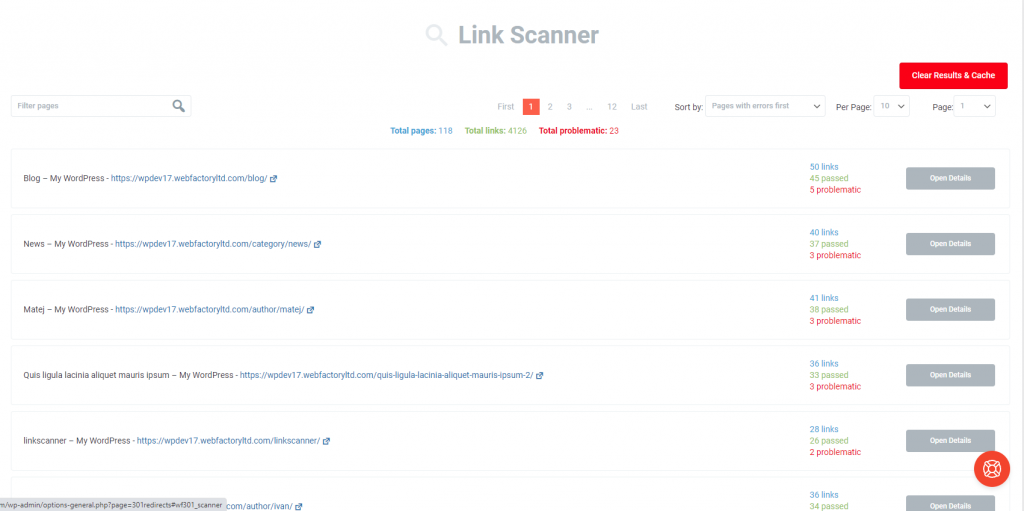 The results are displayed clearly and concisely. When the scan is complete, you will see how many pages were scanned, the number of links found, and, the most important thing, the number of links that might cause problems. After the results are displayed, you can comb through them in a couple of different ways.
There is a neat search option in the top left corner, or you could sort the results in a preferred manner. When viewing the results table, each row corresponds to a scanned page or a link. The name and the link are on the left side, while the scanned links are on the right side. You can also test these links to see if they are still valid.
Searching for the links that did not pass these tests is of high importance. We will explain now how you can quickly view them. Firstly, there is a convenient Open Details button next to each link. After clicking on it, a detailed overview of the stack link will be presented. The most problematic links will be prioritized at the top of the page, and they will have a red-colored icon.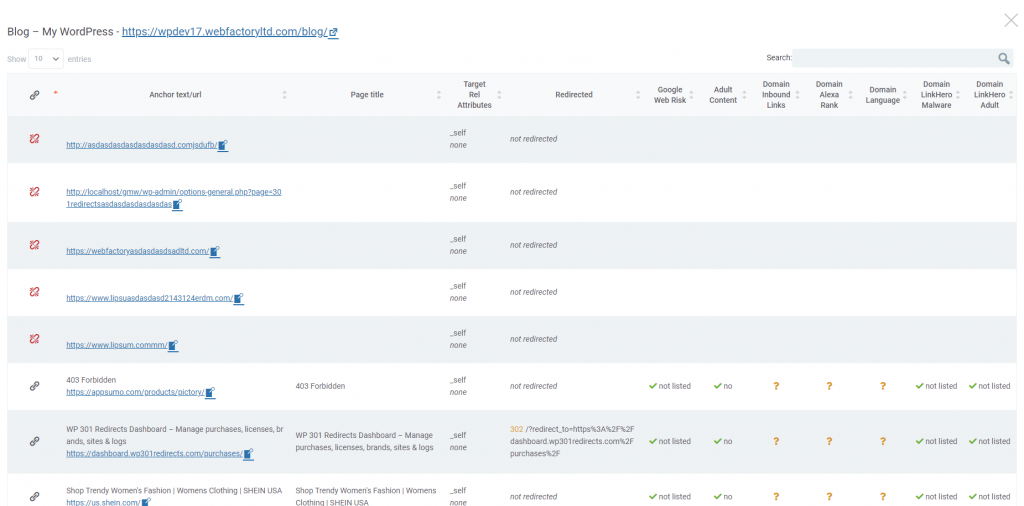 If you want to see detailed information about any of these problematic links, all you have to do is click on the icon next to the URL. You will then see the exact position of the page link, allowing you to make any necessary corrections easily.
As we can see, WP 301 Redirect is a handy plugin that should be in every WordPress admin's collection due to its utility. For people who intend to use it for personal blogs and similar sites, there is an individual license of $39/year.
However, if you want to run multiple sites, you should consider the Team package, $79/year. For the big companies, there is the Agency package, which comes at $149/year. This package can be used on 100 sites!