WP Reset is a one-of-a-kind tool, and it offers everything that a business needs to run the site smoothly. But what exactly is this plugin? It is a development tool for the ones that are not experienced in the field of development. 
To simplify it even more, with this tool, you can speed up deployment, recover anything, test everything, and reset and restore your site in a matter of one click.  Let's go and see what treasures this tool has for you!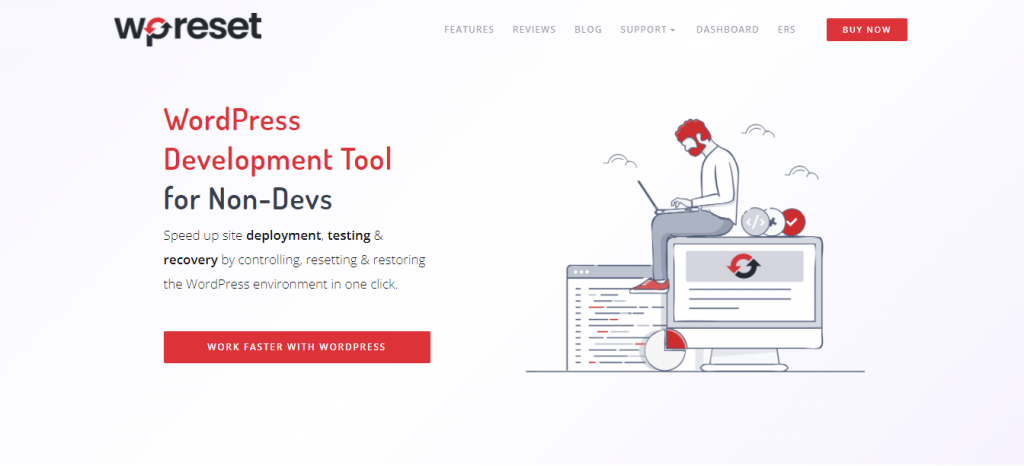 Features
This handsome little helper has all the features that a business will need in the long run. From helping you to start fresh like nothing was ever on that website to helping you recover your site from a bad plugin update. 
Snapshots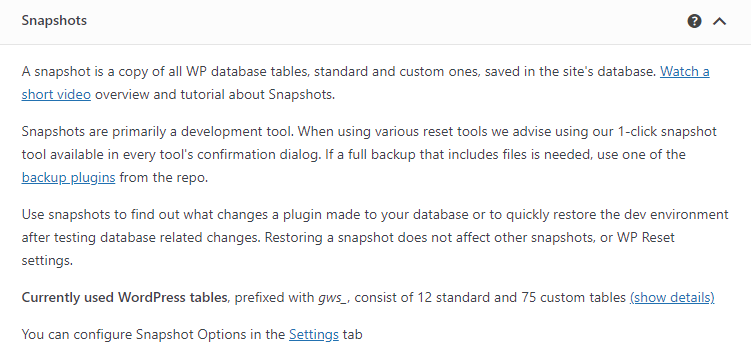 One of many cool features is that this tool will be for your business is a time machine. Yes, a time machine, you can go back in time and fix something wrong; let us explain how and why that is good.
We all know that sometimes when we update a plugin, things can go very south. Maybe they are not compatible with the newest WP version anymore, or they can't coexist with another plugin on the site. For whatever reason, the site went to hell, and nothing seemed to work.
That's where the first WP Reset features come to save the day. With just one click, you can go back to the past version of the site before you updated that plugin that produced all of that. That is possible because WP Reset has Snapshots – which will be your best friend in the long run.
These snapshots are something like a safety net. Before any change on your site, it will create an automatic shot so that if anything goes wrong, you can restore it. If you are too skeptical, you can always do a manual snapshot, just in case to be sure. 
The next thing that WP Reset will offer you is to cut time installing your favorite plugins. What do we mean by that? Well, it is pretty simple. This handsome devil of a plugin lets you install all your favorite plugins and themes at once. There is no need to install them one by one and spend hours doing so!
Create a collection of your favorite themes and plugins, click install, and the tool takes it from there. You can lay back and enjoy your afternoon while the tool does the rest of the job! It's very helpful, especially if you already have tools you trust and start a new website. 
It is essential to say that collections and snapshots can be stored in a straightforward place called the cloud. That space is controlled by the one and only WP Reset team, but you can also use Google Drive, Dropbox, or pCloud.
Cleaning tools
Since it lets you install everything at once, it is only appropriate to let you delete everything at once, right?
With the nuclear reset button, you will be sure that everything is deleted from your site, from files, custom database entries, options to tables. It is beneficial if you want to start fresh without any baggage left from the old site.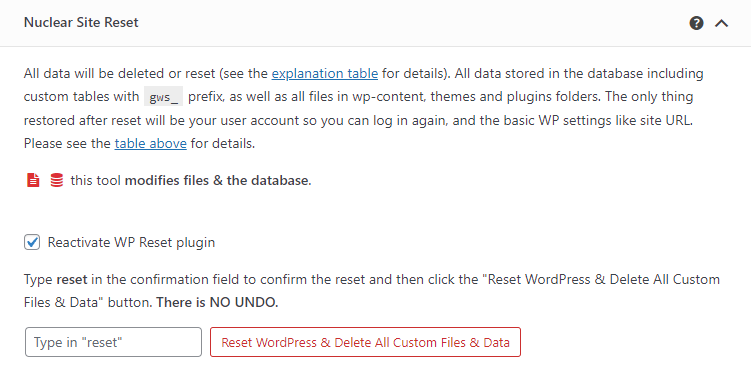 Sometimes you want to delete a particular part of the website, like something a theme that you tested left. You tried a theme but didn't necessarily vibe with it, or you tried out a plugin, but it isn't your cup of tea. Those things can leave their data lying over your site without you even knowing it. 
This tool has a variety of tools that will help you delete the junk with one click. Some of those tools(not all!) are: delete any content type, delete local data, clean upload folder, reset theme options, etc.
Emergency Recovery Tool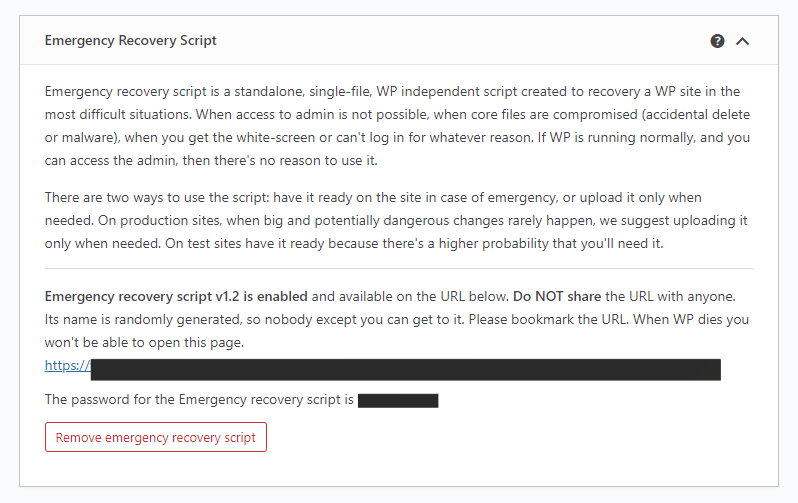 One of the scariest things you can experience while owning a website is the white screen – also known as the screen of death. It is scary to see, and you can't log into your site even though you have the username and password on the post-it by your laptop.
Well, the thing is, it is not much you can do to repair that unless you are a proud owner of WP Reset. It has a standalone script that is not connected to any WP files by the name of the Emergency Recovery tool. You open the script via a secure link that only you have, and with that link, you will get your site back in no time. 
This one offers a complete set of different tools that you can use if you are locked off your site, such as:
disable or enable plugins
check for missing or damaged core files
create new admin roles
repair user privileges
edit the site
Disable or enable plugins is helpful, especially if a plugin breaks down your site and you can't use the snapshot feature to bring it back. This way, you can find the plugin that caused your site to crash and disable it. The damaged or missing core files are also pretty much a neat option.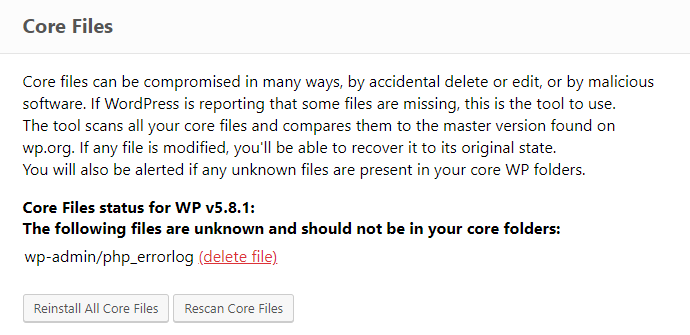 If somebody deletes your files or goes wrong, the tool will scan your database; if anything is wrong, they will download the new ones from the WP database. The Admin role is also something that you will find helpful. If you forget your password or anything similar, you use this option and create a new one by any chance. 
WP Reset Dashboard
If you have multiple websites that you want to manage with this tool, then buckle up. It is easier than ever to do so! With their dashboard, you can control all your websites, snapshots, and collections. Running multiple sites can be difficult, especially tracking specific shots or collections.
You will save a lot of time by managing it from one dashboard. Nevertheless, this tool also lets you take all the credit for it if you want to. The White Label option lets you hide all the details about WebFactory – the developer of this excellent tool. 
Turn on the Whitelabel Option, and everything related to Webfactory from links and logos will disappear in a matter of seconds. 
Pricing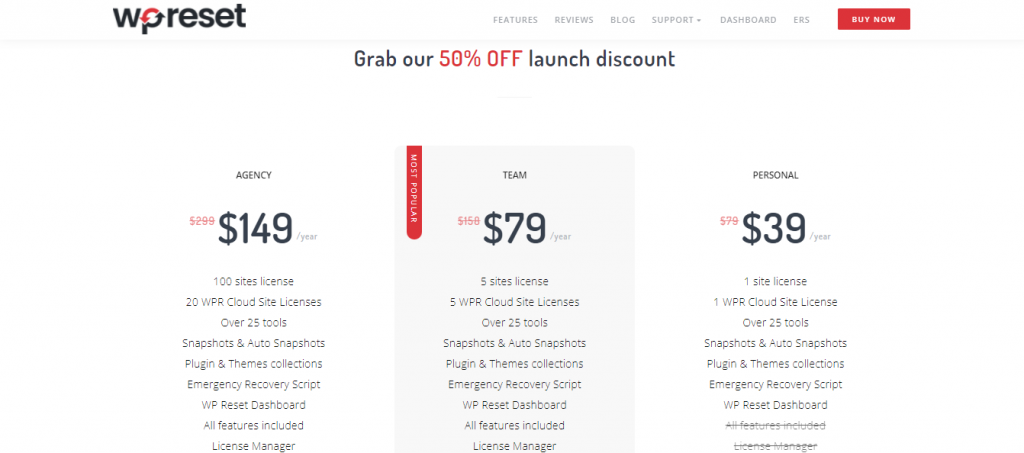 This tool offers three different pricing plans for you to choose from. The first one is called Personal, and it starts at $39/year, and you get it for one site only, 1 WPR cloud site license, over 25 tools, plugin & themes collection, Snapshots & auto snapshots, WP Reset Dashboard, and Emergency Recovery Script. 
The second pricing plan is called Team, and it costs $79/year. You get it for five sites licenses, 5 WPR Cloud Site Licenses, all the features listed under the personal plan plus License Manager and all features. 
The third and final pricing plan is called Agency, and it costs $149/year. You get 100 sites licenses, 20 WPR Cloud Site Licenses, everything we already listed above, and the White Label option. 
They also have a 100% No-risk money-back guarantee. So, if you are not happy with the plugin in the first seven days, they will refund you 100% of the money without any questions.
FAQ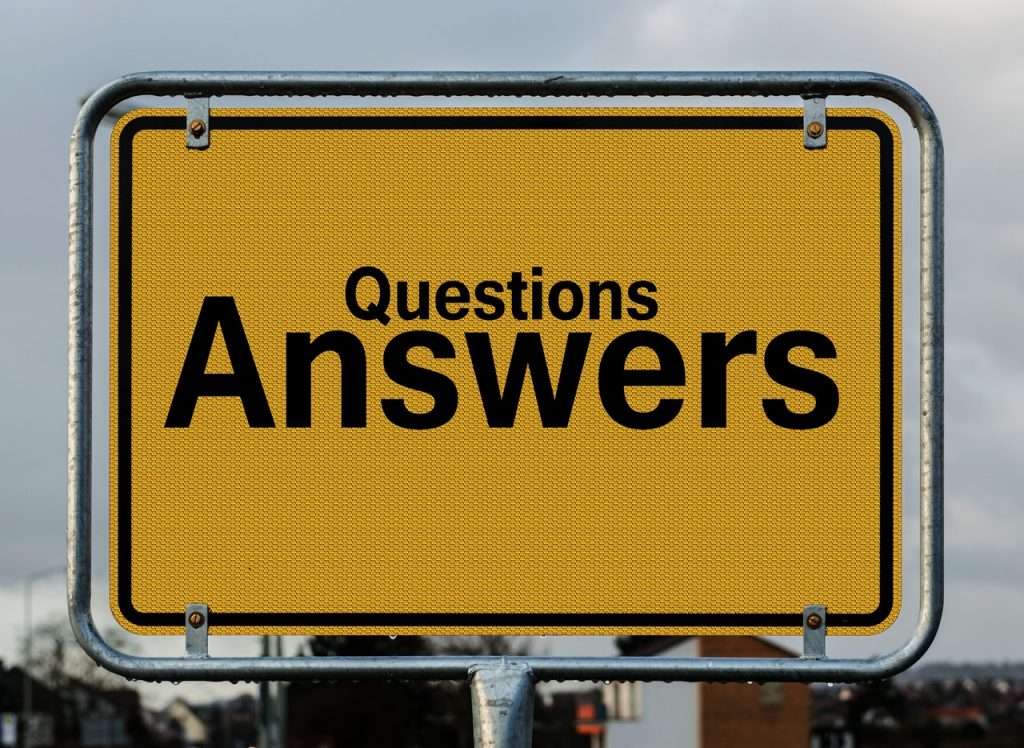 Before we wrap this article up with our conclusion, it is only fair to answer some of the Frequently Asked Questions and the answers to them!
1.) What exactly is WP Reset?
It is a tool that will save you a lot of valuable time. It is a tool like no other, and once you start using it, you will see how helpful this one is. Helping from getting your site back when it crashes down, going back in time, and letting you install everything at once are just some of the valuable things.
2.) Who should have this tool?
It is for anybody who uses WordPress to build websites. From individuals to agencies, everybody can benefit from it.
3.) Can I delete anything from my site by accident?
Deleting anything or changing anything huge with WP Reset is not possible without a confirmation pop-up window. It has multiple fail-safe mechanisms. Everything that is destructive action has to be confirmed, sometimes even twice.
Conclusion
In the end, we can say that, once you try WP Reset, you will ask yourself how you managed to operate without it. It has everything a site owner needs in any situation, from installing all plugins at once to deleting everything off of your site.