Beautify Your Shopping Cart With WooCommerce Floating Cart – Do you have an online store built with WooCommerce? If so, I will introduce some very useful plugin extensions to increase the sales and appearance of your WooCommerce store to make it more interactive and professional in the eyes of your potential visitors.
This plugin extension will completely bring big changes to your WooCommerce store and grab the attention of potential buyers which ultimately leads to conversions in your sales.
The plugin I will review in this article is the XT WooCommerce Floating Cart. Let's take a look and learn how this plugin can make your WooCommerce store look different from other stores, and why you should immediately have one installed on your online store.
What is the XT WooCommerce Floating Cart?
XT WooCommerce Floating Cart is an interactive shopping cart for WooCommerce that launches when a user decides to buy an item by pressing the Add to Cart button. Fully customizable right from the WordPress Customizer with Live Preview. Products, quantities and prices are updated instantly via Ajax with a wide variety of animations to choose from.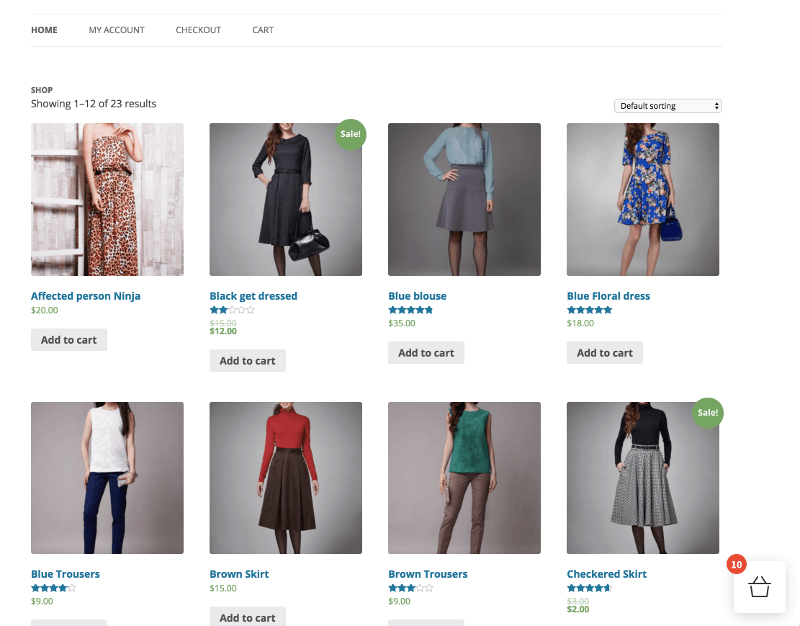 There are about 11 interesting floating animations that you can choose according to your wishes, all settings are very easy to do. By adding this Floating Cart, you also streamline the checkout process rather than the default checkout process default WooCommerce. Of course this will make every checkout process easier and faster so that your customers enjoy shopping at your online store.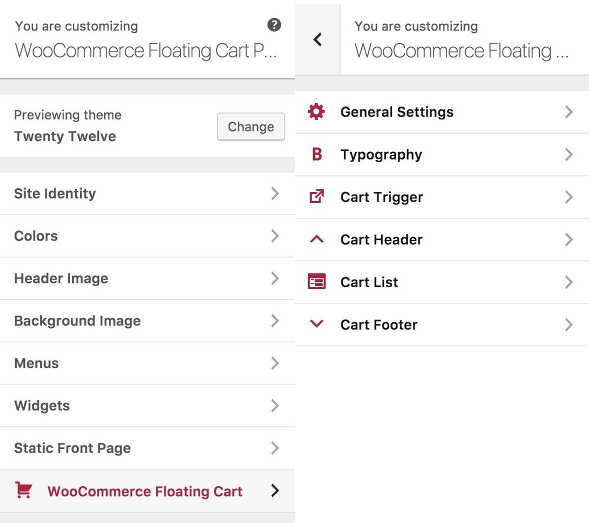 You can easily adjust everything about this Floating Cart on the Customizer page such as changing the Font, position, width, color, background and icon to match the design of the WordPress theme you are using so that everything looks uniform.
You can see how the WooCommerce Floating Cart works on the following demo page: Floating Cart demo
Why Do You Need To Use WooCommerce Floating Cart?
Have you ever found yourself in a situation where a potential buyer adds your product to a shopping cart, but then leaves your store without completing their purchase? You almost secure a sale, but then disappear and stop making a purchase and instead leave your online store site.
If this scenario sounds familiar, I have good news for you. Visitors who have added products to their shopping cart are already a good start even if visitors haven't yet proceeded to the next stage of the checkout process, it has already won half the battle because they are interested in what you have to offer.
With a little tinkering with your online store, a little persistence, and clever marketing tactics, you'll be able to turn that abandoned shopping cart into a converting client.
With this empowerment, installing a WooCommerce Floating Cart is a great solution for enhancing the customer buying experience and encouraging your clients to click the "checkout" button and make a payment.
With the Woo Floating Cart, not only will you make your site more interactive, the cart icon with the item count will always be visible on all pages and a sliding cart will be triggered when a visitor to your site decides to buy an item, this will certainly always attract attention and remind buyers to immediately checkout and pay for what's in the shopping cart.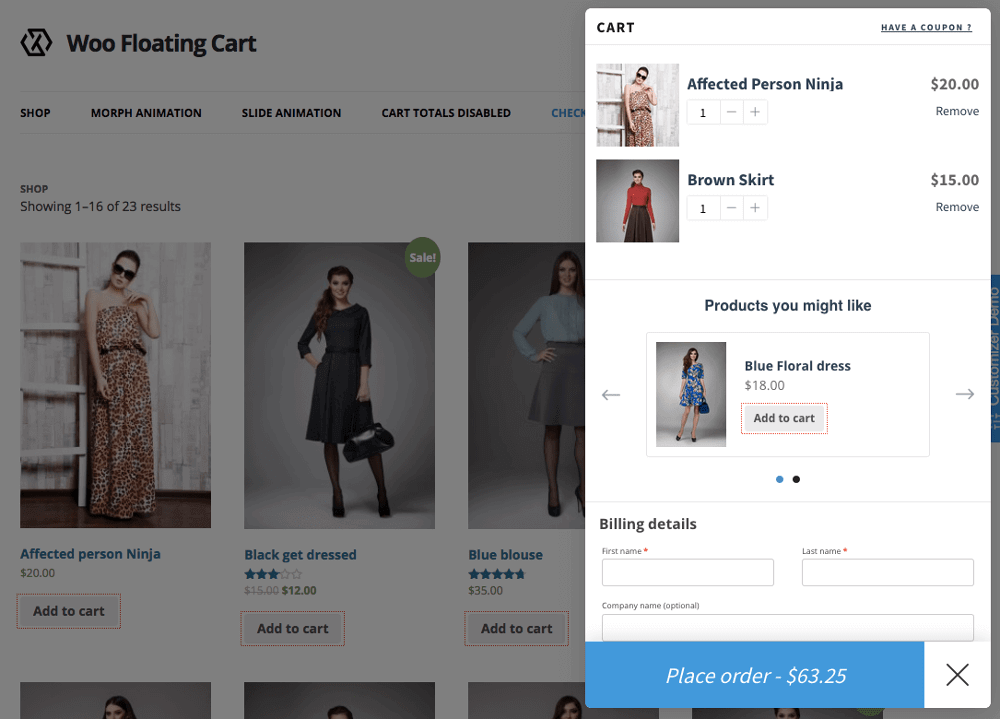 The Woo Floating cart shopping cart will display the total items and checkout button to make purchasing decisions easier for shoppers in your online store. You can also activate a full payment form in a floating cart that allows customers to place orders directly without having to load a new page, making the process of ending purchases much faster and easier for buyers.
Read: Selling Products with WordPress Simple Paypal Shopping Cart
WooCommerce Floating Cart feature
Floating Cart can perform well and work smoothly in various WordPress themes
Add to cart quickly
Update the number
Remove the product from the basket
Undo product removal
Show the maximum number reached
Change the Position of Shopping Cart / Counter
Responsive / Cellular Support
Fully customizable right from the WordPress Customizer with Live Preview.
Live Preview Customizer
Enable the Fly To Cart animation
Activate Coupons
Activate Total Items in Cart
Activate Express Payment Form
Enable Basket Menu Item
Turn on Auto Altitude
Choose Between Morph Slide Animations
Support, bundle & composite variations
Show product attributes in the cart
Change Basket Width / Height
There is a choice of various Fonts from Google Fonts
Custom Color and Background
Custom Icons (SVG Icons / Image / Fonts)
There is a choice of 11 spinner loading animations
Exclude pages from displaying shopping carts
Device Visibility Options
Ajax Add to Cart on Single Product page
Ajax Add to Cart in Quick View Modals
Choose between the Checkout or View Cart button
Option to trigger shopping cart in Mouse Over
Show Subtotals or Totals
RTL support
Automatic Updates & Security Patches
Priority Email & Help Center Support
Floating Cart Price
WooCommerce Floating Cart is a premium plugin that is offered with various packages that you can choose according to the needs of your online store website, there are annual and lifetime plans: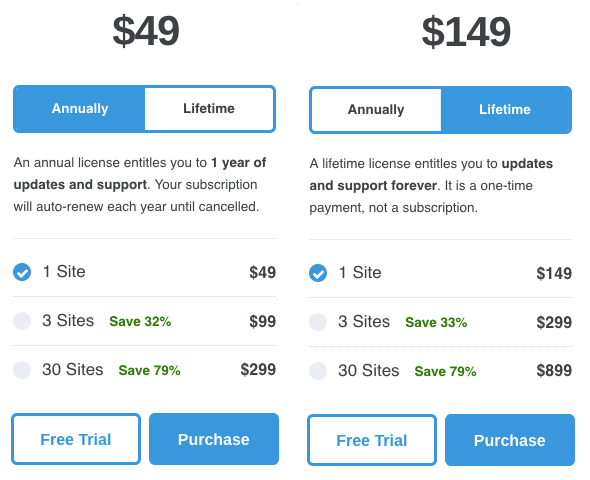 Annually:
1 Site: $ 49
3 Sites: $ 99 (Save 32%)
30 Sites: $ 299 (Save 79%)
Lifetime:
1 Site: $ 149
3 Sites: $ 299 (Save 33%)
30 Sites: $ 899 (Save 79%)
Conclusion
The WooCommerce Floating Cart plugin is a must-have if you want to have a professional WooCommerce online store that catches the attention of potential buyers. Not only that, as I have mentioned above, this is very effective in getting visitors to actually buy your product items. Your shoppers will enjoy the animation displayed from your shopping cart, and they will love the fast shopping process with less steps like the default WooCommerce checkout process.
And that's my review of the WooCommerce Floating Cart plugin, I hope this article is useful and brings a solution for the progress of your online store. Please try and leave a comment about the experience and benefits you will get from using the plugin. I would also like to recommend these two plugins: WooCommerce Table Rate Shipping and WooCommerce Order Export. Good luck 🙂