After in the previous article I introduced the Woo Floating Cart plugin which can make your shopping cart more interactive and can make visitors actually convert sales. Here I will introduce a plugin from the same developer namely xplodedthemes called Woo Quick View.
The Woo Quick View plugin is equally important for your online store website, it will make your visitors happy because they can see detailed product item information quickly, even several products at once because of the slide feature.
Not only that, Woo Quick View if you apply it to your WooCommerce online shop site will really make your site look very professional and luxurious in the eyes of your visitors. Let's see more about Woo Quick View below.
What is Woo Quick View?
Woo Quick View is another versatile WooCommerce plugin that you shouldn't miss on your WordPress site. Woo Quick View is an interactive product quick view plugin for WooCommerce that provides your site users with instant access to detailed key product information with smooth animations. This quick view plugin by Xplodedthemes is the fastest compared to other plugins of the art. Quick display modal loads instantly without ever ending loading!
That is, it will allow users to get a glimpse of your product without actually going to the product page. Customers can navigate from one product to the next using the next and previous slide buttons. Several types of quick display modal are available such as Morphing, Full Screen and Inline modals!
This will really make visitors get detailed information of each product with fast navigation. The faster customers can access detailed product info, the sooner they will make the decision to buy it, and that's what everyone needs.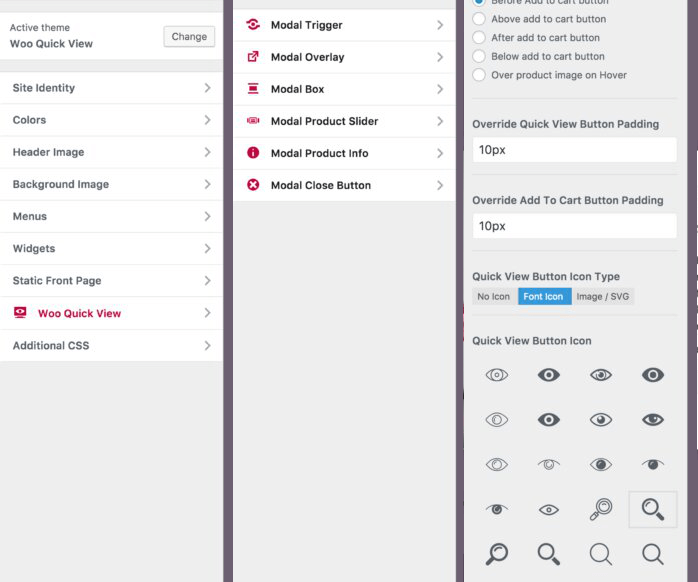 The plugin is fully customizable right from the WordPress Customizer with Live Preview, please check out the demo from Woo Quick View so you better understand what this plugin can do.Demo Woo Quick View
Quick View type
This Woo Quick View plugin provides 3 quick view options that give you a variety of options to display detailed information of the selected product item, and there are also 2 display animations (fade or slide) all good and you just have to choose which one is right for your site. All of them can display products very quickly without loading.
Morphing View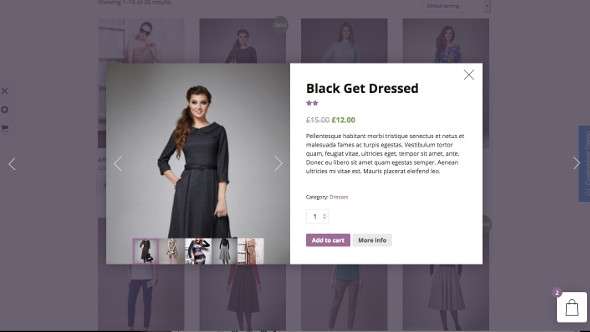 This type of Quick View Morphing when a visitor clicks on a product item, the product will be displayed in a pop up form right in the middle of your screen with detailed information displayed in full, both images and complete with product information. The appearance of this information is accompanied by a unique and interesting animation. If you put multiple product images, it will appear like a beautiful gallery.
FullScreen View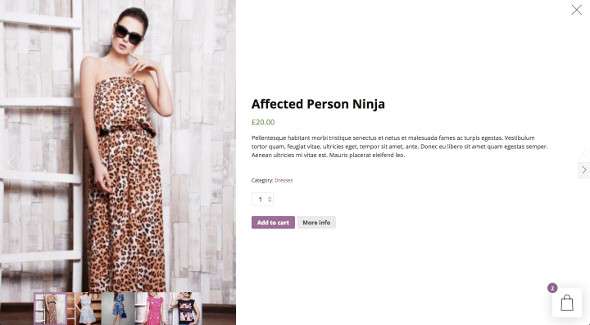 This type of Full Screen View, as the name suggests, will display detailed product information in full on one screen page when a visitor clicks on a product item. This will close other products but still have a slide feature to move to another product item.
Inline View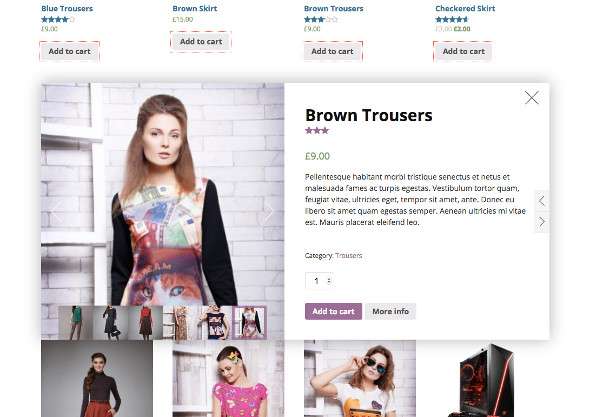 This type of Inline View is more attractive and we rarely find it in online stores in general. When a visitor clicks on a product item, detailed product information is displayed on the sidelines of the product list. Detailed information remains clearly visible and other product lists are also very clear, making it easier to navigate.
Quick View feature
Capital Triggers

Before the Add to cart button
Above the add to cart button
After the add to cart button
Below the add to cart button
Above product images on Hover

Previous / Next Navigation Buttons for quick preview of other products
Apply Google Fonts / Typography
Apply Custom Icons
Custom Colors / Backgrounds
Dimension Settings
Custom Modal Overlay Colors
Modal Background / Shadow / Radius
Product Image Slider
2 Animation (Fade / Slide)
Auto play feature
Grayscale transition
Enable Lightbox
Custom Arrow Icons
Carousel thumbnail gallery
Customize using the Live Preview WordPress Customizer
Ajax Add to Cart
Product Variation Support
Compatible with Woo Floating Cart
Compatible with Woo Variation Swatches
Price Woo Quick View
Woo Quick View is a premium plugin that is offered with various packages that you can choose according to the needs of your online store website, this cool plugin deserves to be appreciated because it will please your visitors in choosing a product. And here are the details of the annual package and lifetime: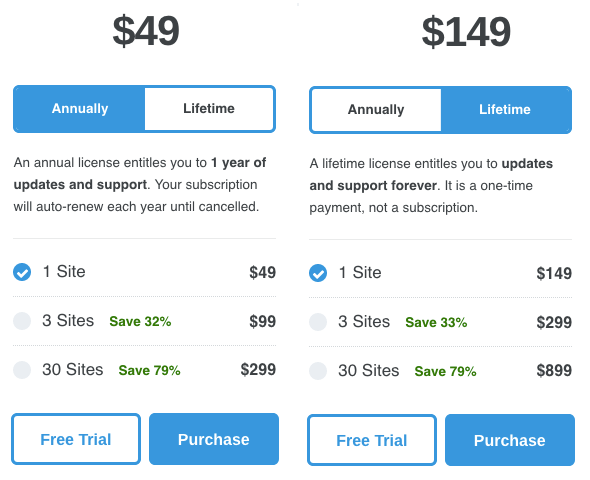 Annually:
1 Site: $ 49
3 Sites: $ 99 (Save 32%)
30 Sites: $ 299 (Save 79%)
Lifetime:
1 Site: $ 149
3 Sites: $ 299 (Save 33%)
30 Sites: $ 899 (Save 79%)
Conclusion
Woo Quick View is a must-have plugin on your WooCommerce online store. This plays a very important role in navigation when your visitors want to see detailed information about each product you have. They can easily view product information without having to go to a different page for each product. They just click and the information is displayed beautifully and quickly without moving pages.
Speed in displaying products and information, as well as a fast checkout process, is what most buyers like in online shopping . So installing this plugin in your shop is a must to indulge them.
And that's my review of Woo Quick View, I hope this article is useful and maybe it can be the solution you've been looking for. Good luck and good luck with your online shop business.