In general, the hosting rental is paid annually but this is considered burdensome for some people. Prices that are too high during renewal are often a complaint for hosting users in Indonesia. But really lucky, there are still quality pay-monthly hosting providers at low rates. So, you don't need to pay in full annually for hosting rentals in Indonesia.
But the quality is certainly not inferior to the annual hosting that is generally used, the only difference is the payment system. The packages provided are usually not too different, such as shared hosting, cloud hosting, dedicated hosting, and VPS. Apart from that, monthly hosting providers generally also sell domains which are no less important for a blogger. And among them also give free domain for one year for certain hosting packages.
Cheap and Quality Monthly Paid Hosting Recommendations
Hosting is a storage medium, which stores various data related to the website that we have. Starting from writing, images, animation, video email, and many others. If we compare it, hosting is an apartment or rented house that we have to pay every month or every year.
Where can we rent quality cheap hosting and can pay every month? There are of course many and each of course has advantages and disadvantages. Here are some lists as well as reviews: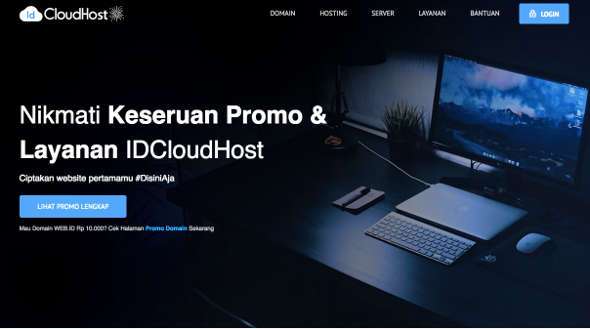 Idcloudhost is one of the official web hosting companies in Indonesia and its servers are very reliable. The data centers are not only in Indonesia, but also in various other countries such as the UK and also Singapore. The price offered is also very affordable, starting from 15,000 per month only, even though this hosting is relatively cheap but they provide a quality experience in hosting. Supported by an experienced team and ready to help you anytime quickly and professionally.
Hosting has been supported by the latest technology so as to provide the best experience and performance for those of you who use it. idcloudhost uses Intel E5 Processors which are the fastest processors for cloud hosting and SSDs to make the web more accessible.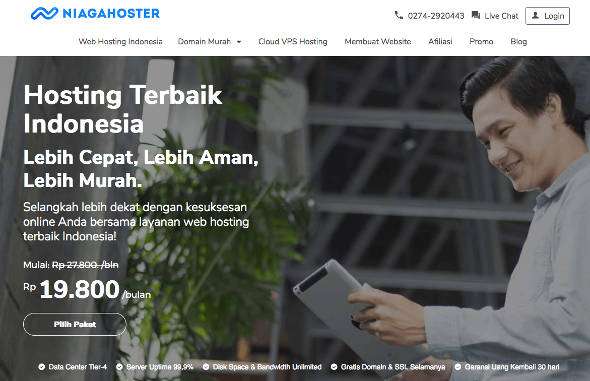 Niagahoster is a hosting with many users who also have a reliable server supported by an experienced team, using a renewable server, namely Litespeed web server and http / 2, it also offers cheap, quality and best hosting starting from 20,000 per month, with low prices already comparable to the quality provided by niagahoster.
Servers are handled by professional people, with uptime up to 99% so you don't have to worry about security and network quality. You will get premium quality if you use cheap hosting from Niagahoster.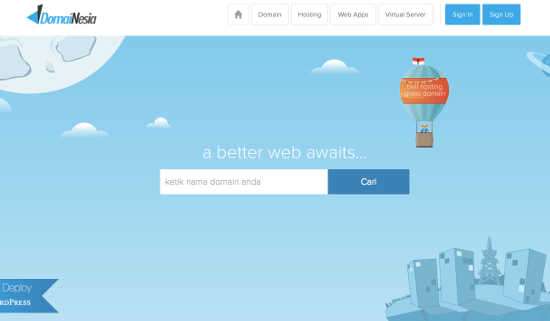 If you want to find cheap and quality monthly hosting, you can try buying at Domainesia. Hosting rental prices there are quite affordable, starting from 8000 per month to 64 thousand per month. Each package has different features.
The lite package can accommodate 300 MB of storage memory. This hosting package is unlimited and has a feature called "instant deploy". With this feature, you can create a website with just one click.
Meanwhile, the other packages, of course, have far more features. Oh yes, hosting at Domainesia already uses SSD so it's very fast to access. You only need to wait for 1 second to open the web hosted on Domainesia. Very extraordinary, right?
4. Hosting master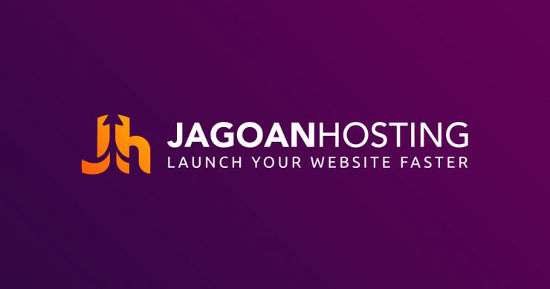 Want to buy cheap and quality paid monthly hosting with rates starting at 2,300 per month only? You can try hosting from Jagoan Hosting . Various hosting packages are available, ranging from personal to hosting used for large companies. You can choose according to your needs.
With the support of tier 1 upstream network technology, the server response is faster and the web loading time is much shorter. Not only that, fast loading can open opportunities for visitors to linger on your website.
5. Hostinger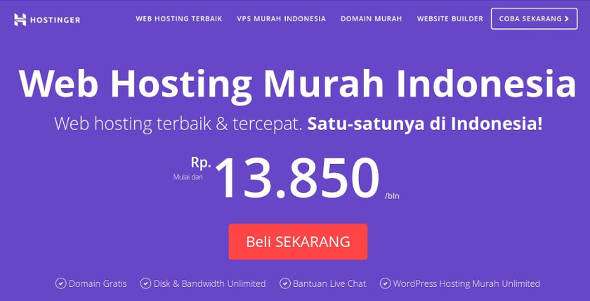 Hostinger is one of the most trusted web hosting providers that you must try. You can order hosting every month, of course the rates are still quite cheap and affordable. The price starts from 8000 per month, of course very affordable and you don't need to spend too much.
Hosting at Hostinger has an uptime of up to 99.9%. So that the web is rarely down, making visitors feel comfortable. In fact, you can get a free domain if you buy one of the hosting packages at Hostinger.
6. Dewabiz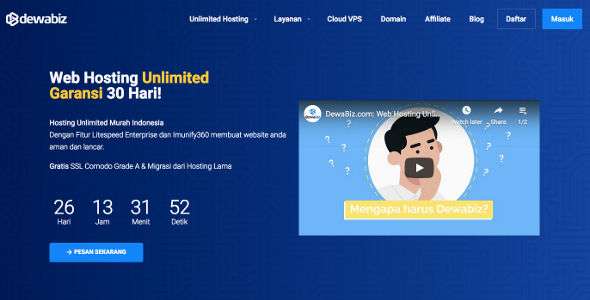 The next cheap and quality paid monthly hosting recommendation is dewabiz.com which has now become a subsidiary of idcloudhost . Although relatively new, dewabiz deserves to be included in the ranks of quality web hosting providers. You can rent monthly to get hosting from dewabiz at prices starting from just 9900 / month.
Dewabiz is equipped with Litespeed Enterprise and Imunify360 features to make your website smoother and free from hacker attacks. In addition, you can also get free .com, .id, and .net domains and SSL if you order one of the hosting packages at dewabiz. Besides that, there are many other benefits that you can get.
7. Qwords
You can also get quality cheap hosting with a monthly rental system at Qwords. In fact, not only cheap hosting, you can also get a free domain. In addition, there are many other supporting features that you can get such as a web accelerator, opcode cache, SSL , Softaculous, Hybrid SSD, and many others.
Supported uptime of up to 99.99% makes the web anti-slow and always safe when accessed. Qwords also has a total security protection feature so that the server can be protected from various attacks such as DDOS, brute force, hack, and so on. This can make your website much better.
Thus the discussion about cheap and quality monthly paid hosting recommendations. Please choose the one that fits your pocket and also your needs, all of the above hosting is great for running a website with the WordPress platform for various purposes of your website, be it school web, university, courses, business website , online shop, company profile, personal blog and maish much more. That is all and hope it is useful.