Sellika – Automatic Product Description Generator For eCommerce – Do you own or are looking to set up a WordPress online shop? Or maybe you intend to set up an online store to do business as a dropshiper? If so, then you should read this review to the end.
Here I will review a really cool plugin made by AliDropship called Sellika. This plugin will make a lot of your work much easier and faster when adding products to your online store.
In creating an online store, a very tiring and time-consuming job is when adding products, thinking about the contents of the product title, describing the types of product items such as colors, item names and contents of the product descriptions. Here Sellika is here to bring you a solution to handle all of that.
How can sellika easily help you and how does AliDropship's Sellika plugin work? Let's take a look at a more complete review below.
What is Sellika and how does Sellika work?
Sellika is a WordPress plugin by AliDropship, it works seamlessly with the AliDropship and WooCommerce plugins as an AI product description generator that automates the creation of your product descriptions with the power of computer vision. This artificial intelligence is applied to this plugin to make the job of filling in product descriptions automatically by detecting your uploaded images and generating clear product titles and informative descriptions in a few clicks.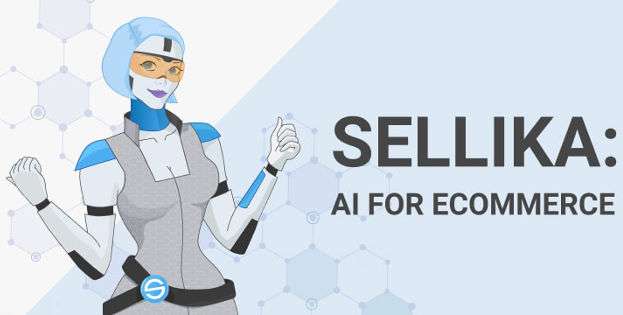 Sellika is ready to do some very heavy work for you. It will take care of product and category descriptions, snippets, color renaming, pick the best title names to compete with your competitors and much more. Meanwhile, you will have the opportunity to direct your free time to tasks where your participation and ability to make decisions is really important.
Some of the brief advantages about Sellika are:
Sellika uses computer vision algorithms to detect and describe objects
This plugin uses machine learning to improve its own performance
It gives you built-in description templates and lets you create your own and edit them as desired for each item in your shop
Frees you from tiring manual work
Saves you up to 330 working hours per month
Drive free traffic from Google to your site and each title and description is SEO-selected
Get your business ready for launch in no time.
What can Sellika do for you and your business?
In practice Sellika is a software that will easily perform the following tasks for you:
Edit the product description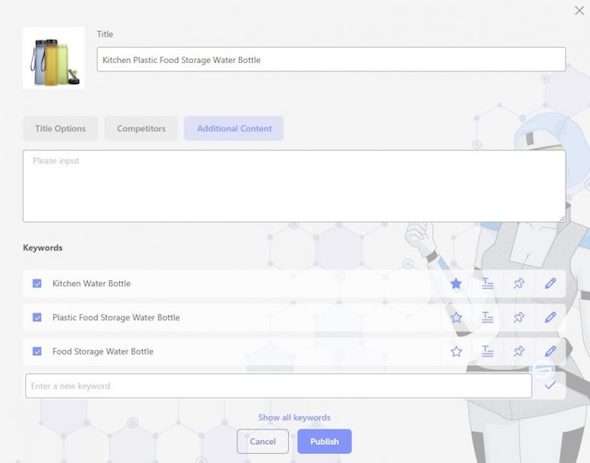 Since true computer vision is new to e-commerce and business in general, Sellika can now easily detect what the image of the product you import represents.
What's more, it doesn't just recognize objects in images. It can use the data even further. This means that when Sellika recognizes a product in the image, it is also able to produce a title and description for that product.
By the way, it doesn't just do this. After knowing what is depicted in the picture, Sellika analyzes how your competitors refer to this item in their store to offer you the best choice.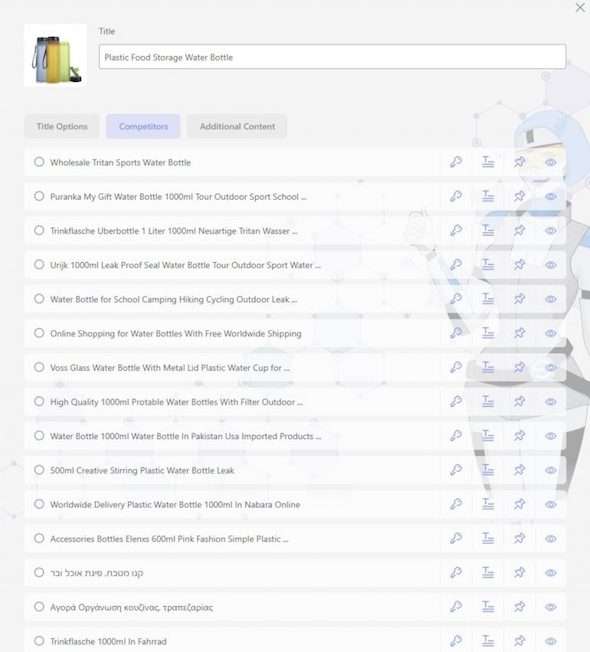 Moreover, Sellika did this automatically. All you have to do is agree on the title and description. Meanwhile, you also have the opportunity to change them easily if you want them to reflect your brand or be unique in some other way.
Read: 7 Best Selling Dropshipping Businesses You Deserve to Try
Edit category descriptions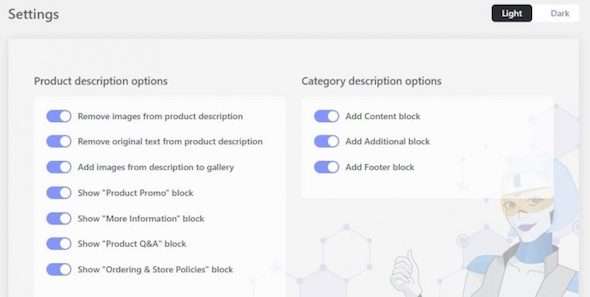 Actually Sellika also provides a description of the most promising categories as well. So, you don't have to always think about what categories are suitable for each product you add. It's simple but also saves a lot of your time.
Meanwhile, you can also change it as you like.
Change the color name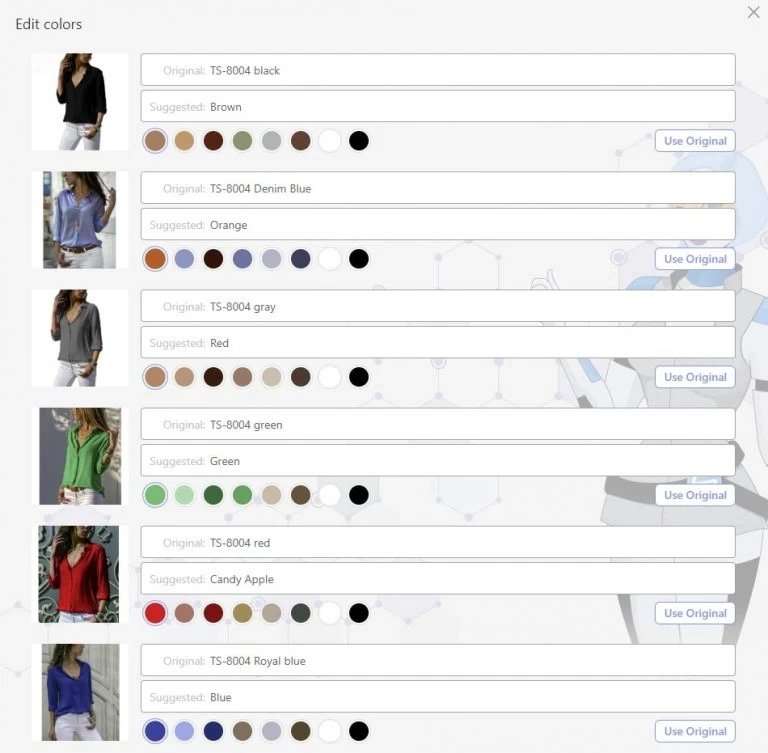 When you import products to your online shop, in most cases, you will also have to change the color name for several reasons.
First of all, your supplier will most likely give you an odd name color. So your prospect can get confused about them.
Also, sometimes, instead of colors, you can see color codes. Take a look at the image below.
Here we can see that the original product is color coded. At the same time, in this case, we can still note the color name. However, as a rule, all colors are represented as code only.
So how about easily finding a way out of this situation? So lean on Sellika! It will analyze the image, detect the color of the product on it, and suggest the most suitable option. You just need to accept the variant or edit it.
Use the stop word list for the title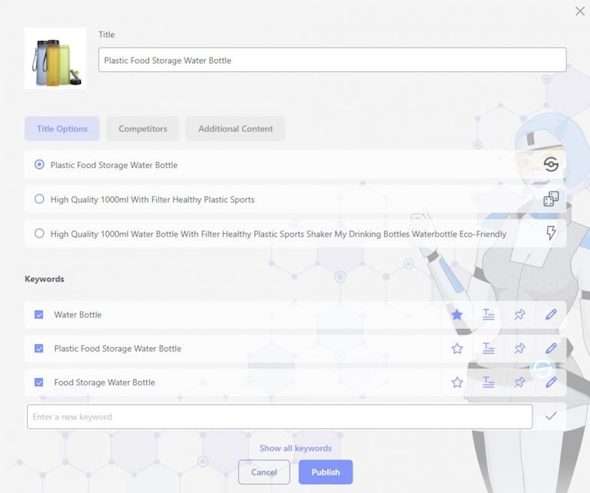 Let's talk more about titles. So Sellika also gives you the opportunity to use stop word lists for titles.
This is very important for many reasons. One of the most important is that you need to permanently improve the SEO position of your website. And search engines tend to take a closer look at what you notice in your product title.
That's why Sellika lets you use built-in word lists and even edit them however you like.
Create a product SEO template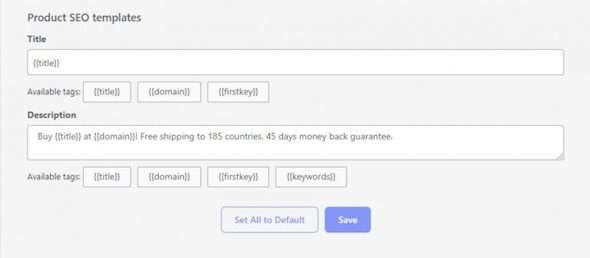 Sellika is also designed with the SEO of your site in mind. So note that Sellika can create an SEO title and description for your product if the following requirements are met:
You have a WooCommerce based website
The Yoast SEO plugin is installed and activated on your website
So you move to Sellika's settings where you will see the Product SEO template. Here you need to choose what your product title and description consists of. So you can use tags or add any text you like. Therefore, whenever you import a product into your online shop, Sellika will create an SEO title and description for it.
How to Install the Sellika Plugin
To use Sellika, you must have a WordPress site that has AliDropship or WooCommerce installed.
Install and activate Sellika on your online shop in the Plugins section: go to the Plugins tab in your WordPress admin area. Click the Add New button, then Upload Plugin, select the zip file to upload, and click Install now. Then click the Activate Plugin button.
After that the plugin must be activated with your unique API Key. Copy your Public Key and go to D ashboard → Sellika → API Keys . Paste this Key into the Public Key field. Then copy your Secret Key and paste it into the Secret Key field. Then click Activate .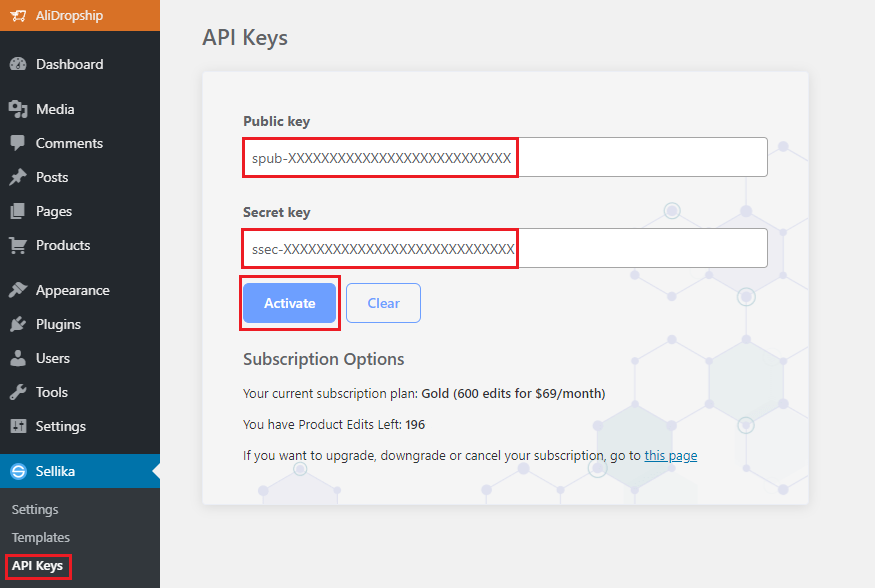 Note that each API Key can only be used to one site. If you need to transfer your API Key to another domain or to split your subscription into two or more sites, you will need to send a request to the Sellika support team.
Done! After that, feel free to get the most out of Sellika for your business and edit thousands of products quickly and easily!
Sellika Price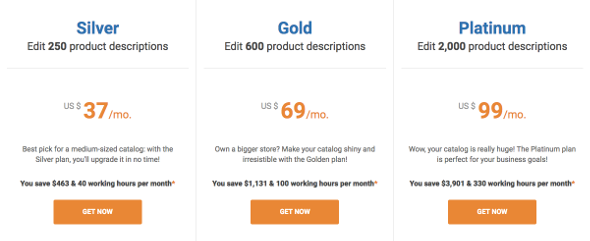 The Sellika plugin is a premium plugin and is offered in 3 different packages. This package is a little unique because it is offered based on the number of products you can edit and is only valid monthly, with the following details:
Silver $ 37 / mo : Edit 250 product descriptions (This pack is suitable for online stores with medium-sized catalog products)
Gold $ 60 / mo : Edit 600 product descriptions (Have a bigger shop? The Gold Pack might work for you)
Platinum $ 90 / mo : Edit 2,000 product descriptions (This is perfect for those of you who have super large online stores).
Those are the three packages that you can get, namely 250, 600, or 2000 product description edits on your balance. The number of edits remaining you can see on the top right on the product page in your admin area or in the 'API Key' section.
You can see the remaining balance that you have spent. How it works: every time you click 'Edit Product Info', you spend '1 edit'. Meanwhile, when you use other Sellika functions, your balance is safe. However, if there are '0 edits' in your balance, you won't be able to use other functions as well, apart from creating category descriptions.
Conclusion
Sellika is a plugin that was created to solve the tedious and tedious work of an online store business owner who has hundreds or even thousands of products in it. Filling in the description of each product is something that many eCommerce business owners hate, it makes everything automatic and saves you a lot of time.
As I explained above that this plugin is built using AI technology or artificial intelligence, this software is very sophisticated, where when you upload a product image, Sellika will be able to describe the image very well so you only need to click the description option of what. which was brought up by Sellika, and of course you can edit it manually if you feel it is not suitable.
Read: Easy and Successful Dropship Business Using Dropship.me
And that's my full review of the Sellika plugin from AliDropship, I hope it's useful for you and provides a solution to what you've been looking for. Good luck 🙂