XStore Theme – Professional WooCommerce Online Store Theme – Do you intend to make your buying and selling business more in demand and keep up with the fast digital development that it is today? If so, then you should invest your money in owning a website and selling your products online.
Creating an eCommerce website is now very easy, you don't need to invest expensive just to make your online buying and selling website present on the internet. What you need, of course, is a domain name, the best hosting and a platform for your online store. Now you don't need to hire a professional programmer to make your dream of having a sophisticated online buying and selling website come true, because there is a free option, namely using WordPress which and to upgrade the website features to an eCommerce site, you can use WooCommerce which is also free.
In addition, for the design or theme of your eCommerce site, you don't need to worry because there are lots of choices for the best WordPress themes for WooCommerce online stores. You don't need coding and web design skills to create an eCommerce website with a professional design appearance. To simplify your search for a WordPress theme specifically for WooCommerce, I'm going to introduce you to a theme that's truly amazing beyond your imagination right now. The WordPress theme for WooCommerce is XStore.
What is XStore?
XStore is a really great theme for shop owners who want to quickly and easily build an eCommerce site with WordPress and WooCommerce. The functionality of this theme fully takes into account the latest digital design trends and coding innovations packed with powerful features. This is a premium responsive multipurpose multipurpose WordPress theme that is simple, easy to use with the most comprehensive design options that almost any type of online store design is provided in one package of this XStore theme.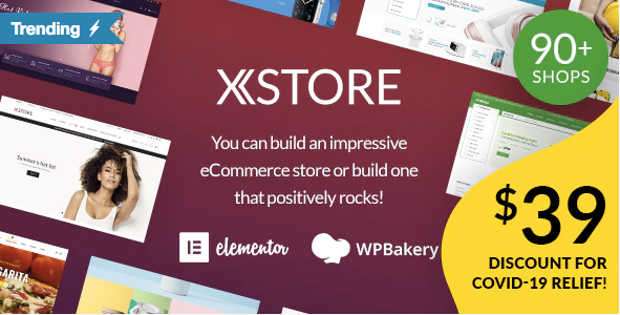 The XStore theme is created by 8theme, a well-known WordPress developer company that is very successful selling themes on ThemeForest with 8 years of experience creating WordPress and WooCommerce themes. These authors are fully aware of what eCommerce store owners want and need. They are already trusted by more than 50,000+ customers and are satisfied with what they make.
With this XStore theme, you can quickly create an online or eCommerce store with professional features and designs. Even if you are an online shop builder by profession, this is the right choice for you. Because with this one theme, you can create various types of online stores with various purposes. This theme not only makes it easy for anyone to create a website featuring an amazing UI, but also provides you with an excellent user experience.
Key Features of the XStore Theme
Let's dig deeper into this XStore WooCommerce theme and find out the best features you will get and find out why XStore is the best choice for your online store:
Affordable prices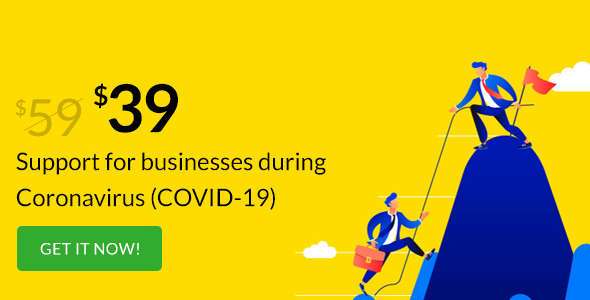 Yes, you can get this XStore theme from 8Themes for only $ 39, the normal price is $ 59 and because of the covid 19 disaster, you get a huge discount. And this can be an opportunity for you to immediately buy an XStore theme with very complete features at a low price.
You will also get full support for 6 months and always get updates. If you wish to have longer support, you can add $ 10 for the full year of support. The fast and efficient support team is client-oriented and answers all your questions in no time, helping you choose the right option to use so you can make the most of XStore.
Many Design Options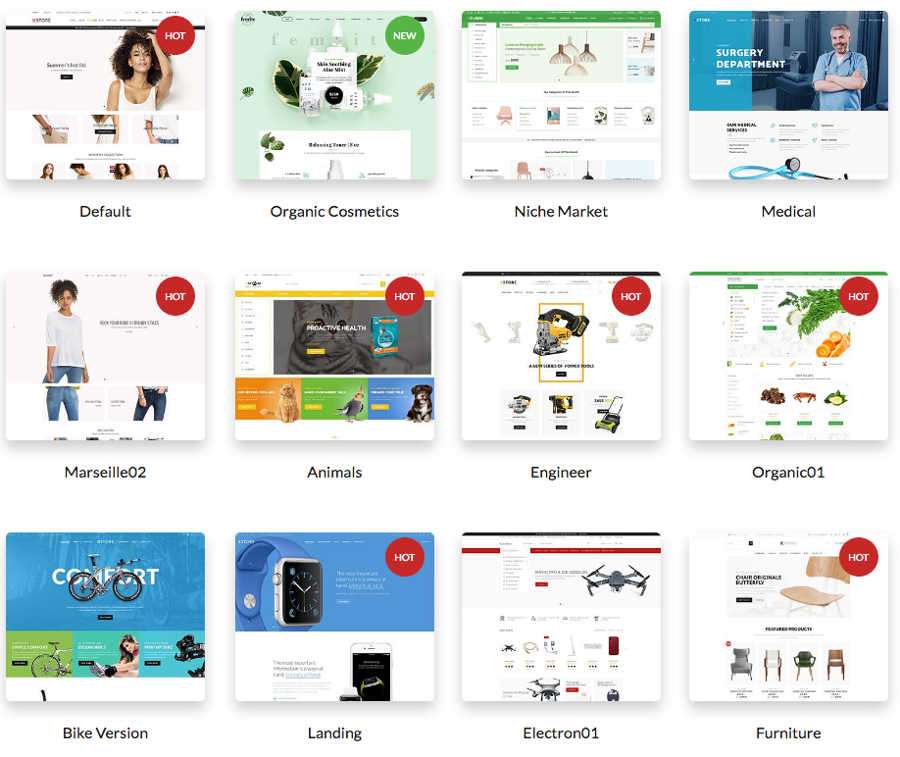 The XStore theme is probably the only premium WordPress theme at an affordable price that includes a large selection of demo designs. There are more than 90 theme designs at your disposal for a wide variety of designs that follow the latest and intuitive trends. You can easily do a demo installation of this online shop with a one-click installation.
XStore has a wide variety of demo shops that you can use to quickly create an eCommerce store or you can use this demo as your inspiration for your online store. Almost all types of business categories have designs on this XStore Theme, such as business (furniture, cosmetics, bicycles, clothes and so on) but are also available in various styles and colors, such as dark mode.
Read: 10 Amazing Themes To Create A WooCommerce Online Store
Easy installation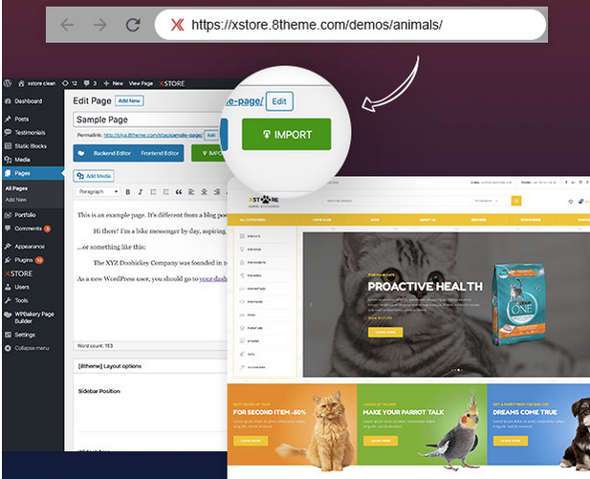 Installing the XStore theme is not complicated at all, no matter which method you choose to use – FTP or WP Dashboard. What's great is, once your theme is installed, you're instantly ready to start building a cool website right away. While you will have no trouble installing this theme, if you still find yourself stuck somewhere, check out a demo or import demo that suits your business and replace the content content with content that suits your business and supports very easy page import. with WPBakery.
Supports Elementor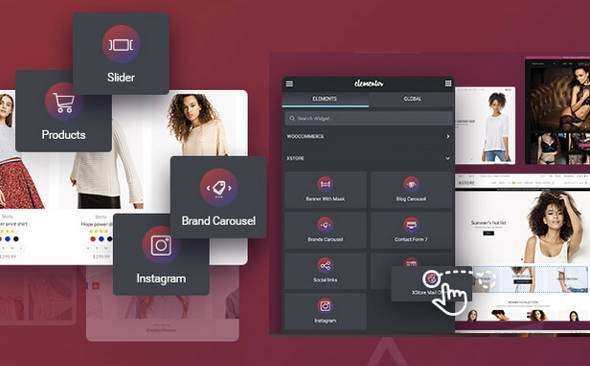 The XStore Theme is very supportive of elementor page builders. WordPress users are definitely familiar with Elementor page builder which is the most popular page builder in WordPress. You can easily integrate elements with XStore and create beautiful product pages with drag and drop elements. There are about 10 more XStore demos made especially for Elementor and 10+ custom widgets that are already customized and ready for you to use.
Includes Premium Plugins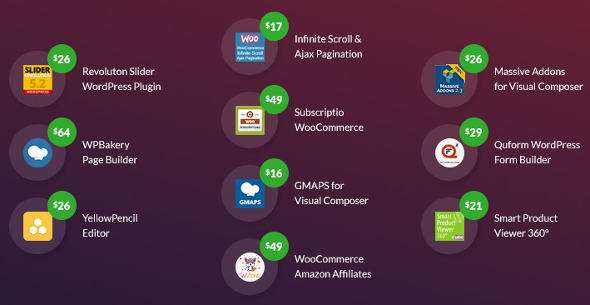 By purchasing the XStore theme for $ 39, you have got about 10 premium plugins that are very useful and ready to use for free. Where if you buy the plugin separately then you have to pay around $ 323. These premium plugins are WP Bakery Page builder, YellowPencil Editor, Slider Revolution , Subscriptio WooCommerce, Infinitive Scroll & Ajax Paginations, GMAPS for Visual Composer, Massive Addons, WooCommerce Amazon Affiliates , Quform WordPress Form Builder, and Smart Product Viewer 360 °.
Other Important Features
Import page layouts from the demo using the built-in Page Importer, Design options with the help of a powerful admin panel and live editor for a WYSIWYG experience. Header builder that allows you to create amazing desktop and mobile headers, use different headers for different pages. A single product builder to present your products in the most suitable form. Variation swatches and variation galleries. Highly efficient product with impressive effects. It is fully compatible with a wide variety of multivendor plugins such as Dokan , WooZone, Product Vendor, and WC Marketplace.
SEO Friendly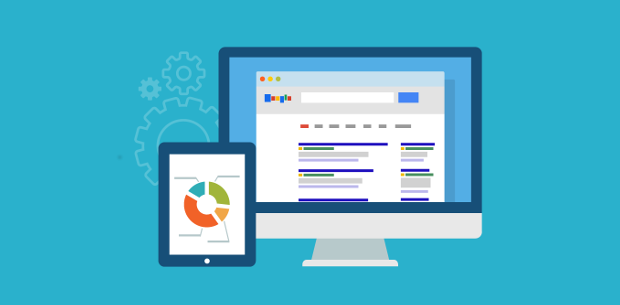 XStore Theme is made based on the best SEO rules so that it is guaranteed that the theme you are using will be easily recognized by Google and this has a light and responsive page loading speed performance improvement. This has also been tested on various major web browsers which will perform flawlessly.
Language Support
The XStore theme supports various languages, so you don't need to worry about configuring and using this theme. So with XStore, language is not a problem. This theme is equipped with translation files to facilitate the creation of a multilingual website . RTL language is not a problem because XStore is perfect for LTR and RTL.
Conclusion
Using the XStore theme for WooCommerce, you can organize and showcase your products in the best possible way. Apart from the features mentioned above. This XStore theme will produce a professional, user-friendly, and truly eye-catching online shop design and functionality that your clients and users will love. Even first time WordPress users will have no problem setting up this theme and making the most of what it offers, you don't even need to have coding knowledge and you can already make your online store look perfect and attract your potential customers.