How to Change Fonts in WordPress With Google Fonts Typography – In the world of web design, typography plays a very important role and an integral part of beautifying the appearance of the web. Choosing the right font will make your website look completely different and enhance your web design.
Besides being useful for making the content easier to read for your visitors, good and precise fonts can make your web design look more attractive. Even when you carry a minimalist design on your website, fonts can be the main part that you should choose so that your website looks really lively, clear and easy to read.
However, in the world of websites there are many font choices, even up to thousands of fonts for you to choose from. Google itself provides free fonts for use on various websites and there are around 991 fonts ready to use. With such a large selection of fonts, it will be difficult for you to choose when you manually install fonts on your website.
Fortunately, WordPress users are very spoiled because of the plugin called Google Fonts Typography. With this plugin you don't need to install Google Fonts manually, you can choose various Google fonts very easily.
Let's take a look at this popular plugin and how it can make selecting fonts as easy as a click.
What is Google Fonts Typography?
Google Fonts Typography is a plugin that makes it easy for you to change and use fonts on your WordPress website. This plugin has been used by more than 100 thousand active users and the plugin is directly connected to the Google Fonts Library which contains 991 unique fonts and is free to use.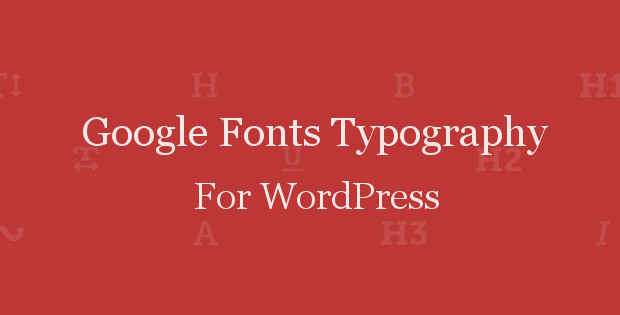 With this plugin, you don't need to manually install Google fonts by pasting code into your WordPress theme, it's very easy and changing fonts is as easy as a click, which of course makes it easier for even novice users. In addition, you are not limited to using one type of font for your entire content, but you can easily select several fonts at once, where you can use one font for headings, one font for subtitles and another for your content.
Google contains hundreds of fonts which of course make it difficult for you to choose manually. Thanks to this Google fonts Typography plugin, you can easily see which fonts will look good on your website. You can select a font list by simply selecting the list in the dropdown menu, and once you have selected a font your content will automatically change due to the live preview feature. So, you can easily test each font and see live changes to how it looks with your content instantly.
How to Use Google Fonts Typography
How to change fonts in WordPress using the Google Fonts Typography plugin is very easy. You only need to install the plugin and activate it.
After that go to the Appearance menu → Customize → Google Fonts → Basic Settings .
You will see a variety of configurations in the left hand column such as a dropdown menu containing various types of fonts, sizes, and colors.
To the right hand column is your website page to see the font changes applied in real time.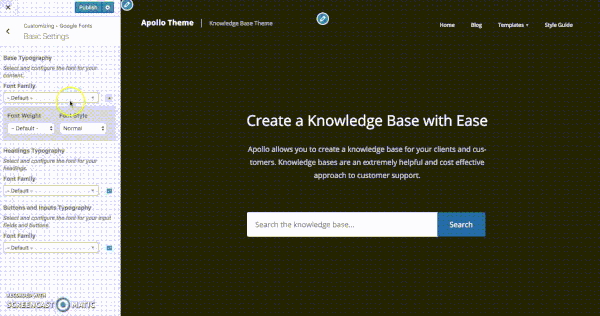 Once you find a combination you like, you can press the "Publish" button and now your blog or website content will apply the new font and be visible to your visitors.
Google Fonts Typography Pricing
You can download the Google Fonts Typography plugin here → Google Fonts Typography and use it for free. However, if you want more features and functionality, you can buy a premium version of the plugin at a fairly affordable price. This plugin has three pricing plans as follows: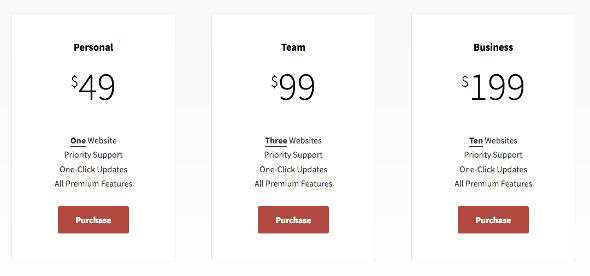 Personal $ 49 : 1 Website, Priority Support, One-Click Updates, All Premium Features
Purchase Team $ 99 : 3 Websites, Priority Support, One-Click Updates, All Premium Features
Purchase Business $ 199 : 10 Websites, Priority Support, One-Click Updates, All Premium Features
That's the price list offered if you want the premium version of this plugin, and you also don't have to worry about buying a plugin and feel that it doesn't match what the plugin provides, you can still cancel the plugin purchase and there is a 100% risk-free money back guarantee in 14 days after purchase.
Key Features of Google Fonts Typography
This plugin is simple, which makes it easy for you to change the font in your content without coding, but the effect of using this plugin is very large, namely the ease of applying the right fonts that will affect the design and readability of your WordPress website, here are some excellent features of this plugin. Google fonts typography: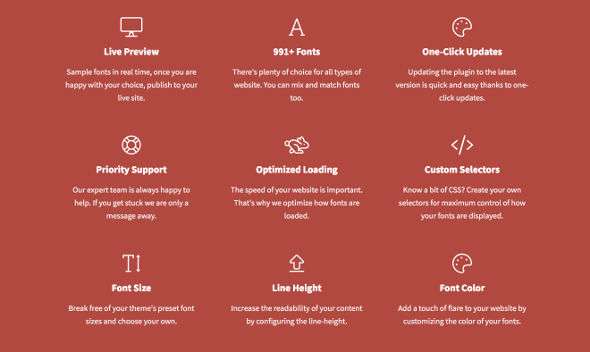 Live Preview
You can easily change the font to your liking with a simple click and see a wide variety of sample fonts in real time applied to your WordPress site. Once you are satisfied with your choice, publish it to the site and it will instantly replace the entire font for your content.
991+ Google Fonts
This plugin is directly linked to the Google Fonts Library which contains over 991 fonts, where there will be many choices for all fonts for all types of websites. You can mix and match fonts too. So, you are not limited to using one font but several fonts at once.
One Click Update
You can update plugins to the latest version quickly and easily thanks to the one-click update. This is like any other popular plugin and the developer will always improve the plugin over time.
Priority Support
For free plugin users, you can always ask for help on the forums at the WordPress.org plugin. And if you are a premium user then the expert team of Google fonts typography will always be happy to help quickly if something goes wrong.
Fast Loading
Fonts from Google's libraries are basically very fast loading. But this plugin also has a special set of code for optimizing font loading speed. So you don't have to worry about the speed of your website when using this plugin because they already optimize the way the fonts load.
Special Selector
If you have a little knowledge of CSS it will be great for you as you can create your own selectors for maximum control of how your fonts are displayed.
Custom Letters
This plugin allows you to set the preset font size and customize it to your theme according to your own preferences and there is also a setting to adjust the font color. Apart from that, you can also adjust the readability of your content by configuring the line height.
Supports All Themes
This plugin works well in all WordPress themes, so you don't have to worry about what theme you are using as it will run smoothly without any problems be it a free theme found in the WordPress.org theme library or from a third party developer like Themegrill, Genesis, Themeisle, Studiopress and others.
Supports Page Builder
If you are an instant page builder user, you can still use this Google fonts typography plugin to beautify every element you use as it is made to run on the best page builders such as Elementor , Beaver Builder, WPBakery and many more.
Conclusion
Google Fonts Typography is a plugin that will really give you the convenience of changing the fonts in your WordPress web content with a few simple touches, you don't need any coding knowledge to use Google Fonts and there are some important configuration features related to fonts. With this plugin you will also have content that looks interesting, unique and fresh to the eyes of your visitors.