How to Give Points and Rewards to Customers at a WooCommerce Store – One of the best buying and selling business and market strategies a business person should do is to keep customers from running to other places and remain loyal or make repeated purchases from time to time.
So, you as a shop owner, increasing customer loyalty is important to you. Customer loyalty leads to repeat sales and in the end, your customers are satisfied and want to come back one day. One way to keep customers loyal is to provide points from sales which can later be exchanged for discounts.
This works very well and is done by many of the big marketplaces. Customers tend to enjoy the feeling of receiving something for free. If they can spend on a product now and get a discount they can redeem on future purchases, they will be more likely to be interested in making a purchase.
How do you encourage customers to buy again at your store?
If you are seriously in the business of selling products in your own online store , there are three things you must do so that your customers keep coming back to use services or buy at your place. This incentive is a three part operation namely:
Sell a great product or service
Ensures a pleasant buying experience
and reward customers for buying from your store.
When you already offer a great product or service and your store already offers a great buying experience, now is the time to think about how you can gift customers?
In this article I will introduce a great plugin that you can integrate with your WooCommerce online store so that it can automatically award points and rewards to all your customers. The plugin is Woo Points & Rewards for WooCommerce.
Read: Add Product Variation Features with Woo Variation Swatches
What is Woo Points & Rewards for WooCommerce?
The Woo Points & Rewards plugin for WooCommerce allows your online store to offer loyalty points for purchases or for certain other actions taken by customers in your online store (such as registering for an account, reviewing products or on your customer's birthday). You can decide how many points awarded for each price (supports multiple currencies) have been spent, and how many currency units are converted into each point when redeemed.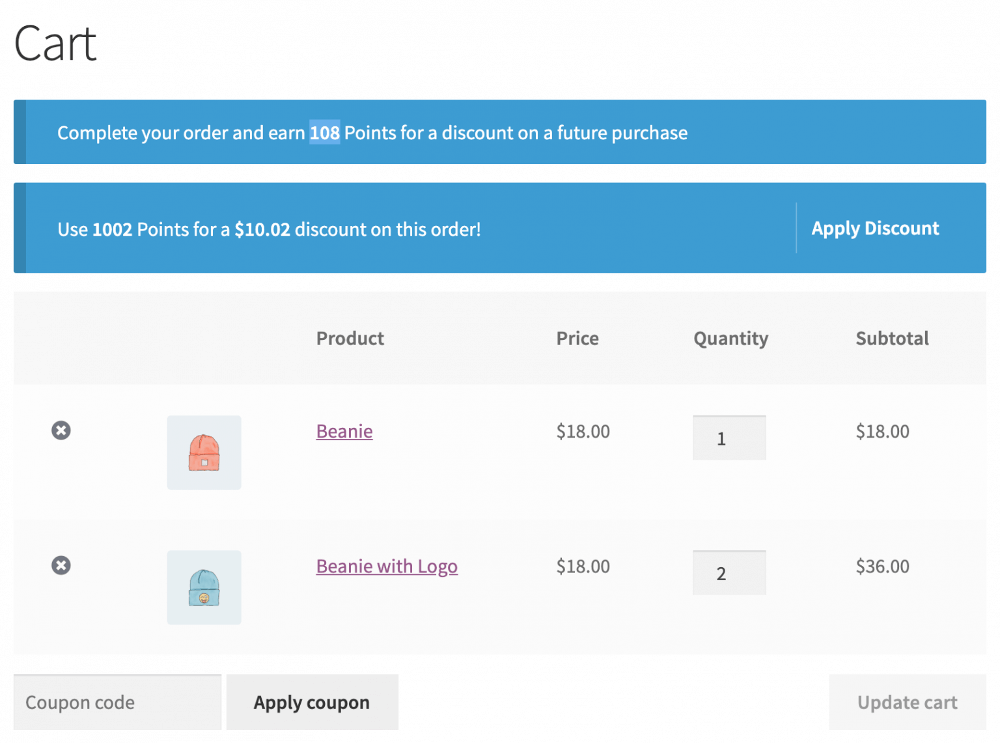 Your customers can view their points history on the "My Account" screen, too, for easy access and to plan how they can use their points for their next big purchase with your online shop.
Reward your customers for purchases and other actions with points that can be redeemed for discounts. Easily set how many points the customer must earn for each money spent and how many points can be redeemed for a certain discount amount. Points can be awarded by product, category or global level, and you can also control the maximum discount available when redeeming points. Please see the demo here → Demo Points & Rewards .
Read: Beautify Your Shopping Cart With WooCommerce Floating Cart
Woo Points & Rewards feature
Determine how many points are earned for purchases, and the point value for discounts.
Control the maximum discount that can be earned using points in the cart, category or product level.
Rewards points for actions such as registering or writing product reviews.
Apply the points earned to all previous orders you received so customers can immediately start redeeming points for a discount.
Quickly adjust point balances for customers.
View logs of all point changes made for customers
Earn Points for Purchases and Actions
Points are earned for purchases based on the conversion rate you set. For example, customers can earn 1 point for every money spent. This conversion rate can be overridden at the product category or level, so you can encourage your customers to buy specific products. The points earned are displayed on the product page and on the cart / payout page.
Redeem Points for Discounts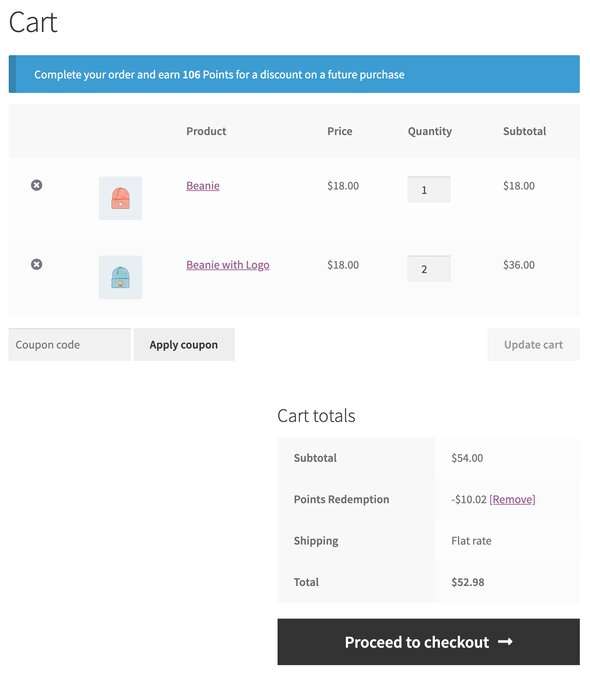 Customers can redeem points for a discount based on the conversion value you set. For example, 100 points can be worth a $ 1 discount. You can set a maximum discount in the cart, product category, or product level that will limit the available discount.
Manage Customer Points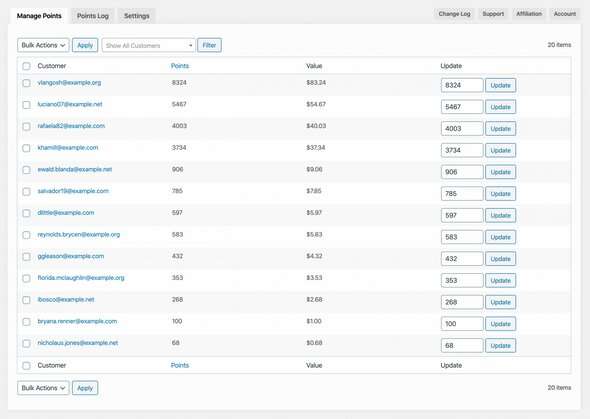 You can easily manage points from your dashboard page. Control points, determine the number of points for customers, view the point log and much more.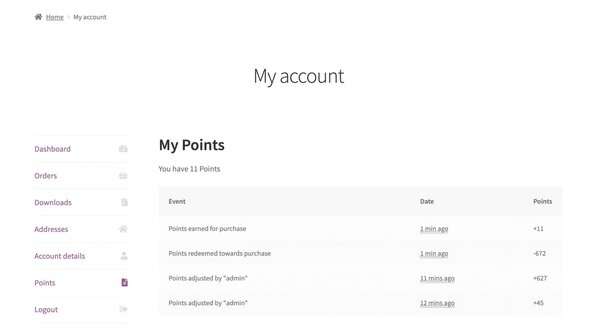 You can also update your customer's point balance quickly on the Manage Points page. Any changes to the customer's point balance are then recorded and displayed on the customer's "My Account" page, so that customers can always see the number of points earned and view their point history.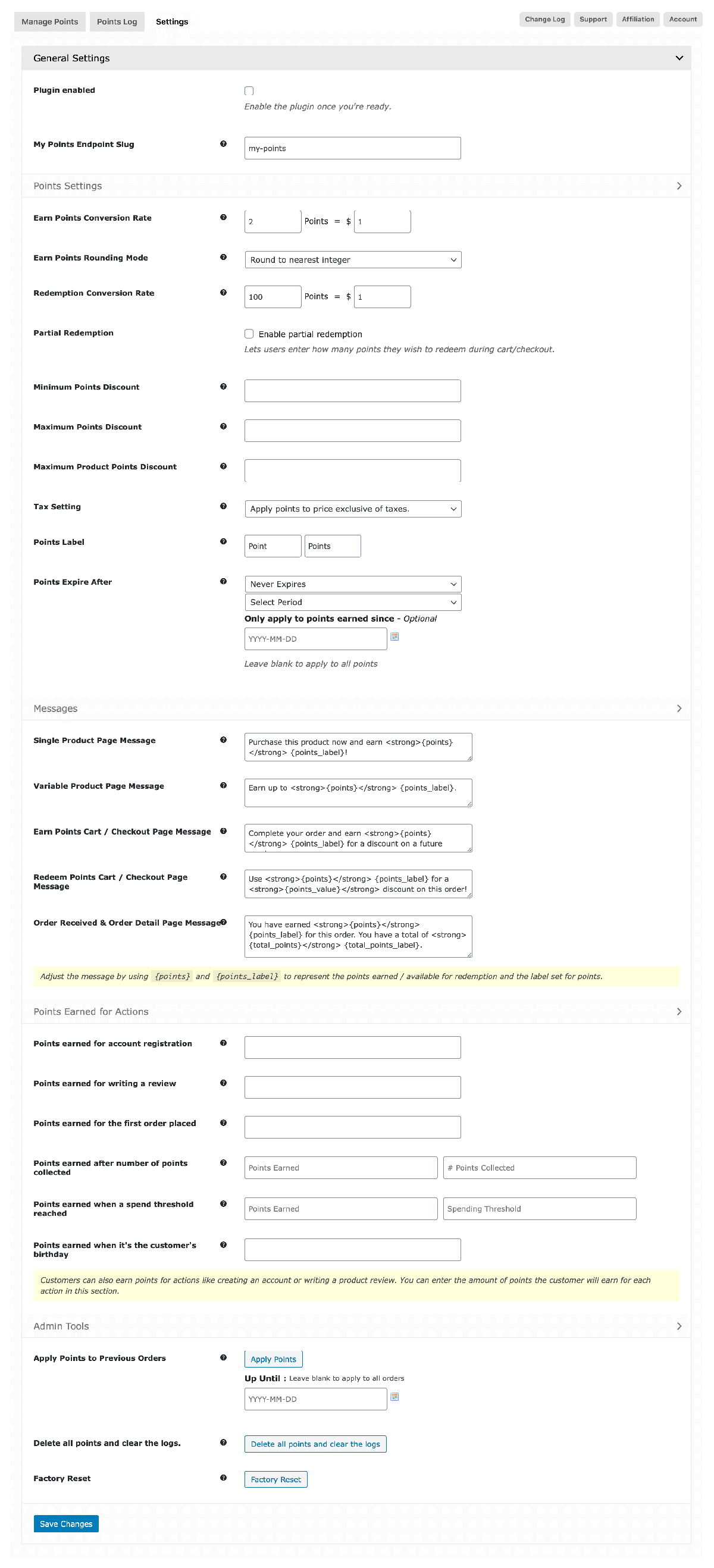 Points & Rewards Price
Woo Points & Rewards is a premium plugin offered with various packages that you can choose according to the needs of your online store website, this cool plugin deserves to be appreciated because it is an important plugin that will make loyal customers and will come back to buy again at your online store, This is like a feature that most of the big marketplaces around the world have. And here are the details of the annual package and lifetime: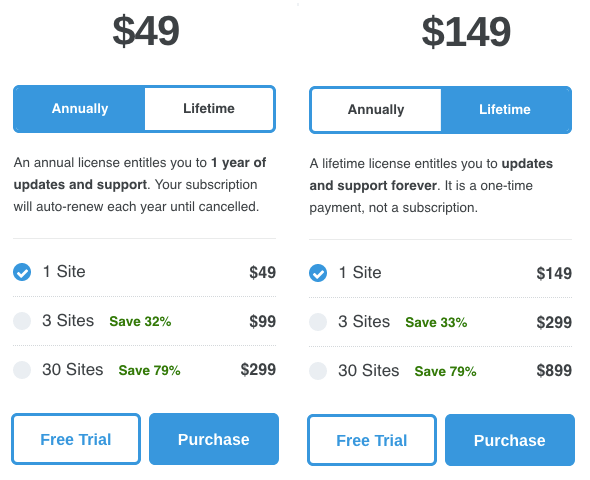 Annually:
1 Site: $ 49
3 Sites: $ 99 (Save 32%)
30 Sites: $ 299 (Save 79%)
Lifetime:
1 Site: $ 149
3 Sites: $ 299 (Save 33%)
30 Sites: $ 899 (Save 79%)
Conclusion
Woo Points & Rewards are very important for online store owners because they can keep your customers loyal to shop at your online store, by giving points and gifts which can later be exchanged for discounts or prizes for certain products in your WooCommerce store, it will automatically create they come back again. This plugin is very easy to use with simple settings.
Read: Woo Quick View – Interactive Product Display for WooCommerce
And that's my review of Woo Points & Rewards, I hope this article is useful for those of you who want to have lots of loyal customers and increase sales of your products. Good luck and good luck 🙂